View all news
Tim Harrison, 1959–2023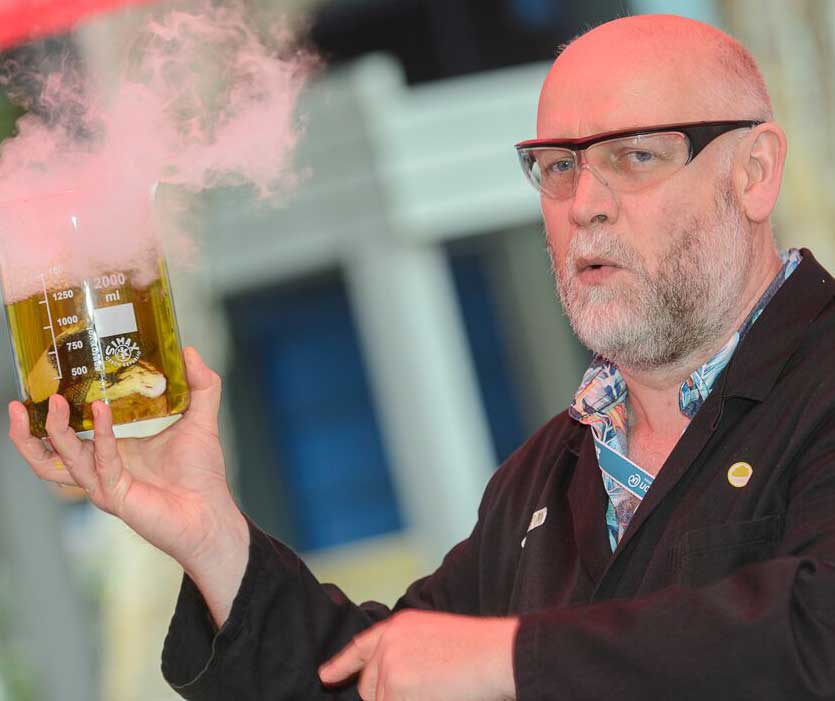 25 May 2023
Tim Harrison FRSC MRSSAf, Director of Outreach and School Teacher Fellow in the School of Chemistry, passed away in January. His friends and colleagues from Bristol and beyond offer a tribute.
Timothy Guy Harrison was born on 30 October 1959 in Pontypool in South Wales. Tim attended Croesyceiliog School and from there went to King's College London, studying Chemistry (1978-1981). Upon graduation, he trained as a teacher at The University of Warwick.
Tim's first teaching job was as a secondary science teacher at Crown Woods School in Eltham, London. There, he met a young Head of Biology, Jayne Marlow. Tim and Jayne were married in 1985, moved to Gloucestershire and began work at Rednock School, where they both taught science. They had two daughters, Mya and Megan, and Tim gained ever greater experience and responsibility as a teacher. Former students have gone on to become medical doctors, engineers and scientists. Tim was keen to expand the horizons of everyone he taught and worked with, and many former pupils and colleagues speak very fondly of the support and encouragement they received.
In 2002, at an event for schoolteachers hosted by the Royal Society of Chemistry, Tim met Dudley Shallcross, a member of academic staff in the School of Chemistry at Bristol, and an enduring partnership and friendship was born. While still working as a teacher, Tim started to organise and run laboratory visits and many other activities at the University for school students. In 2005, he was appointed by the University to lead a new chemistry schools outreach programme.
Tim's talent and passion for this work saw a very rapid growth and development of schools outreach work. Supported by excellent technicians, students and staff as well as the Royal Society of Chemistry, he devised a wide range of activities, tours and talks for school students of all ages and backgrounds, including students with disabilities. Tim worked with university students, training them in teaching and public engagement, with teachers and with school students and, very quickly, his impact spread not just all over the UK but also well beyond its borders.
Tim travelled many thousands of miles, visiting schools, science festivals and other universities all over the UK and overseas. He would regularly visit primary schools bringing practical activities for the children to try and showing them amazing chemical reactions. Tim's ability as a presenter of potentially hazardous chemistry experiments, carried out live – and safely – before an audience will be fondly remembered by many, many thousands of people. At this, Tim was extremely talented, possessing enormous knowledge and skill as well as a great sense of humour.
In 2007, Tim and Dudley recommended the concept of embedding a schoolteacher within a university's chemistry department to the Royal Society of Chemistry. With government funding, several more teachers were employed at universities all over the UK, carrying out schools outreach work.
In 2007, working with his great friend, Professor Mike Davies-Coleman of Rhodes University, South Africa, by training university staff and students and working at science festivals, Tim helped to set up an outreach programme for school pupils and teachers from South Africa and Namibia – work that continues to this day.
In 2010, he began a long collaboration with Dr Magda Wajrak at Edith Cowan University (ECU), Perth, Australia. This was so successful, and impacted the lives of so many, that the Vice-Chancellor of ECU invited Tim to be part of the celebration of the opening of the new Science Building in 2020.
Over his 17 years at Bristol, Tim gave approximately 3,000 chemistry demonstration lectures (not counting many hundreds more by partners in other countries). From 2005 to 2020, before the pandemic, he worked directly with 30,000 to 50,000 people (teachers, students and audiences of all kinds) each year.
Tim worked with colleagues in Australia, Malaysia, Singapore, Brunei, Spain, France, Italy, Malta, USA, the West Indies, Hong Kong and Ireland. He published over 150 papers; won the 2004 RSC Teaching Award and the Big Tick award in 2008, 2009 and 2010; and was part of the team that won the Times HE ICT award in 2009, the Merrill Lynch Science Education award in 2009 and the Royal Society's Hauksbee award in 2009.
Tim was diagnosed with cancer in 2015, and although his pace of work did slow, in 2018 he teamed up with Dr Jonny Furze, a recently graduated research chemist. Jonny's great ability and energy allowed Tim to carry on effectively at his work for another two years before the pandemic stopped face-to-face outreach.
Tim was the nicest of people: intelligent, witty and generous to a fault; a man who didn't bear grudges and who loved his family dearly. He was a phenomenal educator who was working his magic to the very end of his life.
Tim, you made it so, in every sense. God bless you, our dear friend.
Professor Dudley E Shallcross (School of Chemistry, University of Bristol)
Mr Nick Barker (Social Inclusion Group, University of Warwick)
Professor Mike T Davies-Coleman (Department of Chemistry, University of the Western Cape, South Africa)
Professor David Read (School of Chemistry, University of Southampton)
Mrs Joyce Sewry (Department of Chemistry, Rhodes University, South Africa)
Dr Magda Wajrak (Department of Chemistry, Edith Cowan University, Australia)