View all news
Innovative project bringing theatre production to life shortlisted for award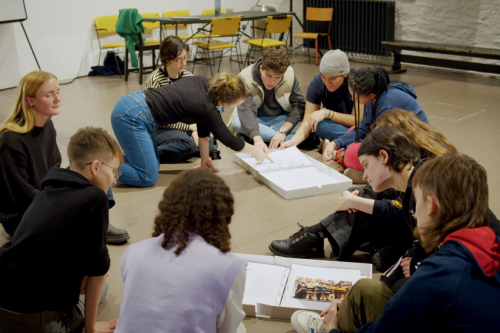 Press release issued: 11 May 2023
An innovative partnership project that uses 3D augmented reality (AR) technology to help bring the art of theatre production to life for young people was among the nominees for a prestigious award.
The 'Making a Scene' project – a collaboration between the University of Bristol Theatre Collection, Bristol Old Vic, and Zubr Curio – was shortlisted for a Museum and Heritage Award in the 'Best Use of Digital' category, narrowly missing out at the ceremony held in London this week.
'Making a Scene' is an educational workshop in a box which can be loaned out for use in educational settings. The workshop uses material from the Bristol Old Vic archive of the 2000 production of the Babes in the Wood pantomime, including copies of sketches, designs and photographs. However, because the original set model pieces are too fragile to be taken out of the archive and physically handled, the team have created digital 3D versions and used augmented reality to bring them to life. When participants scan over the designs with an iPad, 3D visuals of how the production would have looked appear on the screen.
Users can refer to the original script, following handwritten directions from the stage manager, or design a scene for an imaginary production. The workshops can be tailored differently for different ages and interest-levels and can support different learning styles; from solo to group team working, formal GCSE Theatre to set and costume design.
Julian Warren, Head of Theatre Collection at the University of Bristol, said: "We are delighted to have been shortlisted for this award alongside some fantastic projects.
"We are delighted to see how engaging these workshops are proving to be. Using augmented reality, participants can move characters around a stage, set up scene changes and cue lighting and special effects to re-create a scene from the pantomime following the directions of the stage manager's prompt script. It really puts the background work of theatre production centre stage."
Amy Stewart, Zubr Curio Project Manager, said: "We're exceptionally proud of this collaboration, and to have been nominated alongside such brilliant projects.
"With all eyes focussed on the action on stage, it's easy to forget the skilled behind-the-scenes teams that bring a production to life. The loan-boxes provide an unprecedented means of exploring technical and design roles in theatre, the extensive archive material offering young people a deep dive into the practical considerations necessary in creating a production.
"The workshops become an original and accessible way to highlight and celebrate offstage theatre roles, and to encourage young people with limited theatre experiences to investigate possible career paths."
Lucy Hunt, Engagement Director at Bristol Old Vic, added: "With Covid restrictions in place during much of 2021, young people were unable to connect with museums and theatre. This became our spur to design an opportunity for playful and creative explorations of behind-the-scenes theatre activities that could take place anywhere, outside of our institutions, and which might also lead to participants considering off-stage careers in theatre."
The awards ceremony was held in London on the evening of the 10th May and was presented by comedian, podcaster and history presenter Iszi Lawrence.
You can see a short video of the workshop in action here: https://curio.zubr.co/best-use-of-digital-nomination.