View all news
'Weightless' electric trailers among 6 ideas given £70,000 at University pitching event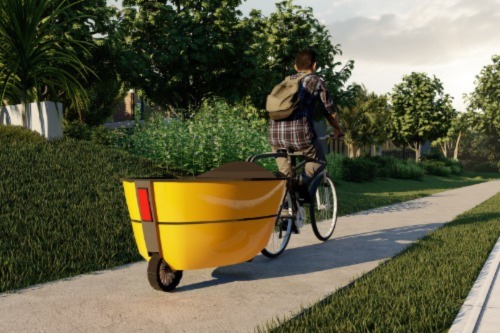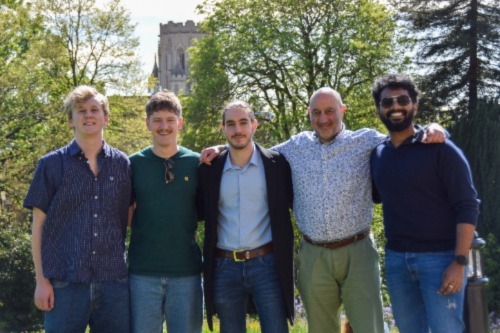 Press release issued: 12 May 2023
A tap-to-rent electric trailer that attaches to a bike or e-scooter was one of six business ideas awarded a total of £70,000 at this year's University of Bristol Innovation Showcase.
To use SLANT's e-trailer, shoppers would merely unlock the trailer with a debit or credit card, before bringing their shopping home and leaving the trailer outside for a SLANT employee to return it to the supermarket.
SLANT say the trailers would be "weightless" due to their electric motors and trips would cost an average of £4 – priced cheaper than the taxi many currently need for food shops. The e-trailer could also easily be pulled or pushed on foot.
SLANT is the brainchild of Innovation master's students at the University of Bristol. The small team includes a Mercedes engineer and medical physicist (both studying on sabbaticals) and finance, biology and history graduates.
Bristol Innovation students are tasked with creating businesses that solve real world problems.
SLANT has just won £10,000 at the Innovation Showcase, which the team will use to build two prototypes to refine the design.
The Innovation Showcase judges were all University of Bristol alumni who had achieved success as entrepreneurs and now want to support student founders. The others winners were:
Mark Neild, Director of Runway and Senior Innovation Lecturer, said: "I feel proud to work with such a talented group of young innovators who are pushing the boundaries of what is possible in a wide range of endeavours.
"Our expert judges uniformly complimented them on the excellent standard of their pitches. I am grateful to our supporters who are empowering our students to achieve far greater impact than they could on their own."
SLANT say their e-trailers will take cars off the road, make shopping trips more sustainable and will be particularly useful for car-less shoppers, who must take taxis or walk home with heavy bags.
Artemis Fragkopoulos, a Business Innovation and Entrepreneurship MSc student, said the number of car trips to UK supermarkets was "mind-boggling", with 73% of shoppers using cars to get to and from the supermarket, totaling 4.5billion journeys each year.
"In England, 19% of car journeys are made only to go shopping; if we could cut even half of these it would make a huge impact on traffic and the environment, and could mean people don't need to spend so much of their income on cars," said Artemis, originally from Cyprus.
In the next few months, SLANT will look to partner with a supermarket to trial the trailer. They plan to raise seed funding later in the year before pursuing a patent.
Unlike city-wide e-scooter systems, SLANT can keep its initial costs low by trialing the electric trailers at individual supermarkets, before rolling them out across the UK and Europe over the coming years.
Tarun George Maddila, a Technology Innovation and Entrepreneurship MSc student originally from India, said: "We hope this sustainable solution will help the environment and consumers - and supermarkets too, by increasing footfall, decreasing congestion and helping their net-zero commitments.
"I'm really excited by innovation – and when I wanted to study it I couldn't think of a better place than Bristol. Without this course, and mixing with students and lecturers with all sorts of expertise, we never would have come up with this idea.
"We couldn't be happier to win this funding, which will help us build the next stage of SLANT."
The founders of SLANT are Tarun George Maddila, Artemis Fragkopoulos, Nigel Deshpande, Louis Cocking and Sam Bell.