View all news
New partnership will create and deliver agricultural and veterinary medicine programmes in Sharjah (UAE)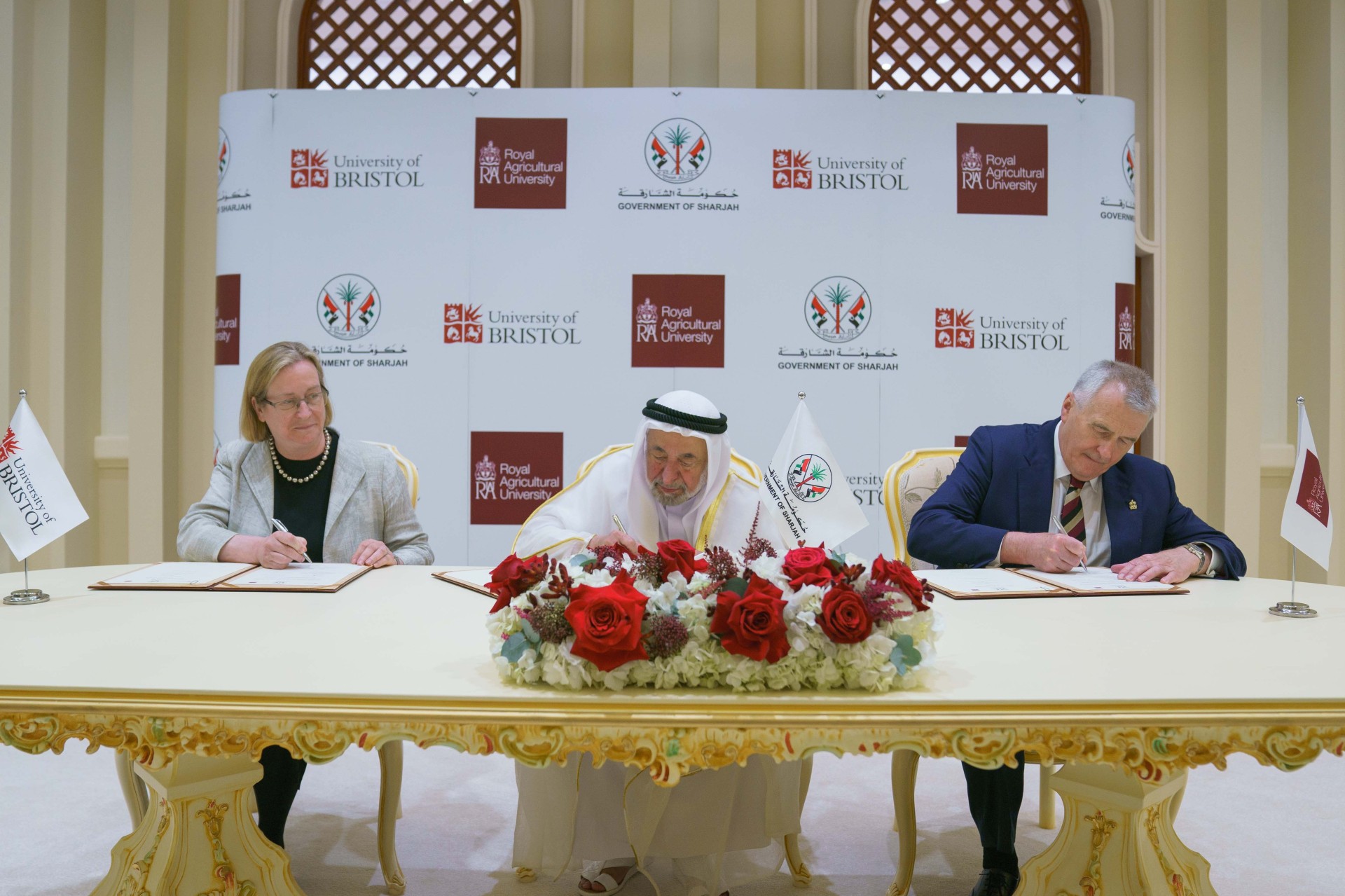 3 May 2023
The University of Bristol and the Royal Agricultural University have signed an agreement with the University of AlDhaid, to deliver new education and research programmes in sustainable agriculture and veterinary medicine.
Representatives from both universities travelled to the Emirate of Sharjah this week to sign the agreement with His Highness Sheikh Dr Sultan bin Muhammad Al Qasimi – Member of the Supreme Council of the United Arab Emirates, Ruler of Sharjah, and President of the University of AlDhaid.
The aims of the programmes are to make a tangible difference to the lives of those in the region by helping to address the key issues of food security, climate change and animal welfare by creating more sustainable crop and livestock systems while building critical veterinary and agriculture capacity.
The partnership itself is expected to be long-term, lasting at least 15 years, and will create numerous job opportunities and the chance for students from all three universities to collaborate and visit each other.
The six-year veterinary degree programme features a very strong problem-based learning approach that has been in place at Bristol for several years and will be modified to fit the requirements of students at AlDhaid. This is unique amongst UK veterinary schools and is specifically designed to produce graduates who will be life-long learners throughout their careers.
The sustainable agriculture degree programme will be developed from existing programmes at the Royal Agricultural University with a focus on the food security needs of the region and an emphasis on identifying and advancing technological solutions to the key challenges of climate change and sustainable crop and livestock development.
The partnership will also build research capacity and expertise to solve global challenges such as growing wheat in the desert, contributing to food security in a region which imports the majority of its food. It will also act as a catalyst for new research in desert science that can be applied in other desert areas such as Sub-Saharan Africa.
Professor Agnes Nairn, Pro-Vice Chancellor for Global Engagement at the University of Bristol, said: "At the University of Bristol we believe we can achieve so much more when we work together with others. It is our mission to make a positive difference locally, nationally, and globally. We are a global civic institution, powered by our sense of place and our connections to communities.
"We want to diversify our own learning community, to help students gain the future skills they need to thrive, wherever they are within our changing world. We also want our own academic colleagues and students to have the chance to work and study in different environments, and to share their expertise and experience around the world. This partnership offers many opportunities to fulfil these aims and objectives and we are very pleased and proud to be working with colleagues in Sharjah to deliver these new degree programmes."
Professor Tim Parkin, Head of Bristol Veterinary School, added: "We look forward to working with academic and industry stakeholders in Sharjah to develop this exciting initiative and to deliver for the region colleges of veterinary medicine and agriculture which will firmly establish the University of Sharjah as the regional leader in the fields of sustainable agriculture, veterinary medicine, animal welfare and food security over the next decade and beyond.
"We're particularly delighted to be working with the Royal Agriculture University as the leading provider of agricultural education, combining knowledge and industry connections with an innovative, forward-thinking approach."
Professor Peter McCaffery, Vice-Chancellor at the Royal Agricultural University, said: "A desert setting is a forbidding environment in which to produce food and maintain animal health. We are delighted to be working with the University of Bristol in a unique collaboration that will enhance food security and animal welfare in Sharjah as the country responds to climate change. We will be delivering our BSc programme in Agricultural Sciences alongside our partner's doctoral programme in veterinary medicine.
"The students will undertake a common curriculum in the first two years reflecting the science-based, practice-centred approach common to both universities and the close links between the veterinary and agriculture industries. Our experience in a desert climate will support our research endeavours here at the RAU while offering the opportunity too for student and staff exchanges. The surplus generated from this new partnership will be invested in enhancing the student and staff experience here at Cirencester."
A spokesperson from the University of Sharjah said: "We're delighted to be working with the University of Bristol and the Royal Agricultural University to create these exciting new programmes."