View all news
Academic lands British Academy fellowship for project on pivotal female French filmmaker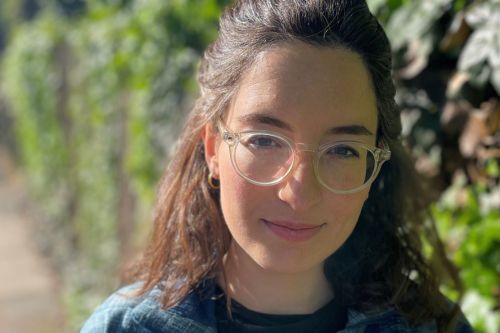 Press release issued: 16 May 2023
A multi-lingual academic from the University of Bristol is one of seven exceptional early career researchers granted fellowships by the British Academy and the Wolfson Foundation.
Dr Alexandra Reza, a Lecturer in Comparative Literatures and Cultures in the Department of French, has been recognised for her work connecting the cultural histories of European empires and those who resisted them.
Dr Reza's work takes a comparative approach to writing, filmmaking, radio and periodical cultures in French, Portuguese and English.
Her Fellowship will allow Dr Reza to continue researching the work of French filmmaker Sarah Maldoror, and the cultural and political worlds in which her work intervened.
Dr Reza said: "Sarah Maldoror made a series of groundbreaking films about African decolonization, women's lives and immigration in Europe. My project charts thematic and comparative lines through Maldoror's oeuvre and will involve archival research, film analysis, intellectual history and a series of public engagement activities in the UK, France, and West Africa. I want to position her as major thinker of decolonization. I'm delighted to be awarded this Fellowship and excited to take forward this research."
Worth up to £130,000 across three years, the British Academy/Wolfson Fellowships provide researchers with time away from some of their normal teaching and administrative duties to pursue outstanding research, along with funding for public engagement work and travel.
Paul Ramsbottom OBE, Chief Executive of the Wolfson Foundation, said: "We are delighted to support another cohort of outstanding early-career researchers who demonstrate considerable brilliance both in the nature of their research and their ability to communicate it. The research supported is wide-ranging, and it will be fascinating to follow the progress."
Professor Julia Black, President of the British Academy, added: "We are very pleased to announce this new cohort of British Academy/Wolfson Fellows whose research will demonstrate the immense value of the SHAPE disciplines for how we understand the world around us. We wish them the best of luck with their research projects."
The British Academy/Wolfson Fellows will take up their posts in the 2023/24 academic year.
Further information
Notes to editors:
The British Academy is the UK's national academy for the humanities and social sciences. We mobilise these disciplines to understand the world and shape a brighter future. We invest in researchers and projects across the UK and overseas, engage the public with fresh thinking and debates, and bring together scholars, government, business and civil society to influence policy for the benefit of everyone.
www.thebritishacademy.ac.uk @BritishAcademy_
The Wolfson Foundation is an independent charity with a focus on research and education. Its aim is to support civil society by investing in excellent projects in science, health, heritage, humanities and the arts. Since it was established in 1955, some £1 billion (£2 billion in real terms) has been awarded to more than 12,000 projects throughout the UK, all on the basis of expert review.
www.wolfson.org.uk @wolfsonfdn