View all news
Leave the pub feeling smarter with Bristol's Pint of Science Festival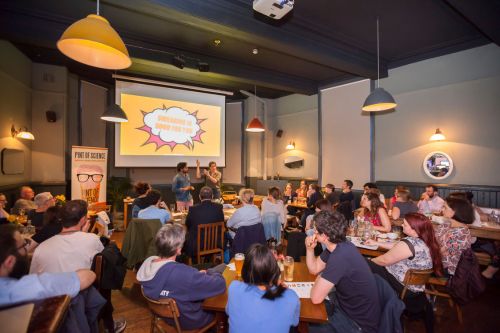 15 May 2023
Come and quench your thirst for knowledge with scientific talks on everything from artificial intelligence to animal behaviour through to quantum physics.
Tickets are selling fast for the Pint of Science Festival, where academic experts give insight into a range of scientific topics at local pubs and cafes. The evening concludes with a science-themed pub quiz where Bristol will go head-to-head with other cities across the UK.
Bristol will host 15 different events taking place across five venues between Monday, May 22 and Wednesday, May 24.
Experts from the University of Bristol will be among the academics from across the South West giving the talks over the three-day festival.
Abbie Williams, a third year PHD student at the University of Bristol, is one of the Pint of Science city coordinator for Bristol. "This is a great opportunity for people to enjoy learning about science in a relaxed and informal setting," Abbie said.
"The festival is celebrating its 10th anniversary this year and is an excellent opportunity for researchers to get out into the community and showcase the amazing work happening on our doorsteps in an accessible way."
Bristol has five venues participating: The Greenbank, The Lansdown, Little Martha Brewing, King Street Brewhouse, and the Left Handed Giant in St Phillips. The respective venues will be hosting a talk each night of the festival.
Topics for the talks include animal behaviour, the fight against HIV in Bristol, artificial intelligence, and the importance of engineering in Bristol. Tickets cost £5 per night. To see a full list and book your place visit: Bristol Events | Pint of Science
The Pint of Science Festival is the brainchild of research scientists Dr Praveen Paul and Dr Michael Motskin, who wanted to provide a space for researchers and members of the public to come together, be curious, and chat about research in a relaxed environment.
Dr Praveen Paul said: "It's hard to believe that a small one-off project between a few friends has turned into thousands of events over 10 years. Each city is packed full of events, which will inspire, challenge and encourage us all to be curious. The only difficulty is choosing which of the brilliant events to go to!"