View all news
Bristol part of £42 million boost for mental health research to unlock new treatments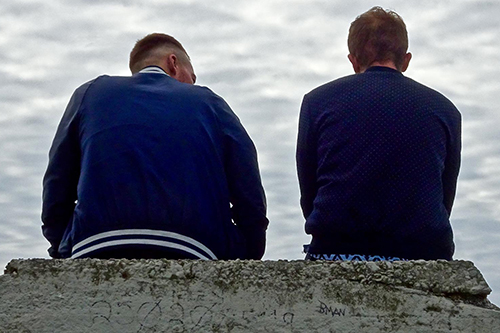 Press release issued: 30 May 2023
The University of Bristol is part of a £42.7 million 'Mental Health Mission' announced by the Government to accelerate research into mental health conditions, including those impacting children. The research will develop radical new treatments, improve the speed and accuracy of diagnosis and increase the use of technology to free up clinician time.
According to NHS England, one in four adults and one in 10 children experience mental illness – therefore bolstering research in this area could potentially help millions of people across the country.
The psychosis theme of the Mental Health Mission has been awarded over £4 million by the Office for Life Sciences. Bristol's Dr Sarah Sullivan will be co-leading the psychosis prediction workstream of the psychosis theme alongside Dr Paolo Fusar Poli from Kings College London.
The Mission will be delivered through the National Institute for Health and Care Research (NIHR) Mental Health Translational Research Collaboration, a UK wide network of leading investigators specialising in mental health research.
The mission is one of the healthcare research priorities announced by the government last year as part of its Life Sciences Vision, and will take a Vaccine Taskforce style approach to tackling some of the biggest public health challenges facing the UK. The government will continue to harness world-leading research expertise, remove unnecessary bureaucracy, strengthen partnerships and support the new healthcare challenges.
Dr Sarah Sullivan, Senior Research Fellow in Bristol Medical School's Centre for Academic Mental Health, said: "I am very excited to be part of this endeavour, which will improve psychosis research capacity and thereby improve services for people with psychosis. Psychosis is one of the most disabling mental illnesses and one of the most expensive to treat. "
This funding supports the Prime Minister's five key priorities by putting patients at the centre of the NHS and ensuring innovation is at the heart of the government's plans.
Health and Social Care Secretary Steve Barclay said: "Mental illness affects one in four adults in England and is one of the biggest public health challenges we face - that's why we are investing in this mission, to improve services and treatments for millions of patients across the country.
"We're working with the NHS and experts in industry and healthcare to fund cutting-edge research that will benefit those who need support including developing apps and other technology to monitor people while they stay in the comfort of their own home.
"This research will help build a stronger, healthier NHS and free up staff time to tackle the Covid backlog and provide support for people when and where they need it."
The funding will be used to: 
Bolster research to improve the treatment and care for those with mental illness to address key issues affecting patients and clinicians today. Key priority areas for this research will include specific mental health conditions such as early psychosis and mood disorders which are currently under-researched, as well as research into children and young people's mental health to improve treatment and diagnosis.
The use of data and digital technologies is also a focus which aims to enable clinicians to more accurately target prevention and treatment. Enhanced use of technology has the potential to free up clinician time, such as by monitoring people at home through an app, which allows more people to receive treatment and reduces waiting lists for service users.  
Fund two pilot sites in Birmingham (University of Birmingham) and Liverpool (University of Liverpool and Mersey Care NHS Foundation Trust). They will work closely with industry to boost research and encourage investment. These sites will develop novel ways of working which can be rolled out to other sites in the future.
Eliminate barriers for industry to deliver ground-breaking new treatments to people with mental health conditions faster. 
CEO of NIHR and Chief Scientific Advisor Professor Lucy Chappel said: "Mental ill health affects many people. This investment in the Mental Health Mission aims to deliver a truly exciting range of innovative therapies and technologies that could greatly improve people's lives.
"For example, the development of wellbeing apps, games and services to diagnose child mental health problems early could provide valuable new methods of treatment.
"And in the true spirit of collaboration, the work has intentionally been spread across the country so that more people are able to participate in world-leading mental health research than ever before."
Oxford University visiting Professor Husseini Manji will be co-chair of the Mental Health Mission alongside Professor of Psychological Medicine at The University of Manchester Kathryn Abel, added: "We are delighted to be working together to make the new Mental Health Mission a truly revolutionary force behind mental health research. We want the Mission to create tangible differences to the lives of patients, both in the UK and internationally. Between us, we bring a wealth of experience in mental health research and innovation, and a commitment to genuine collaboration with patients, industry and healthcare staff.
"Bringing together the public sector, patients and industry as equal partners, the Mission will work with the Office for Life Sciences and the National Institute for Health and Care Research to support the NHS and NIHR to capitalise on its size and scope, and on the depth of its data resources. Alongside additional investment in mental health research and infrastructure, the Mission will foster a step change in the way we think about mental health, mental illness and its treatment. This will support development of the critically needed treatments across the spectrum of mental illness.
"We want the UK to be the most attractive place to conduct robust, high impact mental health research, ensuring people have access to the best, and newest, treatments. We are confident that the Mission will be unique in its ability to convene and challenge national partners to make this happen."
Further information
The funding will be distributed to researchers through the NIHR Mental Health Translational Research Collaboration (MH-TRC) to build a world class research network across the UK by bringing together leading researchers in the mental health field to accelerate the translation of discoveries into clinical practice. The MH-TRC brings together NIHR infrastructure, Universities and NHS organisations across the devolved nations; to undertake high-quality early and experimental medicine research in mental health. This collaborative approach strengthens the expertise and reach of the MH-TRC and ensures research involves patients and the public who better reflect the diversity of the population.  
The Life Sciences Vision, published in July 2021, set out a proposal to make the UK the most attractive place in the world for Life Sciences Innovation. The Vision included priority healthcare missions for the government to solve in partnership with industry, the NHS, academia, and research charities: https://www.gov.uk/government/news/bold-new-life-sciences-vision-sets-path-for-uk-to-build-on-pandemic-response-and-deliver-life-changing-innovations-to-patients  
The Mental Health Mission was launched in November 2022, to grow the Life Sciences sector and address the unmet need for innovative new mental health treatments and technologies: https://www.gov.uk/government/news/government-to-use-vaccine-taskforce-model-to-tackle-health-challenges  
The Chairs to lead this mission will be announced in due course.