View all news
Ivan Laver, 1946-2023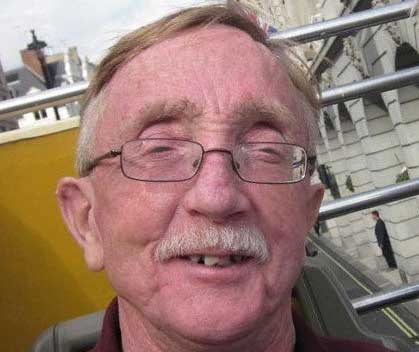 5 May 2023
Ivan Laver, former Workshop Manager in Mechanical Engineering, passed away in late April. His friends Peter McKeighan and Troy Swankie offer a remembrance.
Our dear friend and colleague Ivan Laver died in hospital 27 April 2023 following recent surgery. He was 76 years old.
Ivan was born on 14 October 1946 in Brislington, Bristol where he spent much of his childhood. His skill and knack for hands-on work led to an apprenticeship at Rolls Royce (Bristol). This experience ignited his interest in aircraft, engines and all things engineering. In 1970, Ivan joined the Department of Mechanical Engineering at the University of Bristol where he remained a key member of technical staff for 38 years until his retirement in 2009.
Ivan worked closely with Professor Graham Ellison in the Materials Research Laboratory, focused on fatigue, fracture and high-temperature material behavior. The work required Ivan to develop novel test setups designed to understand how aircraft engine materials behave at high temperature and under cyclic loading conditions. This required advanced instrumentation and creative approaches to implement cutting-edge research ideas.
Professor Ellison retired in 1988, but Ivan continued to work in the Materials Research Laboratory supporting Professor David Smith's research activities. His roles and responsibilities as a member of technical staff increasingly broadened over time. In 1992 Ivan was appointed Deputy Superintendent of the Workshop and then in 1999 he transitioned to Superintendent (later renamed Central Workshop Manager) upon the retirement of Fred Silk.
Ivan was instrumental with the successful development of the research facility, BLADE, which was opened by Her Majesty the Queen in 2005. Ivan updated and augmented the Workshop with new equipment when it was re-built in its expanded space with enhanced capabilities. Ivan retired in 2009 but his commitment to the University remained in an honorary capacity as a part-time Assistant Teacher until 2013.
Ivan was a master at getting the impossible done and was always the first to rollup his sleeves and jump into a task. He had a keen sense of humour and an infectious laugh and was known as a practical joker. When he wasn't working, Ivan had a passion for traveling the world and meeting new and different people. If he wasn't traveling, Ivan could be found tinkering, operating a chainsaw or creating lifeless pheasants on the off days that he wasn't playing cricket or skittles.
Ivan is survived by his loving wife of 50+ years, Vanessa, and a sister, Beryl Devon. He was preceded in death by a daughter, Charlotte, who sadly passed away at a young age.
Further information
A funeral/memorial service for Ivan will be held on Monday 5 June 2023 at Haycombe Cemetery and Crematorium, 209 Whiteway Road, Bath. In lieu of flowers, please make a donation to Diabetes UK or your favorite medical charity.