View all news
Isambard 3 receives £10 million investment creating one of world's TOP500 supercomputers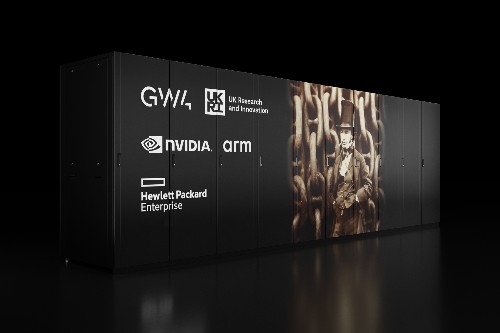 Press release issued: 22 May 2023
The UK's GW4 Alliance, which brings together the universities of Bristol, Bath, Cardiff and Exeter, together with Hewlett Packard Enterprise (HPE), NVIDIA and Arm, have been awarded £10 million by UK Research and Innovation (UKRI) to develop Isambard 3, creating a new, TOP500-class supercomputer service for AI and high-performance computing (HPC).
Isambard 3's significantly upgraded performance will enable new research in a wide range of areas, including in clean energy, modelling optimal configuration of wind farms on both land and water, and modelling fusion reactors to provide green energy in the future. The new collaboration with NVIDIA will also enable Isambard to support cutting-edge research in AI and machine learning. Isambard 3 will support new user communities from AI, life sciences, medical, astrophysics and biotech.
Isambard 3 will utilise the latest novel technologies, including the new Arm®Neoverse™-based NVIDIA Grace CPU Superchip, to provide a production system of at least 55,000 cores. The new system - one of the first in the world based on NVIDIA Grace - will have more than six times the computational performance and six times the energy efficiency of Isambard 2.
The powerful new facility will be hosted in a self-cooled, self-contained HPE Performance Optimized Data Center (POD) at the National Composites Centre on the Bristol and Bath Science Park. Isambard 3 will also include an expanded and upgraded multi architecture comparison system to enable scientifically rigorous performance comparisons and benchmarking across diverse computer architectures. It will also feature a storage system comprised of the Cray ClusterStor E1000 storage system to deliver expanded storage with intelligent tiering to support data-intensive workloads, such as AI model training.
Initially hosted by the Met Office to develop more sophisticated weather forecasting and climate prediction modelling, Isambard has also been used to investigate next-generation healthcare and to develop innovations in medicine. Researchers are running molecular level simulations to understand the mechanisms behind Parkinson's disease, and to help develop new drugs to treat osteoporosis. Research conducted on Isambard was also vital in the fight against COVID-19, contributing to the design of the vaccines by modelling the virus and how vaccines might work against it.
Since its start in 2017, Isambard has enabled nearly a thousand people to be trained in advanced computing and simulation techniques all over the world. Isambard 3's expanded capabilities create the opportunity for new training around advanced AI workloads through tutorials and hackathons.
Employing the latest sustainability techniques and best practice, Isambard 3 is being designed to be one of the most energy-efficient, lowest carbon emission CPU-based supercomputers in the world, with the potential to reuse waste energy to heat surrounding buildings.
Professor Simon McIntosh-Smith, Principal Investigator for the GW4 Isambard project and a Professor of high-performance computing at the University of Bristol, said: "Isambard is already pushing the boundaries of scientific research, with significant developments being made that just wouldn't be possible without it. Isambard 3 will create several 'world-firsts,' and the new Arm-based NVIDIA Grace processors will enable new kinds of research and innovation in artificial intelligence and scientific simulations.
"Isambard 3 will provide researchers across the UK and internationally access to cutting-edge technology, with a transformational increase in performance and energy efficiency. It's a great vehicle for supporting collaborations with our academic and industrial partners all over the world."
Professor Ian White, Vice-Chancellor and President at the University of Bath and Chair of GW4 Council, said: "We are immensely proud of what we have achieved with GW4 Isambard. This ambitious project exemplifies university-industry collaboration and the world-leading capability of our region in advanced engineering and digital innovation. Isambard 3 will further strengthen the UK's research and innovation ecosystem - supporting world-leading, cutting-edge research and attracting international researchers, scientists and developers to support the UK's ambitions to be a science superpower."
"Supercomputers like Isambard 3 provide maximum performance and capabilities that are fundamental to unleashing the full potential of AI applications, such as running natural language processing at scale," said Mark Armstrong, vice president and general manager of HPC, AI & Labs for Europe, Middle East and Africa, at HPE. "We have a long history of advancing supercomputing and AI in the UK, and we are proud to support the nation's efforts to become a science and technology superpower by 2030. With Isambard 3, which leverages latest HPE Cray XD supercomputers and HPE Slingshot, researchers, engineers and data scientists are gaining purpose-built capabilities to train AI models and accelerate research in drug discovery, medical diagnosis, and astrophysics."
John Josephakis, global vice president of business development for HPC and supercomputing at NVIDIA, added: "Isambard 3, powered by the Arm-based NVIDIA Grace CPU Superchip, will deliver unprecedented performance, enabling researchers and scientists to make ground-breaking advances in science and technology.
"Our work with GW4 and HPE will also pave the path toward greener computing, as Isambard 3 is one of the most energy-efficient CPU-based supercomputers in the world."
"To sustainably and economically expand areas of research with new scientific applications requires the performance, energy efficiency, and design flexibility that only Arm Neoverse can deliver," said Mohamed Awad, senior vice president and general manager, Infrastructure Line of Business, Arm. "We're proud to collaborate with academic and industry leaders around the globe to make based Isambard 3 one of the most energy-efficient and sustainable supercomputers in the world, accessible to almost every scientific research group in the UK, and ready to take on some of the globe's biggest challenges."
It is expected Isambard 3 will be installed later this year, with user migration taking place over winter, ready for use early 2024.