View all news
£1.5 million investment to bring Bristol spin-out Halo Therapeutics first antiviral spray into clinic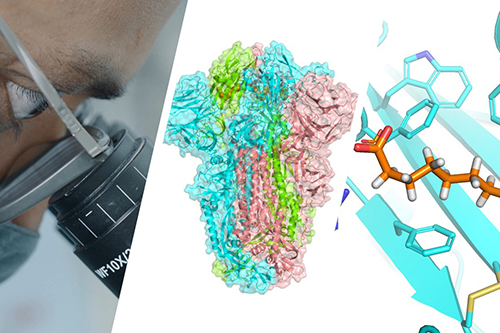 Press release issued: 22 May 2023
Clinical trials of an easy-to-use home therapeutic treatment for SARS-CoV-2 (coronaviruses) are underway following a £1.5 million investment into University of Bristol spin-out, Halo Therapeutics.
This first-in-human study of Halo Therapeutics respiratory antiviral spray for coronaviruses will investigate the safety and tolerability of the treatment prior to subsequent studies being conducted in patients that are SARS-CoV-2 positive or are at risk of becoming SARS-CoV-2 positive.
Based on world-class research carried out at Bristol, Halo Therapeutics was established as a spin-out company in 2020 by CEO Dr Daniel Fitzgerald, Professor Christiane Schaffitzel, and Professor Imre Berger.
Imre Berger, Professor of Biochemistry at the University of Bristol and Chief Scientific Officer at Halo Therapeutics, said: "Vaccination and treatments have reduced the impact of the virus but it is still a significant health risk. Our self-administered and cost-effective antiviral treatment stops the virus from entering and multiplying in the nasal epithelial cells, where it can then spread to the throat and then into the lungs. It is a potential game-changer in the treatment and prevention of coronaviruses, particularly with the emergence of new viruses."
Dr Mark Bowman, Venture Fund Manager for Development Bank of Wales, which led the investment alongside Science Angel Syndicate (SAS) members and the KBA Group, commented: "It is encouraging to see a growing number of life sciences and medical technology companies investing in Wales. As a nation, we offer a vibrant and prosperous environment that is an attractive proposition for early-stage businesses like Halo Therapeutics as they move towards global commercialisation from a base here in Wales."
Integrated healthcare physician Dr Nikolaos Kostopoulos, co-lead of the KBA Group, added: "Due to a large portion of the unvaccinated, and the waning efficacy of the vaccines, we still see a high incidence and morbidity of COVID-19 infections, as well as a growing number of long Covid patients.
"Halo's antiviral spray will be the best prevention against being infected by new mutant strains, which continue to spread globally. We need to be better prepared for the next waves of Covid this time."
Dr Johnathan Matlock, Co-Founder of SAS said: "We have worked closely with Imre and Daniel since their pre-seed round. We are delighted to have helped them to secure this latest funding round from the Development Bank of Wales. Beginning with publications in the world's leading scientific journals it is rare that you get the opportunity to see scientific innovations so rapidly translate into the clinic and one step closer to patients."
Further information
About HALO Therapeutics
HALO's vision is to roll out a class of small molecule pan-coronavirus therapeutics targeting the central axis of disease pathology: lipid regulation. The company is located in the Welsh ICE, Caerphilly.
About DBW
The Development Bank of Wales is a Welsh development bank that provides financial support for Welsh businesses and is owned by the Welsh Government. The bank provides loans for businesses to start up, strengthen and grow and also provides equity investments for already established businesses.
About KBA Group
The KBA Group is an angel consortium of high net worth individuals co-led by Dr Nikolaos Kostopoulos and Paras Barot.
About Science Angel Syndicate
Science Angel Syndicate is a community of entrepreneurs and investors who source world class scientific discoveries that impact society on a global scale.