View all news
Bristol's biggest bell rings in the King's Coronation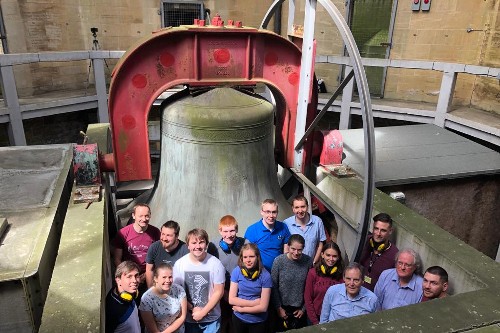 Press release issued: 4 May 2023
Bristol's biggest bell will ring out across the city as part of Coronation celebrations on Saturday (6 May).
Great George, housed in the University of Bristol's Wills Memorial Building, will chime for 15 minutes at 10.45am until the start of the historic Coronation Service at Westminster Abbey.
It will be rung by the University of Bristol Society of Change Ringers, led by Matthew Tosh, one of the Society's alumni members, accompanied by ringers from across Bristol.
They swing the bell using its rope and mounted wheel to produce a louder and richer sound than when the clock hammer usually chimes.
The 9.5 tonnes bell – the seventh largest in England - is only rung manually for significant national and local events, both sad and joyful.
In recent years it's tolled for the Platinum Jubilee, royal funerals and weddings, the London 2012 Olympics, the Queen's 90th birthday, the 70th anniversary of VE Day and the University's Charter Day.
King George V, King Charles' grandfather, officially opened the Wills Memorial Building in 1925. He is one of the Georges that the bell is named after.
The University will also be flying the Union Flag - a symbol of national unity and pride – from its buildings.
Further information
About The University of Bristol Society of Change Ringers (UBSCR):

UBSCR was founded in 1943 and is one of the University's oldest societies. The 300 plus membership is made up of current and past students and staff of the University of Bristol. Members of UBSCR can be found all over the world.
About Great George:
Great George was cast in 1924 and is reputed to be the finest E-flat bell in Europe and one of the deepest-toned bells in the world. It is the seventh-largest bell in England and is believed to be the third-largest that can be rung by hand. It is 6ft 9" high and 8ft 4" in diameter and can be heard 12 miles away. It is named after George V, George Oatley and George Wills. You can follow Great George on Twitter @GreatGeorgeWMB.