View all news
Coronation Garden Party 'really special', says tireless charity fundraiser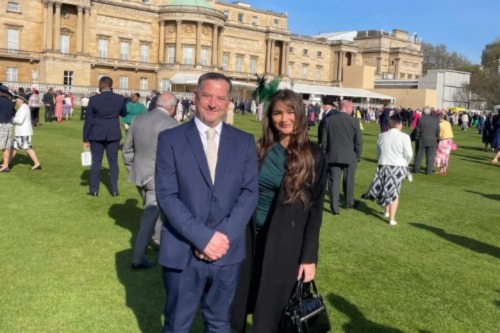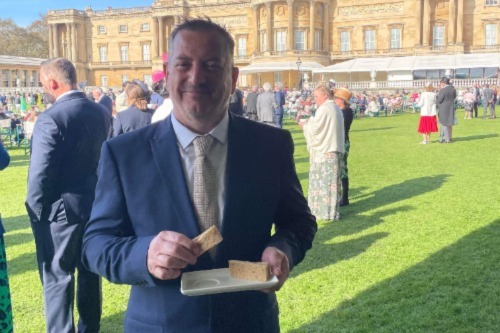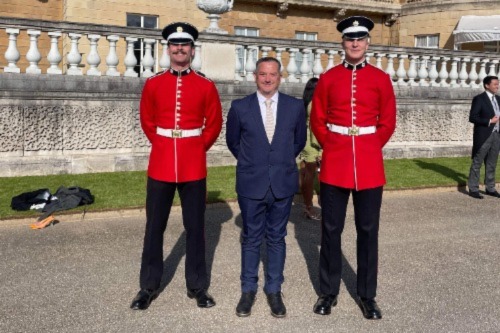 Press release issued: 4 May 2023
A University of Bristol charity champion has said it was "really special" to attend yesterday's Coronation Garden Party hosted by King Charles.
Alongside his regular job at the University, Gary Nott has been leading tours of the Wills Memorial Building every Saturday for 22 years, with all profits going to The Grand Appeal, the dedicated charity for Bristol Children's Hospital.
With the help of other staff members – and his daughter Paris – he has raised £42,000 for The Grand Appeal, an achievement that earned him an invite to the special garden party at Buckingham Palace.
"Being escorted into Buckingham Palace with all the police and limos, we felt like royalty ourselves," said Gary, who attended with Paris.
"It was really special. We got to shake Camilla's hand and saw Lionel Richie. There were loads of people in top hats and military uniform and we spoke to lots of people who were invited there because they'd done good stuff."
Gary admits he still "loves" doing the tours, adding: "I would just have my feet up at home each Saturday otherwise."
The 59-year-old climbs 345 steps to the top of the tower on every tour, and sometimes does up to four of them each Saturday – the equivalent of climbing 100 floors.
Gary and his team also do tours for schoolchildren in the weekdays and monthly ghost tours. He has had people from all over the world on the tours, along with a few celebrities, like stars from the Harry Potter film series and the BBC's Casualty.
"My favourite bit is telling everyone about the history of the University," Gary said. "Telling people that we were the first UK higher education institution to admit women on an equal basis to men usually gets a cheer, and people like hearing about the famous people who have studied here.
"Lots of people don't know that Winston Churchill was our longest serving Chancellor [from 1929 to 1965]. I often get alumni on the tour and one gentleman told me that he was given his degree by Winston during the war, when there was no roof because it had just been bombed.
"There's so much to tell people, if I did it all the tour would take four hours!"
Gary has also arranged around 20 private tours for special wedding proposals at the top of the 65.5metre (215ft) tall tower.
The lovebirds must wind their way up several staircases, past Great George (the UK's seventh largest bell) and up to the top of the 98-year-old building.
"They turn around from looking at the view they see their partner on one knee," explained Gary.
"I like to give them champagne and flowers and then stand in the corner out of the way!"
Professor Evelyn Welch, the University of Bristol's Vice-Chancellor, said: "Gary's well-known by our staff for his warm nature and encyclopedic knowledge of the University.
"His charity fundraising is nothing short of heroic – and we're hugely proud that he was able to attend such a special event at Buckingham Palace."
The Grand Appeal raises money for the Bristol Children's Hospital, which cares for 100,000 patients – many with complex needs medical needs – each year.
Kate Jones, Community Fundraising Manager at The Grand Appeal said: "The Grand Appeal is incredibly proud to have steadfast supporters like Gary. The charity supports the hospital in various ways, from providing accommodation for families outside of Bristol to the refurbishment of facilities and funding vital, state-of-the-art equipment to save young lives.
"Gary's commitment to raising money for critically ill babies and children treated at Bristol Children's Hospital is not only inspiring, but life-changing for the patients there."
The University pays Gary and his team to do the tours, with all proceeds from ticket sales going to The Grand Appeal.
Work began on the Wills Memorial Building in 1915 but was halted in 1916 because of the First World War. It was officially opened on 9 June, 1925, by King George V and Queen Mary – King Charles' great-grandfather and great-grandmother.
To find out more about the tours visit the University of Bristol website.