View all news
Bristol quizzers ready for historic University Challenge final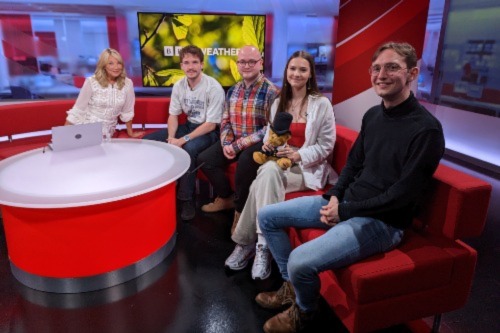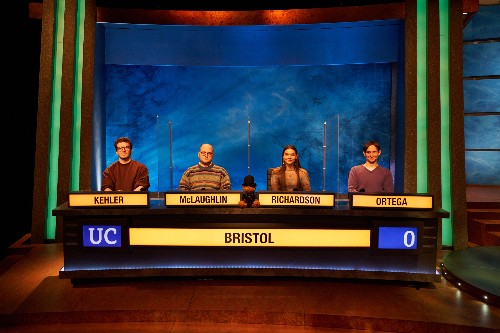 Press release issued: 28 May 2023
Minds are being steadied and buzzing hands honed for the University of Bristol's first ever University Challenge final.
The final is not only historic for Bristol – which was the subject of University Challenge-inspired film Starter for 10 – but also fans of the show, as Jeremy Paxman asks questions for the final time after 29 years as quizmaster.
The Bristol team last week defeated Southampton by 200 to 70, setting up an exciting re-match with Durham.
Durham beat Bristol by just 10 points in the first episode of the series, so Bristol will be looking for revenge. The high scoring match ended 195-185 in Durham's favour, despite Bristol "leading pretty convincingly" for "much of the match", according to Mr Paxman.
Going into the semi-finals, Bristol had the highest average score across the series, and their quizzing has won them plenty of plaudits.
On Monday, Mr Paxman himself praised their "consecutive comfortable wins", while others have taken to twitter to commend their "awesome performance" and to say "well played Bristol – you were on fire".
The team consists of captain Tess Richardson (BSc Chemistry), Jacob McLaughlin (BSc Economics and Mathematics), Sam Kehler (Medicine) and Alejandro Ortega (MSci Physics and Philosophy).
Jacob said: "It's really exciting to be the first Bristol team to reach the final, and to do it in Jeremy Paxman's final episode makes it feel even more special. The whole experience has been very surreal, but we had great fun and are very grateful for all the support we've received."
The team trained hard in Bristol to make it onto the 52nd series of the show, even using their own buzzers during practice quizzes.
They were no doubt helped by their fifth teammate, their teddy mascot Isambear Kingdom Brunel, named after the famous 19th century engineer.
Captain Tess, who has watched every University Challenge episode three times, said it was "surreal" walking out on set for the first time "having seen it so many times on TV".
Speaking to BBC Points West, she said: "Walking in, it just looks the same but seeing all the cameras it's kind of like a glimpse backstage, it was really cool.
"I liked the show in sixth form and the first year of uni, but it wasn't until second year and lockdown happened that I started watching episodes back to back. Now I'd say I watch it religiously."
Alejandro said "Back in August, we played Durham in the very first match of the season. It was a great game, and we narrowly lost. We stayed in the competition by being one of the highest scoring losers, so it's a fantastic arc for the team to get another chance to beat Durham in the final."
The teams have had to keep quiet about their impressive performance since filming took place a year ago.
Bristol's quizzers will be hoping to fare better in the final than the fictional team in Starter for 10, a film written by University of Bristol alumnus, David Nicholls.
The 2006 film, based on Mr Nicholls' book Starter for Ten, follows fact-mad Brian Jackson (James McAvoy) as he vies to compete in Bristol's University of Challenge team, eventually coming unstuck.
Professor Evelyn Welch, Vice-Chancellor of the University of Bristol, said: "This incredible team has already achieved so much and we can't wait to see them in action in the final.
"It's also been fantastic reading the many messages of support for the team from students, staff and alumni all around the world.
"Best of luck, Tess, Jacob, Alejandro and Sam – the whole university is behind you!"
The University Challenge Grand Final takes place at 8.30pm on Monday on BBC Two and BBC iPlayer.