View all news
Can aspirin reduce heart attack and stroke risk in patients with pneumonia?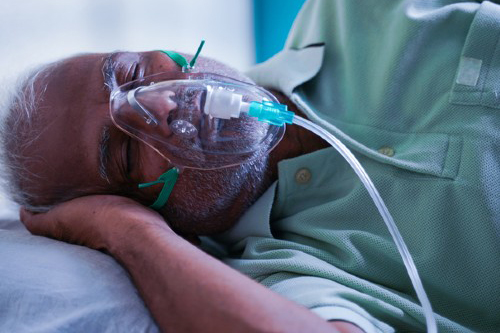 Press release issued: 9 May 2023
A pneumonia trial – the largest ever – will investigate whether aspirin can reduce the risk of a heart attack or stroke in patients who are admitted to hospital with pneumonia.
The research study 'Aspirin after hospitalisation with Pneumonia to prevent cardiovascular Events randomised Controlled Trial' (ASPECT) led by the University of Bristol, sponsored by North Bristol NHS Trust (NBT) and supported by the Bristol Trials Centre, has been awarded funding of over £2.3 million by the National Institute for Health and Care Research (NIHR).
The randomised controlled trial will recruit 22,600 patients from over 60 hospitals across England. Findings from the four-year study will support future treatment guidelines, if appropriate, for patients with pneumonia. If aspirin is shown to be effective it could prevent up to 3,000 heart attacks and strokes a year in England alone.
Adults over 50 years of age admitted to hospital with pneumonia will be invited to take part in the trial. Those who agree will be split into two groups. Every person joining the study will have an equal chance of being in either group, so both groups will be made up of similar people.
One group will be prescribed a three-month course of low-dose aspirin, the other group will not. In all other respects, both groups will receive the standard pneumonia treatment. Participants will be followed up after three months.
The researchers will assess the participants recovery, specifically whether they have had a heart attack or stroke, or any serious side effects from the aspirin. This will be done by reviewing the 'usual care' health records of participants held by NHS hospitals.
Following up participants like this has been shown to be robust, reduces the burden on participants and makes the research much less expensive. To ensure participants are not getting side effects that would not be picked up in their health records, the research team will contact the first 2,000 participants, this follow up will include questions about whether they took the medication prescribed.
Dr David Arnold, NIHR Academic Clinical Lecturer in Respiratory Medicine in Bristol Medical School: Translational Health Sciences (THS) and Respiratory Registrar at NBT, who is joint lead of the trial, said: "Pneumonia is the commonest cause of unplanned hospital admissions worldwide. It has been shown that patients recovering from pneumonia have an increased risk of a heart attack or stroke due to the stress of infection on the body.
"Aspirin has been used for decades to reduce the chance of having a heart attack or stroke in patients at high risk of either event. We hope our trial will show it reduces the risk to patients with pneumonia and that it can save lives too."
Pneumonia is an inflammation of one or both lungs, usually caused by infection. Pneumonia is very common with 270,000 patients admitted as an emergency to hospital in England every year. Most people recover completely but some have complications. Two of the most significant complications are heart attack or stroke. Around 1 in 13 patients (8%) who are admitted to hospital with pneumonia have a heart attack or stroke within three months.
'Aspirin after hospitalisation with Pneumonia to prevent cardiovascular Events randomised Controlled Trial' (ASPECT) is a four-year trial.
Further information
About the National Institute for Health and Care Research
The mission of the National Institute for Health and Care Research (NIHR) is to improve the health and wealth of the nation through research. We do this by:
Funding high quality, timely research that benefits the NHS, public health and social care;
Investing in world-class expertise, facilities and a skilled delivery workforce to translate discoveries into improved treatments and services;
Partnering with patients, service users, carers and communities, improving the relevance, quality and impact of our research;
Attracting, training and supporting the best researchers to tackle complex health and social care challenges;
Collaborating with other public funders, charities and industry to help shape a cohesive and globally competitive research system;
Funding applied global health research and training to meet the needs of the poorest people in low and middle income countries.
NIHR is funded by the Department of Health and Social Care. Its work in low- and middle-income countries is principally funded through UK Aid from the UK government.
About North Bristol NHS Trust (NBT)
North Bristol NHS Trust (NBT) runs healthcare services from Southmead Hospital, Cossham Hospital, Bristol Centre for Enablement as well as satellite sites across Bristol, North Somerset and South Gloucestershire.
As well as providing high-quality healthcare to the local population, NBT is a centre of excellence in the South West and beyond in a range of services and major specialities including neurosciences, orthopaedics and plastic surgery.
NBT also run the Severn Major Trauma Network caring for the most seriously injured patients from injury to rehabilitation. The Network covers the Severn region and includes 2.3 million adults over 800,000 children.
NBT remains a leader in health research that aims to answer important clinical questions. We are currently managing £30 million grants awarded to deliver new programmes of research.
Our pioneering treatments and advances in care have won international recognition, placing us at the forefront of medical knowledge.
About Bristol Trials Centre
Bristol Trials Centre (BTC) is a UKCRC-registered Clinical Trial Unit. We offer a wide range of expertise in trials methodology, study design, study management, statistical analyses and data management, including bespoke database design.
BTC is hosted in the University of Bristol's Faculty of Health Sciences, an internationally recognised centre of excellence for population health research and teaching.
Follow on Twitter: @BrsTrialsCentre