View all news
Student doctor wins Chortle Student Comedy Award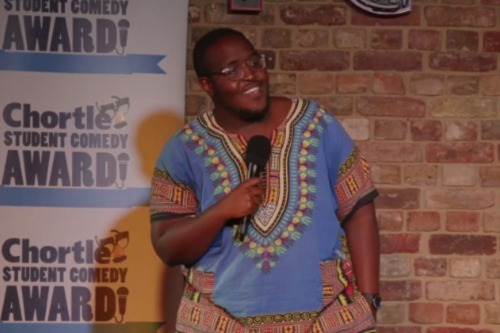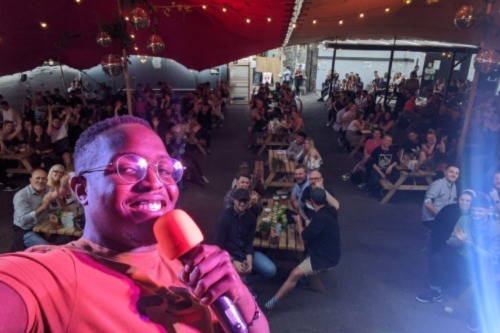 Press release issued: 19 July 2023
A student who fell in love with comedy when he was 12 years old has won the Chortle Student Comedy Award 2023.
Riki Msindo joins a rollcall of former winners that includes Joe Lycett, Jamali Maddix and Phil Wang.
24-year-old Riki battled through multiple heats to make it to the award finals, where he faced nine of the UK's best young comics – including fellow University of Bristol student Muhsin Yesilada.
The final was hosted at Up The Creek comedy club in London by Bristol-born comic Mark Watson, and was broadcast on BBC Radio 4 Extra.
"It felt incredible to win," said Riki. "In comedy you do so many gigs – often after driving to the middle of nowhere – and a lot of the time you aren't sure if you're any good or if you're progressing. The award was recognition that I'm actually entertaining people. I'll really hold on to that.
"Everyone at the show was so talented, they all made me laugh so much, which made winning feel even more incredible."
Riki fits in multiple gigs a week around his busy Medicine degree. But long before he became a student at the University of Bristol, he was a student of comedy.
For his twelfth birthday, Riki was taken to watch Trevor Noah, which sparked a life-long love of the artform.
He has since consumed comedy voraciously, including watching all 245 episodes of the BBC's Mock the Week "four or five times".
"Name an episode and I can tell you the contestants and the jokes they made," said Riki, who grew up in Zimbabwe and moved to Bedfordshire when he was eight.
"My mum tells me the first thing I wanted to be was a comedian, but it was seeing Trevor Noah that really got me interested.
"The only other thing I've wanted to do is to work in medicine. When I was a kid I was burnt badly when some boiling water fell on me – I spent three weeks in hospital and learnt that this thing called medicine existed."
In Bristol, Riki was able to indulge his dual loves of medicine and comedy.
"I fell in love with Bristol as soon as I arrived, it's just such an incredible city. It also happens to be the home of loads of the country's best comedians!" he said.
Riki hosts a podcast with established comic Mark Olver called 'Oh Captain My Captain', where Mark helps Riki navigate the highs and lows of starting out in comedy. Along with discussing gigs and material, they have also interviewed the likes of Jimmy Carr, Russell Howard and James Acaster about their craft.
But it has not always been plain sailing.
Riki said: "I'll never forget my first gig. It was at an open mic in London. I'd spent two weeks writing my 5-minute set and I realised immediately that none of what I was saying was even entertaining. I could just feel how unfunny I was being, it was horrific.
"I went back to the drawing board, entered a mini-competition and came second."
Since then, Riki has performed around 150 gigs, including supporting Russell Howard and Nathan Caton, both in front of hundreds of people.
Now graduating, Riki will continue gigging as he takes up his first job as a doctor in Brighton.
Further information
Find Riki on Instagram @comedyrik