View all news
Innovative national initiative helps migrant entrepreneurs blossom in business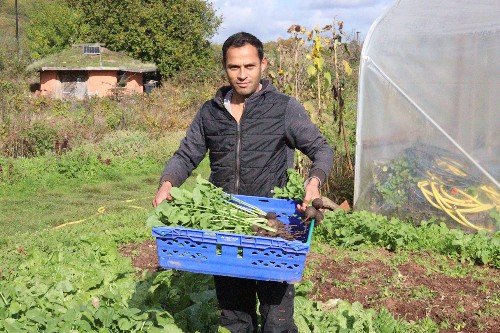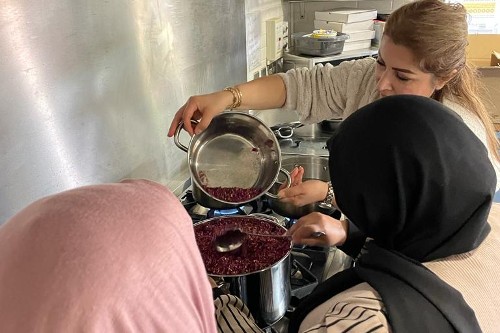 Press release issued: 12 July 2023
Business is blooming for hundreds of entrepreneurs thanks to a unique project committed to boosting the prospects of migrants and refugees in the UK.
Among those to benefit is a group of women who produced rose and herb cordials to bottle and sell, and a green-fingered former farmer from Syria, who launched Rocket Man to grow sustainably sourced vegetables.
Researchers from the University of Bristol have been sharing their expertise with the Migration Business Support (MBS) a project run by ACH (Ashley Community Housing) in partnership with the West of England Combined Authority.
ACH is a social enterprise based in Bristol and the West Midlands providing supported accommodation and routes to employment for disadvantaged individuals.
Together they have created a report, launched today, calling on policy makers and business support agencies to learn from this successful model. By scaling up such best practice more migrants and refugees will be able to reap the rewards, while also furthering positive integration in the UK.
Lead author Ann Singleton, Reader in Migration Policy at the University of Bristol, said: ""This report presents very positive findings about the success of offering comprehensive support to migrant and refugee entrepreneurship in specific UK regions. It offers important insights for policy makers at a national and local level which can be applied and rolled out not just across the UK, but also in the European Union and globally.
"All too often migration in the UK is portrayed negatively, so we are pleased to share results which demonstrate that enthusiasm for work and creative mindsets combined with inclusive policies can support social and economic development across the whole community."
The model follows a holistic and agile approach, which places a strong emphasis on lived experience so practitioners gain a greater, more empathetic understanding of service users' needs as well as engaging with the wider community.
Key recommendations highlighted the need to focus on:
Individual outreach, partnership working, nurturing trust, and developing strong community engagement, including community leaders.
Building bridges between project funding and sustainable long-term business support, which also offers Sharia-compliant funding models.
Generating more robust data to inform future policy and practice, and facilitate evidence-based tailored support.
"The Migration Business Support project brings together multidisciplinary skills and expertise in partnership with different sectors, including universities, third sector organisations, local authorities and the private sector," Ann Singleton added.
"The innovative approach, informed by expertise from lived and learned experience, has resulted in the creation of exciting new businesses with prospects for sustainable futures."
So far more than 640 migrant refugees and entrepreneurs from more than 15 different countries, who were mostly unemployed, have been helped by the scheme over the past two and a half years. During this period more than 50 hugely varied enterprises across the West Midlands and South West have come to fruition, including a crochet start-up, flash fashion and accessories e-commerce platform, acupuncture and sports therapy business and Egyptian street food venture.
Among them was a group of six resourceful women, aged between 25 to 45, originating from Syria, Somalia, Sudan, Afghanistan, Yemen, and Pakistan,who now live in Bristol. Sharing skills and recipe ideas from their former homelands, they devised delectable cordials to sell at venues and events in the city and beyond. Their special rose and herb recipe proved such a hit it was showcased at The Royal Horticultural Society Chelsea Flower Show in May and a further batch of 200 bottles have been made for summer fairs.
Fozia Ismail, who now runs her own successful Somali supper club and iced tea community project in Bristol, led the team of women producing the cordials. Fozia, aged 42, was born in Kuwait and moved to the UK with her mother as a young child.
She said: "The Chelsea Flower Show Garden by Jane Porter has roses in it and also some lovely herbs, like thyme and mind. So we thought it would be really nice to incorporate this into a drink.
"We've made two different cordials: one with rose, thyme and lemon and one with hibiscus, lime and mint. They taste quite different but they make very refreshing drinks to pair with ice and sparkling water. They are really delicious."
Participant Maria Mohammed, aged 36, comes from Sudan and has been living in Bristol for the past five years.
Maria said: "It has been really amazing. We did a test run to make sure we balanced the right amount of lemon and sugar. I found it really good and have learned a lot, as well as made friends, who have been very helpful and supportive. We make a great team and learn from each other."
Their latest enterprise was an offshoot from an equally successful iced tea syrup start-up, called HOMEMADE, which was sold at Bristol Old Vic theatre, the Bath Christmas Market and other events last year. All participants reaped the rewards from the project, which allowed them to experience the full process of a business venture from idea generation to turning a profit, which was equally shared.
Sherin Ali, aged 44, Kurdish from Syria, said: "The project was very fun. We learned about professional methods of making a drink – each country has a way of making these types of drinks using different techniques or ingredients. We had a great time and made friends, as well as an excellent product."
Father-of-three Ali Al Hlayel escaped the war in Syria and settled in Bristol, where he spent two years volunteering at Windmill Hill City Farm and for the social enterprise Sims Hill Shared Harvest to grow his knowledge of the UK land and climate. Having previously cultivated vegetables, wheat, and barley, Ali longed to be back on the land, using these skills to provide for his family.
Last year he produced his first harvest, with organic rocket being his star performer. By setting up a JustGiving fundraiser he raised more than £6,000 to buy a large polytunnel to help scale up his budding business and allow it to operate all year round. All the crops are pesticide-free, resulting in delicious produce which is sold to local restaurants and shops.
Ali, aged 40, said: "The UK welcomed us as refugees. I was so worried about the new country with different culture and with no family or friends, also I knew nothing about this new community but luckily, I was able to restart my journey as a farmer in the UK."
Professor Bridget Anderson, Director of the Migration, Mobilities Bristol Specialist Research Institute at the University of Bristol, said: "This report strongly demonstrates how research can support organisations and communities to bring positive changes in individual lives and for the benefit of society as a whole.
"The unique partnership approach, led and inspired by ACH, a community-based social enterprise, with business support providers, universities and community organisations, has proven a catalyst for positive change in the South West and West Midlands. It provides key practical learnings as well as effective models to nurture new enterprises for national and international policy to adopt."
Researchers from the University of the West of England (UWE) and Aston University were also involved in the project.
Fuad Mahamed, Chief Executive at ACH, said: "The MBS project has provided an invaluable service for our refugee and migrant clients. Partnering with University of Bristol and The West of England Combined Authority Growth Hub has provided us with additional business expertise and academic rigor further enhancing our unique client centred delivery. I would encourage decision makers to take onboard the recommendations contained within this report to improve their service offer(s) for these communities."
Pearl Mills, Enterprise Manager at the West of England Combined Authority, said: "The Migration Business Support project has helped us to understand the needs of non-EU migrants when it comes to the accessibility, barriers and needs of business support services. Working with ACH, backed by researchers at the University of Bristol, we have a great track record of helping refugee and migrant entrepreneurs get the skills and support they need to grow their businesses, and we will shape our future business support services to continue to build an inclusive economy."