View all news
Learning centre celebrates 10 years supporting young people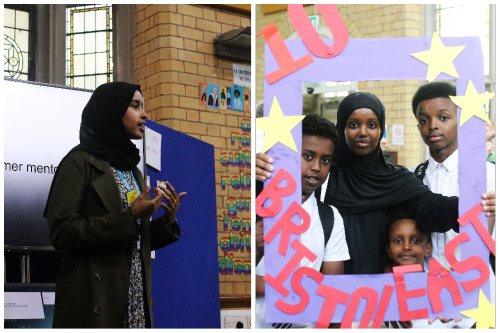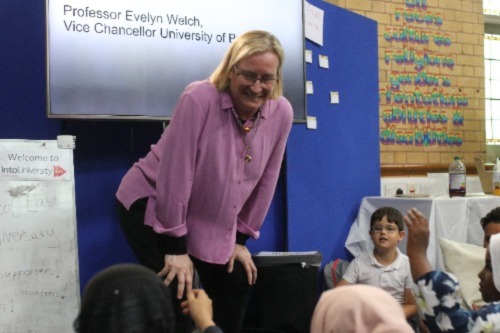 Press release issued: 18 July 2023
A learning centre that has inspired 6,400 young people towards a brighter future yesterday celebrated its 10th birthday.
IntoUniversity Bristol East helps children aged seven and up with academic support, mentoring and aspiration-raising workshops and trips.
Run by national charity IntoUniversity in collaboration with the University of Bristol, the centre began serving Barton Hill and the surrounding area in 2013.
Over the past decade it has helped more than 6,400 young people improve academically, develop soft skills and get insights into their future options.
The support has included taking 4,600 young people on trips to the University of Bristol and 6,800 hours of mentoring provided by University of Bristol students.
Only one in five young people from Barton Hill go to university – far less than the national average of 46.8% – and it is amongst the 10% most deprived neighbourhoods in the UK.
An event celebrating the 10th anniversary was held yesterday at the centre's site on Trinity Road, with students and families, community stakeholders and supporters from the University, including its Vice-Chancellor.
A Year 8 student who attends IntoUniversity Bristol East, said: "The staff at IntoUniversity help me do homework and explain things in a fun way and allow me to work in a team but also individually.
"There are particular staff members who have their strengths in different subjects so you can get specific help and, on the flipside, it can also be a quiet space in which one can concentrate and be productive with essential resources such as laptops and stationary.
"Their academic support has taught me to persevere in my studies and to be determined which has helped me in school as well."
Emily Magrath, IntoUniversity's Regional Operations Manager who is based at the centre, said: "It has been a privilege to oversee the centre for a little over half its life so far, and to be able to get to know all the students and their families and watch as they develop their interests, academic abilities and future aspirations.
"A hugely important part of the successes here is our partnership with the University of Bristol, it has been a key factor in allowing us to be a secure and stable service. Whether we take students on trips to the university (often for the first time), or students from the university come to volunteer here - strong connections have been built between this location and the university - the students learn that the university is their university and is somewhere for them if they want it to be."
Dr Rachel Carr, Chief Executive and Co-Founder of IntoUniversity, said, "We're delighted to be celebrating the ten-year anniversary of our Bristol East centre and our partnership with the University of Bristol.
"Together, we have supported thousands of talented young people in east Bristol, supporting them to realise their ambitions and achieve their educational potential. We look forward to continuing our successful partnership in the years to come."
Lucy Collins, Director of Student Opportunity at the University of Bristol, said: "Over the past decade, IntoUniversity Bristol East has had a real impact on the lives of thousands of people, many of whom have gone on to study at Bristol or other universities.
"The staff on-site do a fantastic job not only supporting, but also inspiring, the children and teenagers they work with.
"After 10 years there is an awful lot to celebrate, and we are excited to continue working with IntoUniversity for the benefit of Bristol."
The Bristol East Centre was the first collaboration between the University of Bristol and IntoUniversity. They have since opened a second learning centre in Bishopsworth, in collaboration with University of Exeter and the University of Bath.
The University of Bristol works in the local community in other ways too. Its Access to Bristol scheme gives prospective students an opportunity to experience undergraduate study, along with academic support and a guaranteed offer at the University, and its Widening Participation team uses informative workshops to spark schoolchildren's interest in higher education.
The University works with hundreds of adult learners each year who are thinking about their next steps and locals can access funding through Bristol Scholars, the Black Bristol Scholarship Programme and other similar programmes.
IntoUniversity operates 39 learning centres and projects in disadvantaged neighbourhoods across the country.
Further information
IntoUniversity - intouniversity.org
IntoUniversity is an award-winning national education charity operating a network of 39 learning centres and projects in disadvantaged neighbourhoods across the country, helping young people to achieve at school and beyond.