View all news
Pupils inspired by work of African-American scientist and Super-Soaker inventor in university taster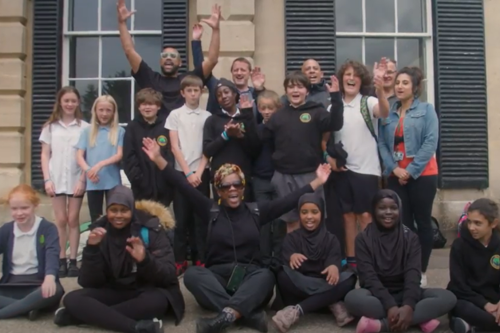 19 July 2023
Around 50 pupils from May Park Primary School recently visited the University of Bristol as part of a new initiative to give young children from less affluent areas of the city the chance to have a taster of what university life is like.
The young people took part in a project run by Bristol-based education organisation CARGO, and spent the day learning about Lonnie Johnson, an African-American scientist who worked for NASA, and invented both the Super-Soaker and the Nerf Gun.
The CARGO Classroom education scheme was created by Dr Lawrence Hoo and Chaz Golding to teach children and young people in Bristol about important figures in black history connected with slavery, but it has now expanded into many other aspects of history, maths, science and technology and literature.
Dr Hoo, a street poet and activist who set up CARGO Classroom a few years ago and was recently awarded an honorary doctorate from the University of Bristol, said the aim of the project was to make the idea of young people from places like St Pauls, Easton and Eastville going to university in Bristol possible.
"It's about getting them comfortable with the surroundings, to normalise this as a thing that they could do if they wanted to," he said. "It's about showing them that the University of Bristol could be for them as much as anyone, and that they shouldn't feel uncomfortable thinking that."
During their visit, pupils heard from Justin Tabbett, a PhD student in Aerospace Engineering, before carrying out some fun scientific experiments with Selim Tudgey, a PhD student in Robotics. The group then headed over to the University's picturesque Royal Fort Gardens where they enjoyed a demonstration of the famous Mentos and Diet Coke experiment and even having a go with a Super-Soaker water gun.
Finally, all the young people received a gift of either a rocket or a crystal maker kit and a poster of Lonnie Johnson.
Vanetta Spence was the headteacher at May Park Primary until last month - she recently joined Montpelier High School as its headteacher - and said just having a positive experience of going to the university could be life-changing for the pupils.
Now a mature student at the University of Bristol, Ms Spence said it was important to give young people from schools like May Park the opportunity to experience the university. "To come and take part in some workshops about Lonnie Johnson, to really look at black scientists that have gone before them, so they really understand that this is definitely a route that is accessible to them," she said.
Professor Steve Eichhorn, Professor of Materials Science and Engineering at the University of Bristol said: "The work that we've been doing with CARGO has been part-funded by an EPSRC fellowship, and has also involved key people like Selim Tudgey – a PhD student in the Bristol Robotics Laboratory.
"It's been great to be involved, and to shift the narrative towards the achievements of African and African diaspora people in STEM. Programmes like this give confidence to the young people, whatever their background or ethnicity, but centering on those of African and African diaspora descent. I personally learn a lot about history, but also how to shift these narratives to empower young people to achieve."
The University has been working closely with CARGO for a number of years. Together they've created the Universal City interactive map, aimed at connecting new students and staff with the diversity of the city of Bristol.
The Lonnie Johnson lesson can be accessed for free on the CARGO Classroom website.