View all news
'Inspiring' human rights activist receives honorary degree for lifetime fighting inequality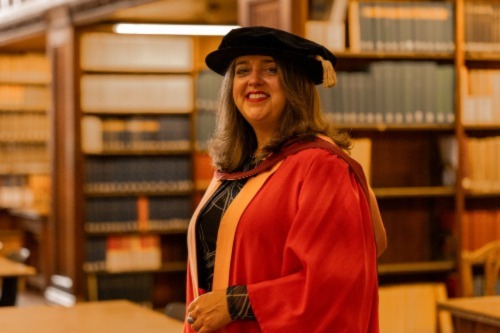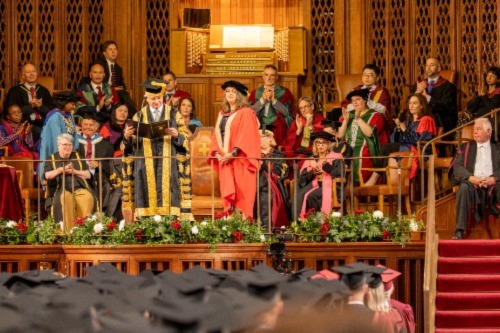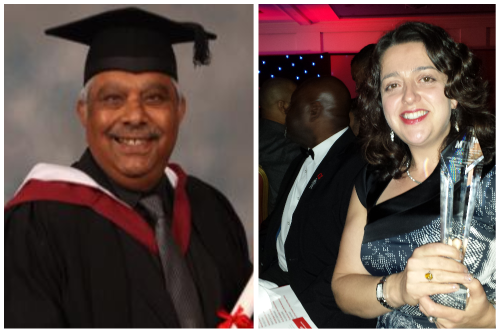 Press release issued: 27 July 2023
A charity leader who has dedicated her life to ending inequality received an honorary degree from her old university.
Alex Ardalan-Raikes MBE is the Director of Stand Against Racism & Inequality (SARI), a charity she joined in 1991 after graduating from the University of Bristol.
Yesterday, she walked across the same stage she did 32 years ago, this time in front of her partner and the four sons she raised as a single mother.
She told students: "You are graduating with great degrees from a top university – Bristol graduates achieve great careers – but I have an ask: please can you all become human rights and environmental activists?
"Because without human rights and a healthy environment, what good is a great career?
"Don't be overwhelmed by this imperfect world – just do small things along the way that make the world a better place and work collaboratively to make a difference".
Growing up in Hampshire, Alex, who is Mixed Race, said there were hardly any ethnic minority families in her village or school. Racism was an "everyday part of life".
"School was one big battle," Alex recalled. "I would be called the 'P' word, be told that I shouldn't be in this country, that I should go home to where I'm from.
"It was an almost daily occurrence, but instead of fighting back or giving up I used to debate with those people and end up having long discussions about racism and our heritage."
Despite these hardships, Alex earned a place at the University of Bristol studying Social Policy.
"It was an inspirational course, with a really diverse group of students, many of whom had lived experience of difficult lives," Alex said.
"They taught us to never just accept the status quo and constantly challenged us, constantly questioned us. It was ahead of its time: I left with the ability to fight with the pen and the spoken word."
Having worked with vulnerable children and adults, Alex had dreamed of opening a children's home. That was until she chanced upon an advert to be a caseworker at SARI.
There she met SARI leader Batook Pandya MBE DL, a "larger than life figure" who was devoted to ending racism and who would say: "Fighting racism is like walking on egg shells uphill."
Batook received an honorary degree from Bristol in 2009. Sadly, he died in 2014 but was honoured with a blue plaque outside SARI's offices in Portland Square in 2016.
"SARI was very different back then," Alex said. "We were like a little detective agency, going out in a van together trying to catch racists.
"The far right was extremely active in the '90s. They were organised, for example one of their spate of attacks involved them going through the address book looking for any foreign name. There were fireworks through letter boxes and arson attacks, physical attacks and bricks through windows, just in the space of a few weeks.
"There wasn't such a good relationship between charities like us and statutory agencies then – we were often sparring on opposite sides. SARI developed some pioneering ways to deal with racial harassment and a lot of it was about building trust and working in collaboration with agencies like the police, local authorities, housing providers and schools."
Today, SARI helps around 900 victims of hate crimes each year. It also provides training, young offender reduction programmes, restorative justice and consultancy on equality and anti-racism.
And, although hate crimes remain a big issue, Alex says it has been "heartening" to see an increase in "solidarity and allyship" against inequality.
Some things, though, haven't changed.
"I'm passionate about people, passionate about human rights and passionate about supporting those whose voices aren't heard," said Alex, who was High Sheriff of Bristol last year.
At the degree ceremony, University of Bristol Professor of Law, Devyani Prabhat, told the crowd that Alex had "immense experience in tackling racism and inequality".
She added: "I am inspired by Alex's message for all to get involved in anti-racism, anti-homophobia, anti-hate and to become changemakers in our communities."
Alex said she was "overjoyed" to receive the honorary degree, adding: "This University is such a big part of who I am today and what I'm doing. It empowered me beyond recognition. Throughout my whole time in education I never really felt included and I never fitted in. I suffered abuse and was discriminated against but at Bristol University, for the first time, I felt like I belonged."