View all news
Indian activist picks up 360kg of rubbish during 30-city UK 'plogging' challenge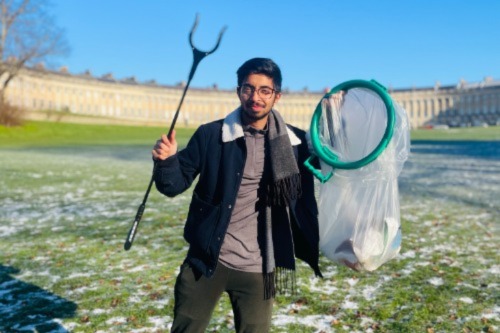 Press release issued: 6 January 2023
An Indian environmentalist and local volunteers who came out to support him, picked up 360kg of rubbish during a 30-day, 30-city 'plogging' tour of the UK.
Vivek Gurav wanted to spread awareness of plogging – that's littler picking and jogging – and help others start their own plogging groups.
The 27-year-old began plogging in his home city of Pune, western India, where he and his many volunteers have picked up 1,000 tonnes (1 million kg) of litter over the past five years.
He brought his enthusiasm for plogging to the UK in 2021, when he left India for the first time to take up a scholarship at the University of Bristol. His plogging group has since become a common sight in the city.
In December, he decided to take the show on the road, visiting 30 UK cities in 30 days. Along the way, more than 250 local volunteers joined him, helping to collect 360kg of litter. Recycling the rubbish will save around 500kg of CO2 emissions*.
His 1,500 mile tour of the UK, using public transport, included visits to Wolverhampton, Manchester, Stoke, Leeds, Liverpool, Lincoln and London.
"It was a great experience and it was really nice to have so many people come out and support," Vivek said.
"It feels fantastic to have seen almost all the major cities in the UK in the shortest span while also doing something I love.
"I see many projects coming this year through the communities I was able to reach out to in this journey.
"I have already started seeing local litter picking groups boosted with volunteer engagement seeing the wide coverage of my tour. It's really amazing."
Vivek graduated from his MSc in Environmental Policy and Management at the University of Bristol in November.
Vivek said he "absolutely loved" the course, especially "being taught by world-leading scientists and environmental academics".
During his time in the UK he was given a Points of Light Award by then-Prime Minister Boris Johnson, visited No 10 on the invitation of current PM Rishi Sunak and spoke at COY17, the youth version of COP.
He is now working for a UK environmental consultancy while continuing his plogging runs. He plans to use the skills he has learnt in the UK to help make India more sustainable.
Further information
* Calculating the 500kg CO2 saving: Vivek logged the materials used in each piece of litter collected. Through this he was able to calculate the figure using data from Scrapp, which approximates CO2 savings based on the emissions of manufacturing and extracting these materials.