View all news
New year, new view: 5 fascinating short courses to try at Bristol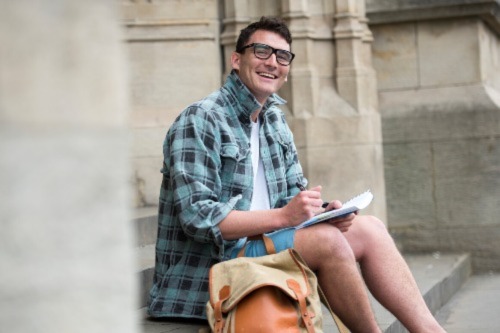 Press release issued: 10 January 2023
Love learning? Looking for a change? Simply want to broaden your knowledge?
Taking up an adult learning course is often in our New Year's resolutions. The University of Bristol offers a number of short, part-time courses aimed at those who want to learn new things, develop a different skillset or move toward a degree or foundation year.
Here are five courses you might like, all taught by Bristol's world-leading academics:
Memoir and Life Writing
Everyone has a story, but telling it isn't always easy. Memoir and Life Writing teaches writing skills and approaches to memoir writing in a confidential space.
Fledgling biographers learn how to structure their work, use source material and navigate different people's perspectives over eight Wednesday afternoons. It costs £160.
Black History Revisited
Those interested in learning more about Black history, plus those looking to do a history degree, need look no further. Over 12 Wednesday evenings, Black History Revisited students acquaint themselves with everything from the experiences of the Black population in Tudor England to the toppling of the Colston statue.
Along the way students learn some of the key skills of a historian: interrogating evidence, understanding bias and making reasoned arguments.
It costs £252. Students or those with low incomes can apply for funding support.
Introduction to freelance journalism
Learn how to write, pitch and make money as a freelance journalist. The course is led by Lesley Gillian, a veteran freelance journalist who has worked for the Guardian, Telegraph, Independent and Financial Times, among others.
Introduction to Freelance Journalism runs over eight Wednesday afternoons and is best suited to those who already have some writing skills. It costs £160.
Reading English Literature
Struggle to know your Shakespeare from your Shelley? Not sure whether you like fantasy or non-fiction? Reading English Literature is a fun and relaxed introduction to classic and modern literature.
Running over 12 Wednesday evenings it teaches students literary study, critical thinking and essay-writing skills. Perhaps most importantly, it gives many the confidence to take the next step on their adult education career.
Many go on to study for the University's BA in English Literature and Community Engagement, a part-time English degree that accredits students to design and run their own community literature projects.
Reading English Literature costs £390. Support available.
Practical Skills for Teaching Inclusive History: CARGO Classroom (online)
This free course helps history teachers diversify their curriculum to include more African and African diaspora history. The four week course introduces historical figures that are often omitted from textbooks and gives educators a handle on how to teach a crucial, but often ignored, part of history.
The course was created by CARGO Classroom with help from University of Bristol academics.
The course is free with the option to upgrade for £34 for a certificate and unlimited access. Sign up for the course and learn more about CARGO's work.