View all news
2023 Alumni Award winners announced!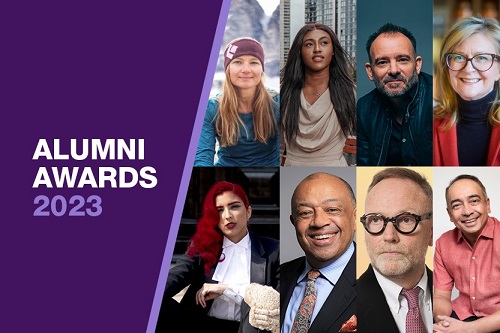 Press release issued: 30 January 2023
A theatre and film director, a professional climber and a renowned politician are among our 2023 Alumni Award winners.
Each year, the University of Bristol recognises alumni who have made remarkable contributions to society through the Alumni Awards. From a Forbes 30 Under 30 entrepreneur, to one of the world's preeminent human rights lawyers, this year's winners are all inspirational leaders in their field.
The winner of this year's Lifetime Achievement award is The Rt Hon. the Lord Paul Boateng (LLB 1973, Hon LLD 2007), a British Labour party politician, lawyer and the UK's first Black Cabinet Minister.
Speaking about his award, Lord Boateng said: 'I'm grateful for this award and the opportunity that a Bristol education has afforded me.
'I'm conscious it's no easier today than it was in the 1970s for a Black boy from a council estate, displaced and uprooted by political circumstances, to become a lawyer. Despite the real progress that has been made in political representation of people of colour, to which I have made some contribution, social mobility is moving in the wrong direction.
"I'm hopeful that the University of Bristol will empower the next generation to take up the struggle for social and racial justice that has informed my life.'
Also recognised in this year's awards is Matthew Warchus (BA 1988, Hon DLitt 2010), winner of the Arts and Media award. Matthew is an award-winning theatre and film director and has been Artistic Director of the Old Vic since 2015. Among many other stage shows, he directed the Olivier and Tony-award-winning Matilda the Musical, and the film of the latter that was released at the end of last year.
Matthew said: 'This award is like a measuring stick, taking me back to when I was a kid about to leave Drax, a small village in the middle of nowhere, to study at university in Bristol.
'It's very emotional for me to have cause to look back on my life like this and realise how lucky I have been and how influential Bristol has been on my path. I'm very grateful for the chance to think about my life and work in this way.'
Vice-Chancellor and President, Professor Evelyn Welch, said of the winners: 'It is a privilege to recognise these remarkable Bristol graduates and to celebrate the far-reaching impact they have in their extraordinary and varied careers.
'Our 2023 award winners are visionaries and true leaders in their field and act as an inspiration for our student community. We are so very proud and grateful to count them as members of our alumni community.'
2023 Alumni Award winners
The Rt Hon. the Lord Boateng (LLB 1973, Hon LLD 2007), Lifetime Achievement Award
The Rt Hon. the Lord Boateng (LLB 1973, Hon LLD 2007) is a lawyer and British Labour party politician. Throughout his career, he has championed civil rights and social issues, and provided powerful representation for marginalised people across the UK. In 1997 he made history as the first Black UK minister and now sits in the House of Lords.
Matthew Warchus (BA 1988, Hon DLitt 2010), Arts and Media Award
Matthew Warchus is a multi-award-winning theatre and film director and has been Artistic Director of the Old Vic since 2015. In 2010 he directed the Royal Shakespeare Company's production Matilda The Musical to critical acclaim, which he then adapted for film in 2022. Other credits include Art (1994), Boeing Boeing (2007) and Pride (2014).
Hazel Findlay (BA 2011), Achievement in Sport Award
Hazel Findlay (BA 2011) is a world-leading climber who has achieved an array of remarkable firsts, such as becoming the first British woman to free-climb El Capitan in Yosemite. She is founder of Strong Mind coaching, which helps climbers overcome fear to improve performance.
Ben Emmerson CBE KC (LLB 1985, Hon LLD 2015), Global Citizenship Award
Ben Emmerson CBE KC is a barrister specialising in international law and human rights. He was previously UN Special Rapporteur on Counter-Terrorism and Human Rights (2011-2017) and has worked on some of the world's most high-profile cases concerning armed conflict, national security, and international criminal law.
Izzy Obeng (BSc 2014), Innovation and Enterprise Award
Izzy Obeng is Founder and CEO of Foundervine, an award-winning social enterprise that supports new and established founders to create successful entrepreneurial ventures through access to training, networks and capital. She is also a business adviser, public speaker and a Forbes 30 Under 30 recipient.
Tan Sri Nazir Razak (BSc 1988), Business and Industry Award
Nazir Razak is currently Chairman and Founding Partner of Ikhlas Capital, a private equity firm based in Malaysia. As Managing Director and Chief Executive of CIMB between 1999 and 2014, Nazir transformed a small national bank into a universal bank operating across South East Asia, with some 45,000 employees.
Kate Hobhouse (BA 1985) and the Garfield Weston Foundation, Transformative Philanthropy Award
The Garfield Weston Foundation is one of the UK's leading philanthropic institutions and donates around £90 million each year to the arts, education, and health projects. A family-run organisation, the Garfield Weston Foundation donated a transformative gift in 2022 towards the development of the University's new digital innovation hub at the Temple Quarter Enterprise Campus. Kate Hobhouse is a Trustee and granddaughter of the founder.
Raeesa Rajmohamed (LLB 2018, LLM 2019), Alumni Association Community Award
Raeesa Rajmohamed graduated with a degree in Law and a master's in Health, Law and Society, before becoming a barrister in 2022. She has been involved in numerous projects since graduating, including lecturing at the University of The Gambia in West Africa and being a mentor for the Bristol Mentors programme.