View all news
NASA astronaut inspires as she receives honorary doctorate from her old university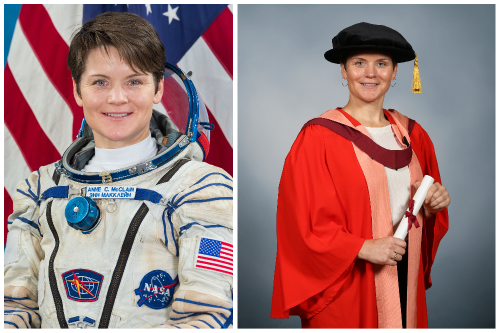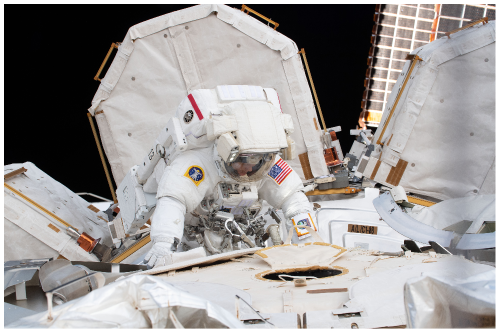 Press release issued: 4 August 2023
The atmosphere was out of this world as a NASA astronaut returned to her old university to receive an honorary doctorate.
US Army Colonel Anne McClain – helicopter test pilot, US national team rugby player and former resident of the International Space Station – spoke movingly to engineering students graduating from the University of Bristol.
As she received the honorary Doctor of Engineering degree, she said: "Your graduation today is a product of your own ambition. And I want you to take a minute to think back, reflect back, on the goal that you set three, four, five, six maybe even more years ago, when you decided you wanted to be sitting here today.
"Think about all the decisions that you made to get from there to here, all the effort you spent, all the sacrifices you and your loved ones made. I want you to think for a minute why you made that choice.
"Did you want to make a bigger impact on the world? Did you seek knowledge beyond that which you already had?
"I would offer to you, that much of the pride you feel today, is as much about your reasons why as it is about the actual accomplishment.
"My challenge to you is to stay ambitious but to remember that 'why'. To remember that your goals and your accomplishments are more than just a moment in time, they are a whole set of reasons.
"Perhaps most importantly, don't forget to live your life while you plan for the future. It's going to be behind you before you know it and one of you is going to be on this stage having your biography read.
"The journey will be your life, make it a good one."
By the time Col McClain had arrived at preschool in her home city of Spokane, Washington (state), she had already decided she wanted to become an astronaut.
She later studied for a master's in International Relations at the University of Bristol, before joining the army as a pilot, where she flew more than 20 types of aircraft.
While training at the U.S. Naval Test Pilot School, she was picked by NASA to join the 21st NASA astronaut class. Her first space mission was 204 days aboard the International Space Station.
Introducing Col McClain to the students, Prof Lucy Berthoud, Professor of Space Engineering at the University, said "we can draw inspiration" from Col McClain's "extraordinary journey".
Prof Berthoud added: "We are here to celebrate someone extraordinary, someone who has ventured beyond the boundaries of our planet, someone who has embraced the unknown with courage and determination.
"Your achievements will inspire generations to come, and your example of excellence guides us all towards a brighter future."
Col McClain added her personal reflections on her time at the University of Bristol: "This is a very special place. A place where knowledge is shared, dreams nourished and individuals are supported to become the best versions of themselves."
Over the past two decades Col McClain has accumulated an array of medals, not least for serving in Iraq, where she flew on 216 combat missions.
She has degrees from the U.S. Military Academy at West Point, the University of Bath and the University of Bristol, and has played rugby in the UK's premier league and for the US national side.
She was selected for NASA training in 2013 and served on the ISS from December 3, 2018, to June 24, 2019. She currently serves as the Mission Support Branch Chief and is eligible for flight assignment.