View all news
Professor Francesco Fornetti named National Teaching Fellow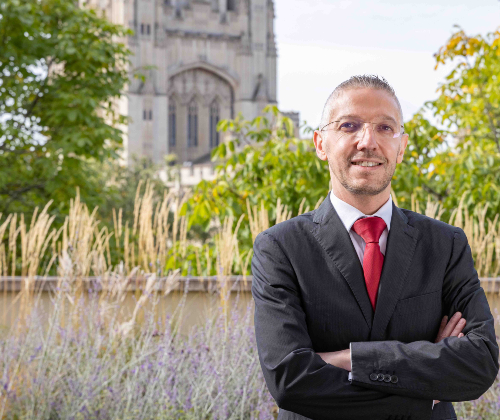 3 August 2023
Professor Francesco Fornetti, Associate Professor of Radio Frequency Engineering, has been named a National Teaching Fellow (NTF), the most prestigious award for teaching in UK higher education.
NTFs recognise individuals who have made an outstanding impact on student outcomes and the teaching profession. Professor Fornetti's award follows a Highly Commended nomination for Most Innovative Teaching of the Year at last year's Times Higher Education Awards.
Since joining the academic team at Bristol, Professor Fornetti has extended his practice beyond his main area of expertise in Radio Frequency Engineering, bringing about a paradigm shift in electronic engineering pedagogy as a whole, to the benefit of thousands of students.
Among Professor Fornetti's main pedagogical innovations are virtual laboratories that he created by identifying and developing the potential of an industry-standard simulation tool (AWR DE) as a teaching and learning tool. These make it possible to easily create virtual circuits and virtual instruments that closely resemble their lab counterparts and enable students to turn their laptops into ubiquitous experimentation facilities. In turn, this empowers them to let their creativity run free and to embark upon individual journeys of exploration that would not be possible with physical facilities alone.
Professor Fornetti's work on virtual laboratories has influenced teaching practice in many institutions and has benefitted thousands of students and professionals worldwide through his YouTube channel, which has attracted more than 3,800 subscribers and has had over half a million views.
Dr Thomas Farmer of the University of Pennsylvania said: "Professor Fornetti's work is unique in its remarkably clear explanations of often poorly or under-explained concepts [..] Both my students and I appreciate the time and energy Professor Fornetti has put into his work as it makes our program here at Penn all the more successful."
His work receives great reviews from our students:
"Professor Fornetti has proven that he can teach both creatively and effectively. The integration of simulations with his lectures make them interactive and interesting, and instil a deeper understanding of the content."
"The virtual labs [..] allowed us to get to grips with the lab exercises beforehand, which made it less frantic and stressful in the labs themselves. They [..] gave us an idea of what the lab was about and what to expect, concurrent with the theory we are learning. I would like these online videos to be available for every lab we have!"
To complement his powerful virtual laboratories and ensure that students were able to develop practical laboratory skills, he also created home lab kits in 2015, comprising USB-powered instrumentation, that enabled them to perform lab exercises in their bedrooms. This work played a pivotal role since it supported the development of new home kits across the Faculty of Engineering that were not only pivotal during the trying pandemic years but are also now employed routinely to enable hundreds of students to develop essential skills.
The students' feedback highlights the importance of this development "[With] the home kits we could take our time with and understand the concepts as we went through. Contrary to most labs where the time given is just enough to complete the experiments and then the understanding of the content has to be done afterwards."
Ian Nabney, Professor of Engineering Mathematics and Technology, said: "Francesco's entire ethos of teaching is about a deep respect for the individual student and finding ways for them to be empowered and in full control of their learning. His approach is designed to be inclusive and engaging for all students, whatever their learning styles. In particular, he measures the student response to innovation in order to determine which approaches work best for the majority of the cohort. This evidence-based approach shows his commitment to student learning. His establishment of a company 'Explore RF' and the creation of the 'Conquer Radio Frequency' multimedia course have enabled him to disseminate his very effective pedagogical framework to other universities around the world. I am sure that he will use the National Teaching Fellowship to spread his practice even wider to create enjoyable learning opportunities for many more students."
Tansy Jessop, Pro-Vice Chancellor, Education and Students, said: "I am delighted that Francesco Fornetti has been awarded a National Teaching Fellowship, the UK's most prestigious accolade for teaching. The award recognises his ground-breaking contribution to virtual laboratories, his use of technology to spread innovation, and his sheer enthusiasm for teaching and the student experience. The University of Bristol has a proud record for brilliant teaching, and we are thrilled that one of our stars has achieved national recognition."
Professor Fornetti said: "I am truly honoured to receive this prestigious accolade, which not only recognises the impact of my years of innovative pedagogical initiatives but also holds the potential to serve as a powerful springboard for disseminating my practices far and wide. I would like to express my heartfelt gratitude to Professor Tansy Jessop, Professor Alvin Birdi, and Dr Ros O'Leary for their support and for granting me this incredible opportunity. I am also deeply appreciative of the invaluable backing provided by the BILT team throughout the process. And of course, a huge thank you goes to the many students, academics and Professional Services staff who have supported me along this journey."