View all news
Pioneering project set to boost innovation in UK financial services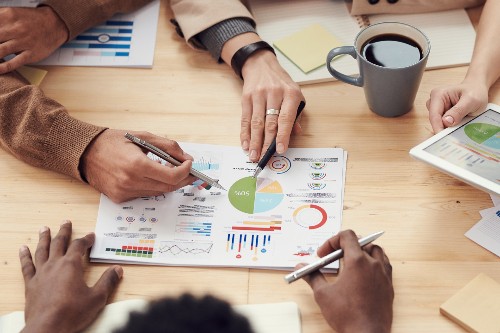 Press release issued: 9 August 2023
Financial services are an essential part of our everyday lives – from making payments, to borrowing money, taking out insurance, saving for the future and getting financial advice.
But smaller businesses in the financial services sector have traditionally struggled to keep up with big financial institutions when it comes to harnessing the latest technologies, potentially missing out on opportunities to build their businesses and serve new customer bases.
These smaller financial services firms will soon be able to benefit from an innovative national initiative. The University of Bristol is among four universities leading a first-of-its-kind £1.8 million programme to accelerate innovation adoption in SMEs (small and medium-sized enterprises) and mid-tier financial services firms to help boost their productivity and competitiveness.
Funded by Innovate UK and the Economic and Social Research Council (ESRC), the innovation adoption accelerator, called Future Finance for All, will work closely with smaller financial services firms to understand the challenges they face and explore how technology and innovation can help overcome those issues and make a tangible difference to their businesses. The accelerator is designed to be highly collaborative, bringing together smaller financial services firms with experts in technology and innovation to work together to find solutions. Ultimately, the aim is to help these smaller financial services firms better serve the needs of their existing customers but also to reach new customer bases, whether those are individuals or enterprises.
Participating businesses will be in the driving seat to identify the challenges they want help with. These could range from using technology to comply with financial services regulation through to producing innovative products and services that open up new markets. Support will be rolled out in a phased approach, scaling up to deliver a portfolio of accessible training, cohort-based workshops and peer-to-peer engagement through a digital platform to reach the breadth of the UK's financial services clusters.
Jonathan Beaverstock, Professor of International Management and Deputy Dean at the University of Bristol Business School, who is leading the project team at Bristol, said: "The accelerator will mobilise social science knowledge and expertise in digital technology to support and enable SMEs and mid-tier firms to innovate their business models and assist in the delivery of technologically enabled financial services to business and individual customers in markets like payments, lending, savings, pensions and insurance, to become included in the fast-moving financial services, and financial technology, industry."
The programme brings together social scientists from a wide range of disciplines with expert partners from the financial services, business, legal, innovation and non-profit sectors in an interdisciplinary partnership that runs over the next two years. This diverse expertise will help firms participating in the accelerator to shape the development of new technologically enabled FinTech products and services, which they could ultimately take to market and scale for wider societal benefit.
Professor Sharon Collard, Director of the Personal Finance Research Centre, said: "Having access to decent financial services is essential for participation in society. This is a potential 'market making opportunity' for new financial product and service innovation delivered by smaller firms that could help boost access and use of financial services for the millions of UK consumers – individuals, self-employed people, and SMEs – who remain underserved."
The accelerator will be delivered in collaboration with SETsquared, leveraging extensive experience of providing world-class innovation programmes for SMEs across the UK, with broader insight being unlocked through the additional support of the University of the West of England Bristol, the University of Glasgow, Glasgow Caledonian University and FinTech West.
Marty Reid, Executive Director of the SETsquared Partnership, said: "New technologies are naturally challenging to implement in regulated markets like Financial Services which can stifle innovation. Future Finance for All is taking a fresh collaborative approach that we believe could have a transformative impact for the industry as a whole."
Stuart Harrison, Director at FinTech West, said: "This is an incredibly exciting and important project which we are delighted to be part of. We already work closely with universities on a number of initiatives and this will further deliver benefits to the sector through the close collaboration of academia and industry."
Further information
Innovate UK and the Economic and Social Research Council are investing £26.5 million in the Next Generation Professional and Financial Services programme. The programme is bringing together businesses and the social sciences. It will help professional service sectors, including accounting and law, and the financial service sectors, including insurance, lending, advisory and payment services, develop and use digital technologies.
The SETsquared Partnership 
SETsquared Partnership is the enterprise partnership of six leading research universities (Bath, Bristol, Cardiff, Exeter, Southampton, and Surrey). Its mission is to turn ideas and innovation into thriving businesses and support the commercialisation of research from its university partners to create economic, environmental, and social impact. It does this by providing world-leading business incubation, innovation, and growth support services. Since 2002, it has helped companies raise £3.9bn of investment, and these businesses' economic impact is estimated to be £15.7bn. SETsquared.co.uk
FinTech West is the representative body for FinTech in the South West of England and part of the FinTech National Network. Anyone who has an interest in FinTech is welcome to join the thousands who already make up the FinTech West Community. Our broad reach informs, guides and entertains an incredibly diverse community and range of job roles. We also encourage and support some important initiatives focused around social impact, student employment and equality, diversity and inclusion