View all news
Sell-out shows and panto pros: Bristol students shine at the Edinburgh Fringe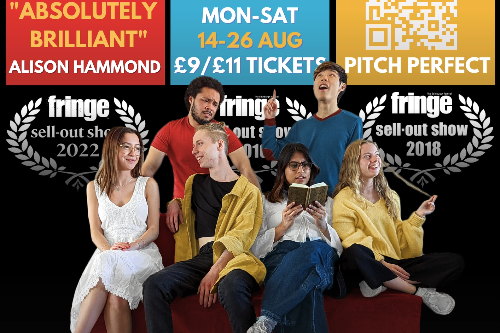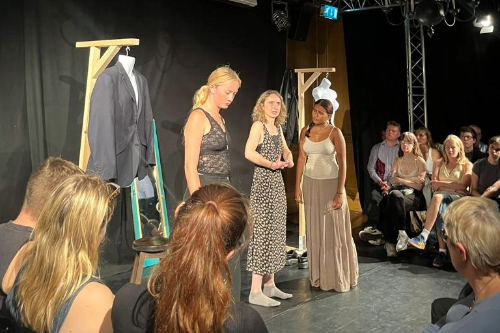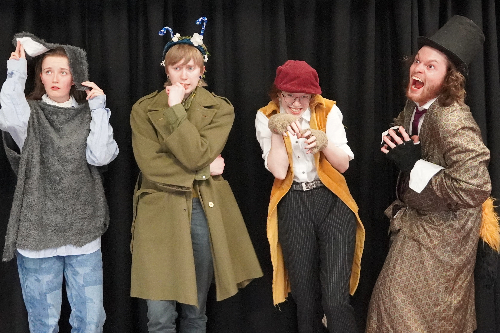 Press release issued: 24 August 2023
University of Bristol students have been playing to sell out crowds at this year's Edinburgh Fringe.
More than 40 Bristol students are acting, producing and directing five original shows to rave reviews.
They include an a cappella group's show based on the '90s TV classic Friends, a retelling of Hamlet from a female's perspective, eclectic comedy from a sketch group, a panto performance of Pinocchio and a play that asks questions about our surveillance culture.
All of the groups are affiliated with – and receive support from – Bristol Students' Union.
Once again selling out their run are the Bristol Suspensions – an a cappella group who have won the UK final of the ICCA, a singing competition made famous by the film Pitch Perfect.
The 14-strong cast's Friends-inspired show is described as "a story of friendship and scandal using chart-topping hits, familiar characters and funky choreography".
One reviewer called it "must see" with "beautifully blended voices", while another described it as "a show with infectious energy, innovative choreography and banger after banger".
Education Studies student Ryan Blyth came up with the Friends motif – despite having never seen the show. As ever, they have written all of the songs and dialogue themselves.
Ryan said: "We've had an incredible response. We've had people coming up to us on the Royal Mile to say 'you guys are amazing' – we can't ask for more than that."
Alisha Agarwal, a philosophy student who plays Monica, said: "We get an hour every day to do what we love: perform. It's so nice being here. It's only at Edinburgh that you find like-minded people so densely packed."
It's not just the city that is densely packed. To keep costs down, the 14 performers are crammed into one house.
Ryan said: "It's really nice to be with everyone. I'm in my final year and over the last four years the whole group has always been there for me."
Their show 'SUSPS: The A Cappella 'Friends' Show', is on every day at 2.35pm until Saturday at theSpace.
For those who cannot wait until Christmas, the University of Bristol's Pantomime Society have put their own spin on Pinocchio, in which "he learns some hard lessons about what it takes to be a real boy".
The show – which just sold out the first night of its run – has been a year in the making. Anyone who auditioned was guaranteed a part in this staunchly inclusive society.
Theatre student Joe Gibson, who is playing the lead role, said the show was "packed full of songs, puns and audience interaction".
He added: "It's just been so exciting to see not only how many kids' faces have been lit up by our silly little antics but also how many adults have been so eager to play along with the show and appreciate the multi-levelled, something-for-everyone kind of humour that our incredible writer, Blythe White, has really nailed so perfectly in their script."
Pinocchio! The Panto is family-friendly and is running every day at 11.15am until Saturday at theSpace.
Sketch comedy outfit Revunions have been making people laugh since 1953.
They return to this year's Fringe for a run that includes skits on surgery, Eurovision and Death in Paradise. It has already won a 5-star review from the Fringe-focussed Derek Awards.
Show director and English student Kat Treasure said: "The show is very funny and very silly, there's something for everyone.
"I love being here. The atmosphere has been really nice. Even flyering together is fun – it's socially acceptable harassment of people just trying to go about their day."
Bristol Revunions presents Ready to Board runs at 10.50pm at The Caves until Saturday.
Shakespeare's Hamlet is retold from Ophelia's perspective in Bristol University Spotlights' show 'Ophelia'.
Benjamin Oliveira, a Theatre student and the play's producer, said it had been "overwhelming" to read the positive reviews to the show, which was consistently sold out or nearly sold over its six-day run.
Benji said: "Edinburgh has had a really lovely vibe. Sometimes it felt like a big group holiday because there were so many Bristol students there!"
The shows went off without a hitch bar the first night, where a tech failure left Benji looking at a giant switch board pondering which buttons would bring on which lights.
Benji added: "All of the actors smashed it out the park. We've all been living together and there's been a real sense of community."
Ophelia ran until August 19 at Greenside
Meanwhile, the University's DramSoc show 'Gaze' describes itself as a "psychological dark comedy which twists the conventions of traditional playwriting, characters and audience alike are forced to reconsider their relationships with theatre, self-image and artificiality".
Reviews praised the play's "great acting and sharp dialogue" and said it was "superbly played" by "commanding performers".
Gaze ran until August 19 at Greenside Venues.