View all news
Students share food and friendship at University of Bristol Open Iftar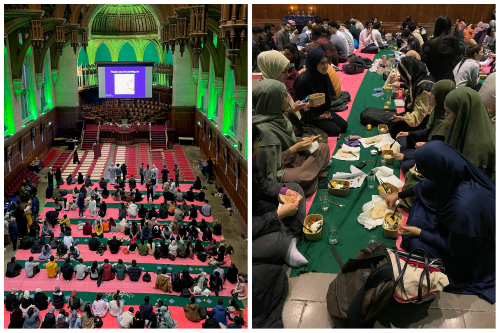 Press release issued: 20 April 2023
Students and staff gathered together for the University of Bristol Open Iftar.
Around 300 Muslims and non-Muslims ate together in the Wills Memorial Building, in the fourth such event held by the University in recent years.
Iftar is the fast-breaking meal eaten by Muslims after sunset during the holy month of Ramadan.
The Open Iftar, held on Tuesday, April 18, included talks, prayers and a huge sit-down meal.
One event attendee, Athi Rahmah, said the Open Iftar had been "so lovely".
The Nanoscience and Functional Nanomaterials master's student added: "Being an international student, I don't usually get to spend Ramadan with others. I don't have any family here, so when I found out about this event and that it was for everyone - not just Muslims, but non-Muslims too – I thought that was really amazing."
On the menu was Moroccan halal chicken tagine, vegan tagine, lemon and thyme couscous, sour cream and Khobez bread
The Open Iftar was jointly hosted the University's Global Lounge (a multi-cultural student hub), the Student Inclusion Team, Multifaith Chaplaincy, Bristol SU Islamic Society and Bristol Ahlulbayt Islamic Society.
Adam Michael, Bristol SU Union Affairs Officer and host of the event, said: "The Open Iftar was a spectacular evening of openness, inclusivity and culture-sharing. As both a Muslim and Union Affairs Officer at Bristol SU, I am touched by the heartfelt effort put forth by the event organisers.
"It was a huge honour and a special moment for me personally to lead the Adhan (the call to prayer), in the Great Hall of the Wills Memorial Building."
Professor Agnes Nairn, the University's Pro Vice-Chancellor for Global Engagement, said: "The Open Iftar brought together students, staff and Bristol locals from all kinds of backgrounds, in a Great Hall that had been totally transformed.
"It was wonderful to chat with some of our Muslim students and learn what Ramadan means to them.
"Thank you to the organisers and everyone who came along for making our fourth Open Iftar so special."
The University of Bristol Open Iftar follows two public Iftars on Bristol's College Green and St Marks Road earlier this month.