View all news
Ros Oaten, 1956-2023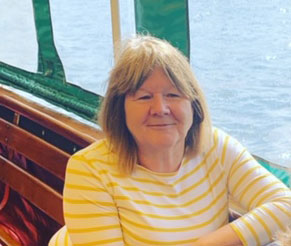 20 April 2023
Ros Oaten, Income Office Finance Assistant, sadly passed away suddenly on 27 March. Her colleagues offer this remembrance and thanks.
Ros joined Finance in 2000 after spending her earlier career in the banking industry. Right from the start, Ros found the 'relaxed environment' at the Uni very different to the regimented routines at the bank. She could tell amazing anecdotes, especially of 'life at the bank', that would have us all laughing. Mostly, it was her love for her family that shone through our conversations, and we enjoyed hearing about them. Unbeknown to them, they, too, became part of our extended families.
Ros loved spending weekends in London visiting her daughter or time with her sister, brother-in-law and their two children. They are a very close-knit family and this bond, we know, will help them at this sad time.
Each summer Ros and her family would holiday to her favourite place in Majorca – this at one time being a mammoth challenge for Ros due to her crippling fear of flying. Weeks before they were due to go, her stress levels would go through the roof. To 'get through' the flights, she was known to 'pretend juggle' in her seat, causing bemused looks from other passengers and her daughter preferring not to sit by her (who could blame her?).
At work, Ros was very professional, getting her work ethics from her dad and sister. She would always go that extra mile to help someone, explain things or point them in the right direction. She would do anything for anyone, invariably putting the other person's needs ahead of her own. Her investigative skills matched those of Inspector Clouseau, and she had an incredible memory for detail (of things long forgotten by the rest of us). She was 'a doer', and she hated injustice or discrimination and would fight the corner for anyone or anything she felt was unfair.
Over the years, there have been many personnel changes and work friendships forged. Ros made time for everyone and continued to meet up with colleagues who had moved on to pastures new. The strongest of her work friendships started in 2009, when Sandy joined her in the Cash Office. They hit it off immediately and became close friends, sharing family highs and lows and offering each other lots of good advice (which neither always took, but they were always there for each other).
In recent years Ros suffered great heartache, losing her mum and her daughter's partner in close succession. She was there to help care for him, and support her daughter, as his health deteriorated. Before he died, Ros got to see them married in a service in the hospice. Her outfit was a pair of jeans and no shoes – not, as she would say, the best outfit for the mother of the bride, but a moment of immense pride for her.
Ros was a 'shopper', and her ability to shop knew no bounds. Whether online or in-store, you would find her hunting out bargains for her wardrobe. At least once or twice a week she'd take a trip to the mall, her 'second home', as we called it. Whether it was shopping for fashion or for internal decoration, she loved to shop and 'missed her vocation' to be a professional shopper or an interior designer, but we are so very glad her vocation was to be our colleague instead.
As a friend, Ros was caring, warm and had a brilliant sense of humour, which she usually directed at herself. Her stories often made us laugh out loud. We will miss hearing about holidays, shopping trips and her views on last night's TV. She had a genuine interest in what was going on in the lives of others and remembered everything about our family and friends and what was going on in our lives.
She will be remembered as a loyal friend with the kindest soul, and most of all, we will miss her friendship.