View all news
University of Bristol spin-out Inductosense gets new investment in corrosion monitoring technology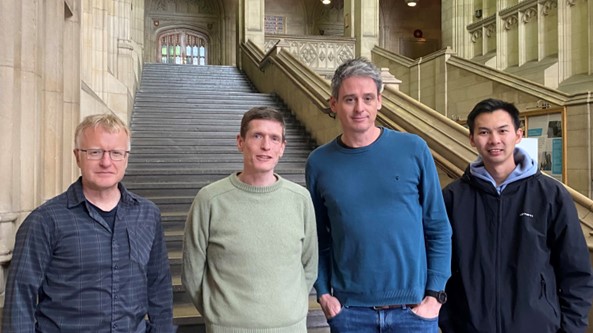 13 April 2023
Inductosense, a University of Bristol spin-out company which has developed an ultrasonic sensor for monitoring corrosion, cracks and defects in industrial structures, has announced a new round of investment.
Inductosense has developed a WAND (Wireless and Non-Destructive) system that is based around wireless, battery-free ultrasonic sensors. These sensors are permanently attached to metal structures to provide simple and accurate wall thickness monitoring. Inductosense's clients benefit from a significant reduction in cost and time associated with conventional monitoring.
The WAND technology has already been deployed internationally in a range of industries including oil and gas, chemical, nuclear and mining.
This latest round of investment comes from Aramco Ventures, a significant investor in technology companies that are developing solutions to address some of the challenges facing the energy industry.
Aramco Ventures, the corporate venture capital arm of Saudi Aramco, is a significant investor in technology companies that are developing solutions to address some of the energy industry's most pressing challenges.
Aramco trialled the WAND system across six plants in its network and subsequently approved the technology in 2022. The latest investment brings the total amount raised by Inductosense to more than £8m.
Inductosense's technology was developed over several years by Dr Chenghuan Zhong, Dr Anthony Croxford and Professor Paul Wilcox from the Ultrasonics and Non-Destructive Testing Group at Bristol's School of Civil, Aerospace and Mechanical Engineering.
Inductosense CEO Dr. Matt Butcher said: "Inductosense has seen rapid growth with our customers transitioning from trials to deployments of sensors in volumes.
"It is great to have Aramco Ventures on board and this investment will be used to further support the roll-out of our technology with clients, including Aramco. We will also use the funds to take advantage of a range of opportunities to integrate our technology into products during their manufacture as well as progressing towards a recurring revenue based model."
Further information
About Inductosense
Inductosense is a UK-based company that designs and manufactures ultrasonic sensor technologies for internal corrosion and erosion monitoring. Our team of industry experts, including engineers and academics, have successfully deployed our WAND solutions with major operators across the world. WAND technology is an embeddable wall thickness monitoring system that enables accurate, repeatable measurements at a fraction of the cost and time of alternative methods. The WAND product range is modular, providing solutions that enable our customers to digitise their data, whether they require manual or remote data capture.
About Aramco Ventures
Aramco Ventures is the corporate venturing subsidiary of Aramco, the world's leading fully integrated energy and chemical enterprise. Headquartered in Dhahran with offices in North America, Europe and Asia, Aramco Ventures' strategic venturing programs invest globally in start-up and high growth companies with technologies of strategic importance to its parent company, Aramco, primarily supporting its operational decarbonization, new lower-carbon fuels businesses, and digital transformation initiatives. Aramco Ventures also operates Prosperity7, the company's disruptive technologies investment program.