View all news
Weston-super-Mare launches its first festival of love and loss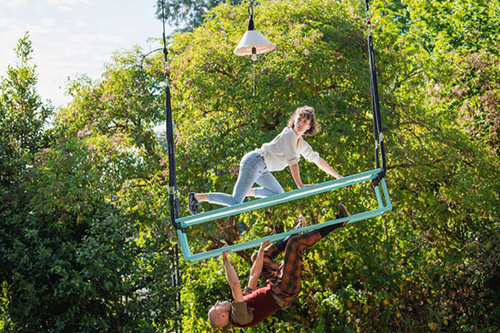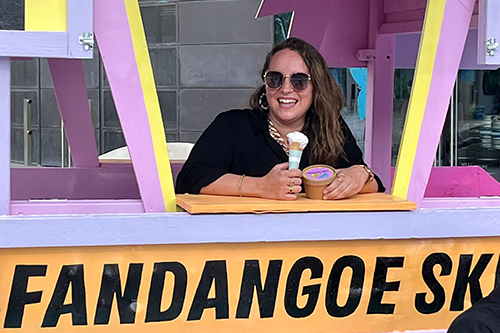 Press release issued: 26 April 2023
A new festival that aims to open up conversations around death and bereavement is launching in Weston-super-Mare next week. Good Grief Weston (Monday 1 to Monday 8 May) will offer 30 workshops and events over eight days and across more than 20 venues.
The festival is produced by Culture Weston in association with the University of Bristol and the newly established Arts and Humanities Research Council-funded Weston-super-Mare Community Network. This network, led by Dr Lucy Selman, Associate Professor from Bristol's Centre for Academic Primary Care and Palliative and End of Life Care Research Group, aims to tackle inequities and reduce social isolation in end-of-life care and bereavement.
Residents and visitors will come together on the High Street dance floor for a 'Grief Rave' on Monday 1 May to mark the launch. 'Grief Moves' by The Fandangoe Kid and The Loss Project will invite members of the community to request a song that reminds them of a loved one or times gone by and shake out their grief in a collective act of remembrance. This is a free, drop-in event where everyone is welcome to join in remembering people they have loved and lost and feel the joy of moving together.
Programme highlights include 'In conversation with Michael Rosen' at Weston Museum; a requiem with St George's Bristol and the Fitzhardinge Consort at Milton Road Cemetery and Chapel; Mercury Prize nominee Kathryn Williams at All Saints Church; a film screening of Aftersun introduced by Dr Jimmy Hay at the Odeon; celebrant Liz Rothschild's one-woman show Outside the Box and a panel discussion at Front Room; a Grief Kid exhibition by artist Ann O'Malley at Weston Artspace; and a touring Griefmobile.
Plus, events with a distinct seaside feel: Grief by the Seaside, a double-bill of Tattoos and Bingo; Super Synchro swimming at Marine Lake; Woodspring Tales walk through Sand Bay; and a host of community activities spotlighting organisations and groups in Weston, including Weston Hospice Care, Alliance Homes and North Somerset LGBT+ Forum.
The festival finale hits a high note in Grove Park on Monday 8 May with the aerial comedy The Guy in the Luggage Rack. The free afternoon event for all the family features renowned 'punk undertaker' Rupert Callender; a large-scale community arts project to create a field of forget-me-nots; poetry and music on the bandstand and a global kitchen celebrating world cuisine.
Good Grief Weston will also reach into North Somerset with a Death Café at St Peter's Church in Portishead and an End of Life Matters forum at the Scotch Horn Leisure Centre in Nailsea.
Good Grief Weston takes its inspiration from Good Grief Festival, started in 2020 by Dr Lucy Selman and Dr Lesel Dawson at the University of Bristol and recently shortlisted for a Demystifying Death Award, an initiative of Good Life, Good Death, Good Grief and the Scottish Partnership for Palliative Care. Winners will be announced during Demystifying Death Week (1-7 May).
Dr Selman said: "I love living in Weston, and am delighted to bring this unique festival to the area to open up conversations around grief and loss. We all face these universal experiences and yet so often we do so alone. Good Grief Weston is about bringing people together and starting to build a legacy for the community.
"On a personal level, I can't wait to watch the synchronised swimming on Sunday 7 May, and later that day host a panel discussion exploring our fascination with – and aversion to – death and grief."
Fiona Matthews, creative director at Culture Weston, added: "This festival has been curated in partnership with a range of community organisations, and local and nationally based artists, to offer different ways of exploring love and loss. The subject of grief all too often stays unspoken, a linguistic lump in the throat. We hope that Good Grief Weston helps to bring it into the open and offers creative routes for support, solace and hope."
Good Grief Weston offers a mix of free and pay-what-you-decide events, that are bookable in advance or available as drop-in sessions.
For further information and the full festival line-up, visit: cultureweston.org.uk/projects/good-grief-weston/
To find out more about the Weston-super-Mare community network and how to get involved, see: wsmcommunity.blogs.bristol.ac.uk/
Further information
About Culture Weston
Culture Weston is a pioneering initiative that places outstanding cultural and heritage-based activity at the heart of Weston's daily life and future development. It supports and illuminates all that makes Weston 'Super' through a partnership-led programme that dynamically develops people and places - shaping a thriving town and destination that reverberates with opportunity, optimism and energy. Culture Weston is led by North Somerset arts organisation Theatre Orchard, with support from North Somerset Council, Arts Council England and the local community.
About the Weston-super-Mare Community Network
The Weston-super-Mare Community Network project is part of a new wave of research projects funded as part of the second phase of the £26 million, UK Research and Innovation (UKRI) Mobilising Community Assets to Tackle Health Inequalities investment. This multi-year research programme is funded primarily by the Arts and Humanities Research Council (AHRC) and aims to use existing local resources to create a fairer and healthier society. The research projects will investigate the role of community assets such as parks, galleries and creative organisations in improving health outcomes.
Over nine months, the Weston-super-Mare Community Network project will create a network which brings together, as equal participants, people with lived experience, health and social care providers, and people providing community assets, including arts and culture initiatives, academics and public health experts. This network will work together to generate knowledge, commitment, capacity and outputs that will directly tackle inequity in end-of-life care and bereavement support and mitigate social isolation and loneliness.