View all news
Study shows children's inactivity remains an issue in wake of pandemic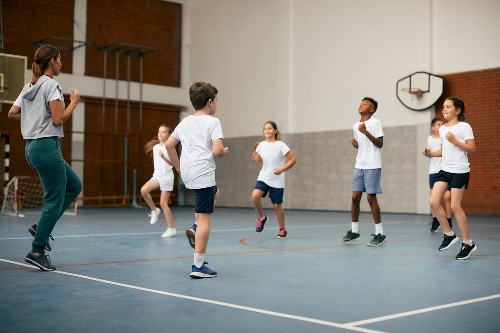 Press release issued: 27 April 2023
New research has revealed children's physical activity in the UK has largely returned to pre-pandemic levels – but children are still more sedentary during the week.
The study, led by the University of Bristol, found that by summer last year 41% of children were meeting the national recommended physical activity guidelines of an hour on average of moderate to vigorous physical activity daily. Although this shows an improvement from the immediate aftermath of the COVID-19 pandemic, when little more than a third (37%) were meeting this target, it means the majority of children were still found to be falling short.
Children are more sedentary during the week since public lockdown restrictions lifted, spending an extra 13 minutes on average daily being inactive according to the findings.
Lead author Russ Jago, Professor of Physical Activity and Public Health, said: "It's encouraging that on average children's physical activity levels are back to where they were before the pandemic.
"But it's taken nearly a year since the last public lockdown was lifted, and children's increased sedentary time during the week has persisted, which is an area of concern for policy makers, schools, and parents."
The study, funded by the National Institute for Health and Care Research, measured physical activity levels of 393 children aged 10 to 11 years old between June and December 2021 and a further 436 children of the same age between January and July last year. Children and a parent or carer wore an accelerometer to measure their physical activity and answered a questionnaire. Participants came from 28 schools in the Bristol area. This information was compared with data from nearly 1,300 children and their parents from 50 schools in the same area before the pandemic.
On average, parents were found to take partineight minutes more moderate to vigorous physical activity at weekends than before the pandemic.
Physical activity is important for children's health and well-being. The UK Chief Medical Officers recommend all children and young people should take part in an hour of moderate to vigorous physical activity each day. This is activity that gets children slightly hot, slightly sweaty, and out of breath. The Chief Medical Officers also advise children should limit the amount of time they spend being sedentary, which means sitting or lying down, except when sleeping, for extended periods.
Co-author Dr Ruth Salway, Senior Research Associate in Epidemiology and Statistics, said: "The findings suggest physical activity is susceptible to disruptions in provision and leisure opportunities, and highlight that still not enough 10 to 11-year- olds meet the guidelines. On the flipside, it's great to see how the pandemic may have encouraged parents to be more active and it looks like these habits may be continuing."
Paper
'Short and medium-term effects of the COVID-19 lockdowns on child and parent accelerometer-measured physical activity and sedentary time: a natural experiment' by R. Jago et al. in the International Journal of Behavioural Nutrition & Physical Activity [open access]
Further information
About the National Institute for Health and Care Research (NIHR)
The mission of the National Institute for Health and Care Research (NIHR) is to improve the health and wealth of the nation through research. It does this by:
Funding high quality, timely research that benefits the NHS, public health and social care;
Investing in world-class expertise, facilities and a skilled delivery workforce to translate discoveries into improved treatments and services;
Partnering with patients, service users, carers and communities, improving the relevance, quality and impact of our research;
Attracting, training and supporting the best researchers to tackle complex health and social care challenges;
Collaborating with other public funders, charities and industry to help shape a cohesive and globally competitive research system;
Funding applied global health research and training to meet the needs of the poorest people in low and middle income countries.
NIHR is funded by the Department of Health and Social Care. Its work in low and middle income countries is principally funded through UK Aid from the UK government.