View all news
Children of the 90s' founder, this week's castaway on BBC Radio 4's Desert Island Discs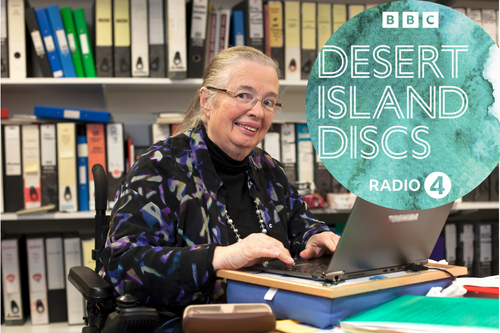 Press release issued: 18 November 2022
The founder of Bristol's pioneering health study Children of the 90s, Professor Jean Golding OBE, will share the soundtrack of her life on this week's BBC Radio 4's Desert Island Discs.
The interview will be broadcast on BBC Radio 4 at 9am on Friday 18 November and repeated on New Year's Day [Sunday 1 January 2023]. It is also available to listen to on the BBC website.
Described by Desert Island Discs presenter Lauren Laverne as a "treasure trove of data that has led to global discoveries", the study is based at the University of Bristol and celebrated its 30th birthday last year.
In the radio programme, Professor Golding discusses her life and career and picks eight tracks she would choose to take were she to be marooned on a desert island. She describes overcoming childhood illnesses before studying mathematics at Oxford University, eventually forging a career as a scientist and founding the longitudinal health study, Children of the 90s.
The study started when midwives in Weston, Bristol and South Gloucestershire invited all pregnant women due to give birth between April 1991 and December 1992 to take part. Researchers aimed to follow the newborn babies' health and development via regular questionnaires and clinics, to understand how environment, genes and lifestyle impacted future health and development.
The majority of the pregnant women invited said 'yes' and in due course 14,700 babies were born and routinely contributed to a biobank of scientific research. These babies are now adults and many of them, with their parents and children, still complete health questionnaires and visit the study to be measured and give samples.
During the interview, Professor Golding describes the early days of setting up the study, when she often got by on just three hours of sleep at night. As a female scientist in a largely male-dominated profession, she "kept her head down and kept churning out good research to prove that a woman could do these things which didn't just have to be the domain of men".
Describing her feelings about Children of the 90s, Professor Golding said: "I feel emotional, so proud and so grateful to all the people who have put in their time… I hoped it would last seven years but only when its success was so obvious, did I add a zero to the end of that!"
The Children of the 90s study is now collecting health data from participants of all ages as part of the @30 clinic – named to mark the study's 30th anniversary. The data collected will lead to new discoveries about heart disease, mental health, COVID-19, ageing and much more. Anyone eligible can re-join the study at any time by emailing info@childrenofthe90s.ac.uk or texting their date of birth and name to 07772 90 90 90.