View all news
Bioengineering - one key to solving global challenges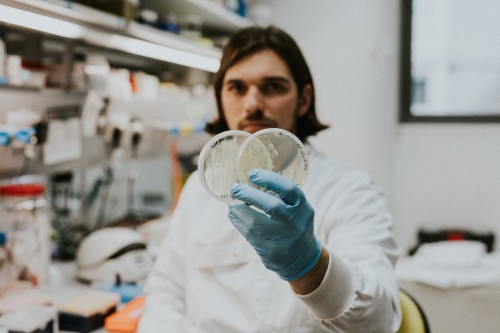 Press release issued: 29 March 2022
A new centre for engineering biology will build on Bristol's success in synthetic biology and accelerate translation of its pioneering research to address global challenges and boost the UK's bioeconomy.
By applying engineering principles to living systems, engineering biology aims to solve some of the world's most pressing challenges in health, food security, and the environment.
The Bristol Centre for Engineering Biology, BrisEngBio, brings together scientists from a wide range of disciplines – from biology and chemistry to data science and systems engineering. Partnering with deep tech incubator, Science Creates and Oracle for Research, the aim is to develop fundamental research discoveries into commercially viable applications that benefit people and the planet.
BrisEngBio is the evolution of the UKRI-funded Synthetic Biology Research Centre, BrisSynBio, which published more than 325 research papers, enabled the spin-out of eight biotech companies, and leveraged additional research funding of over £90M.
"BrisEngBio embodies the same spirit of discovery and entrepreneurship that made BrisSynBio one of the country's most academically and commercially successful centres for synthetic biology. Through this, we have already demonstrated that our fundamental research discoveries can be made commercially relevant. Now, through BrisEngBio, we are putting the ecosystem in place to really accelerate both discovery science and its translation.
"BrisEngBio's early-career researchers will be honorary members of Science Creates, and through this they will benefit from a bespoke training and mentoring programme in innovation and commercialisation," said Professor Dek Woolfson, Principal Investigator and Director of BrisEngBio.
"It's been fantastic to work with many of the spin-out companies that came from BrisSynBio through Science Creates, with Science Creates Ventures having led investment rounds totalling £7.5 million and directly invested in two of those companies Imophoron and Cytoseek. We look forward to building on those successes, continuing our partnership with the University, and enabling more of these important discoveries to be translated for global good," said Dr Harry Destecroix from Science Creates.
"Synthetic and engineering biology has enormous potential to address some of the major global challenges that we face today. For example, in healthcare, energy and food security. But this requires input from all areas of science. BrisEngBio is a truly multidisciplinary venture, involving 55 University of Bristol academics from 11 Schools across four Faculties, and three Research Institutes," said Professor Woolfson.
Initial UKRI funding of £1.5M will support 12 research projects and early career researchers over two years. BrisEngBio will cross disciplines to develop truly novel research such as hijacking bacterial transport as an antimicrobial strategy; identifying novel natural products for drug discovery; and using machine learning to predict self-healing properties of biohybrid materials.
Aligned with the UK Government's National Engineering Biology Programme (NEBP), the centre promises to strengthen the UK's position as an international leader in biotechnology.
Co-Investigator Dr Thomas Gorochowski said: "BrisSynBio had unprecedented success in funding and nurturing the fundamental science behind synthetic biology. It is critical that centres like ours set the research agenda and help maintain the UK's position at the forefront of synthetic biology. BrisEngBio will provide the ecosystem to drive translation of new discoveries into commercially viable and truly world-leading engineering biology."
Collaborating with Oracle for Research, BrisEngBio will utilise advanced cloud computing to realise data-driven design that combines academic and industry expertise in data science, machine learning, and multi-scale modelling.
Alison Derbenwick Miller, Vice President, Oracle for Research, said: "We are delighted that Oracle Cloud technology can support next-generation discovery and innovation at the new Bristol Centre for Engineering Biology (BrisEngBio). Through our collaboration, Oracle for Research will continue to support University of Bristol projects that drive real change through discovery and accelerate important research."
Co-Investigator Dr Lucia Marucci said: "This is such an exciting time to be working at the interface of the natural sciences and engineering. We have seen through the pandemic what impact synthetic biology can have on our ability to develop vaccines and treatments. At BrisEngBio, we will nurture early career researchers and help them transition their research from scientific discovery to solutions that are both commercially viable and have the potential to address some of our most pressing global challenges."
Professor Wolfson said: "I am delighted and excited by the continued support from UKRI and Government for the important area of synthetic biology. The new centre will allow us to translate our discoveries in fundamental synthetic biology into cutting edge technologies with significant impact locally, nationally and internationally, and across healthcare, the bioeconomy and environment."
Further information
About Bristol BioDesign Institute
Bristol BioDesign Institute (BBI) is the University of Bristol's Specialist Research Institute for synthetic and engineering biology. With wide-ranging applications from health to food security, BBI combines pioneering synthetic biology approaches with understanding biomolecular systems to deliver the rational design and engineering of biological systems for useful purposes.
This is delivered through multidisciplinary research that brings together postgraduate and postdoctoral researchers, academics, policy makers and industry, whilst also engaging the public with emerging solutions to global challenges.
About Oracle for Research
Oracle for Research is a global community that is working to address complex problems and drive meaningful change in the world. The program provides scientists, researchers, and university innovators with high-value, cost-effective Cloud technologies, participation in Oracle research user community, and access to Oracle's technical support network. Through the program's free cloud credits, users can leverage Oracle's proven technology and infrastructure while keeping research-developed IP private and secure. Learn more at https://www.oracle.com/oracle-for-research/ and https://twitter.com/OracleResearch/.
About the Jean Golding Institute for data science and data-intensive research
The Jean Golding Institute (JGI) at the University of Bristol is a central hub for data science and data-intensive research. Their mission is to create an environment where novel data-intensive research areas are explored and developed, and interdisciplinary exchanges promote a spirit of collaboration.
About Bristol Composites Institute
The Bristol Composites Institute is a University of Bristol Specialist Research based in the Faculty of Engineering. BCI benefits from affiliate academic staff from Schools across the University of Bristol. The Institute's activities are supported by numerous Research Council grants and a wide range of industrial funding. High profile activities include the EPSRC funded Centre for Doctoral Training and EngD Industrial Doctorate Centre in Composites Manufacture; the EPSRC Future Composites Manufacturing Research Hub and the Rolls-Royce University Technology Centre (UTC). The Bristol Composites Institute liaises closely with the National Composites Centre (NCC) in R&D activities, helping to bridge the gap between academic research and its application within industry.
About Science Creates
Science Creates is a Bristol-based deep tech ecosystem, supported and backed by successful entrepreneurs that help scientists and engineers accelerate their ideas and build disruptive businesses from scientific discoveries.
In partnership with the University of Bristol, Science Creates aims to establish Bristol as a global centre for deep tech by combining specialist incubator facilities, a network of strategic partners and a dedicated venture capital fund.
About BrisEngBio
The Bristol Centre for Engineering Biology, BrisEngBio, is a UK Research and Innovation (UKRI) National Engineering Biology Programme-funded Transition Award. BrisEngBio's core mission is to foster the very best fundamental synthetic biology and accelerate its translation to contribute to the UK bioeconomy.
Trademarks
Oracle, Java, and MySQL are registered trademarks of Oracle Corporation.