View all news
A tree, carried from Hannover by boat, has been planted at Bristol's Botanic Garden to mark twinning anniversary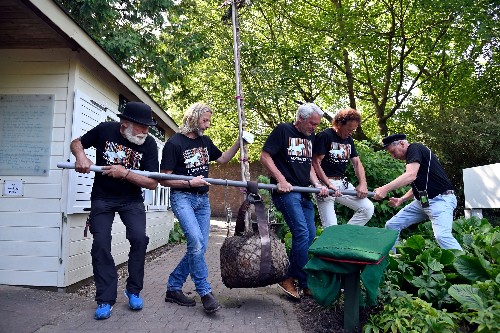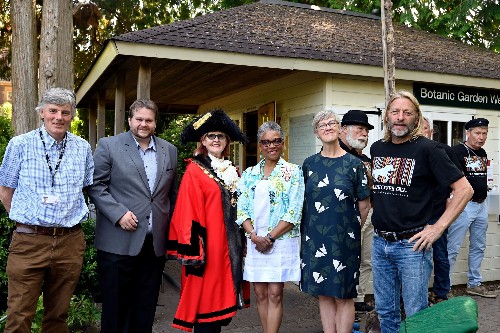 Press release issued: 19 July 2022
A Cornus mas tree has been planted in the grounds of University of Bristol Botanic Garden to celebrate Bristol and Hannover's 75-year partnership.
The ceremony was attended by the Councillor Lars Kelich of Hannover, together with the Lord Mayor of Bristol Cllr Paula O'Rourke and Her Majesty's Lord-Lieutenant Mrs Peaches Golding OBE, who helped cover the roots in soil. Professor Judith Squires, Acting Vice-Chancellor & President and Deputy Vice-Chancellor & Provost University of Bristol also attended.
The tree was sailed from Hannover over 600 miles away on a former training boat from World War Two, carrying a barrel of Hannover Gin, bottles from which can be bought later, the proceeds going to the Invictus Games and the German War Graves Commission. The voyage took three months with teams of volunteers sailing the boat for two weeks at a time. It arrived on the banks of the Thames below Tower Bridge in London before the boat and tree continued South West along the Kennet and Avon Canal, just completing the canal journey before it was closed due to water shortages.
The tree Cornus mas 'Cornelian Cherry' is a rare wild plant in Lower Saxony. A small woodland tree, it's productive for around 60 years and the Cornus mas in Hannover represents one of the most northern populations.
Botanic Garden Curator, Nick Wray said: "We are delighted to receive this tree into our plant collections to mark the 75th anniversary of the twinning of the cities of Bristol and Hannover.
"This tree which has been on an epic voyage across the North Sea in an open boat has been tended and carefully brought here by this dedicated group of citizens from Hannover. We invited them to help plant the tree which will flourish here in its new home, where it can seen and enjoyed by citizens of Bristol and all who visit the University of Bristol Botanic Garden."