View all news
University friends who became renowned producers receive honorary degrees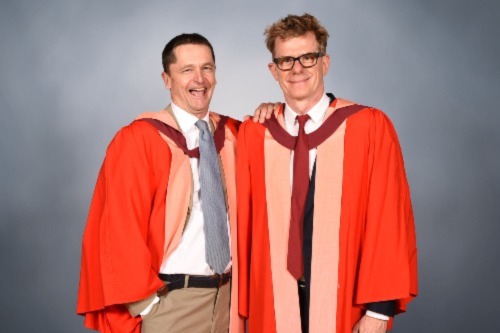 Press release issued: 20 July 2022
Friends who met on their first day at the University of Bristol and went on to become renowned film producers have today received honorary degrees from their alma mater.
Graham Broadbent and Peter Czernin are behind films like In Bruges, The Best Exotic Marigold Hotel and Three Billboards Outside Ebbing, Missouri, along with TV shows like A Very British Scandal.
Their rich crop of flicks has earned them Oscars, BAFTAs, critical acclaim and, in the case of some of the movies, cult status.
The pair met on the first day of their History undergraduates in 1987, before they set off on different paths into the film industry.
"It was easy," Graham joked. "I didn't have any other friends and Pete looked like he knew as little as me."
Pete added: "I had no idea we'd be doing this now, but I knew we'd still be friends. We lived together on the Royal Crescent with another friend and had such a good time. Graham also became godfather to my daughter."
After graduation, Pete eschewed the family business and instead moved to Hollywood, where he would spend 10 years. He started out "photocopying scripts", then became a script reader ("they put you in a room with hundreds of manuscripts and tell you to pick one"), before becoming Director of Development and latterly President at Di Novi Pictures.
Meanwhile, Graham stayed in the UK, finding work as a runner, associate director and producer's assistant. Hellbent on producing films, he then spent three years on the dole trying to get movies over the line, before eventually releasing "Welcome to Sarajevo" in 1997.
"I always liked the world of stories," Graham said.
"Every time we make a film we learn more: about the writer, director, situation, budget, story - which is what makes it really, really exciting."
Throughout the '90s the pair saw each other as often as possible, particularly on Graham's semi-regular "homages" to Hollywood, where he would stay on Pete's sofa.
Pete returned to the UK and in 2005 they set up Blueprint Pictures. Two years later, with a modest budget, they produced their first film together.
Sixteen films and series have followed. The most recent, A Boy Called Christmas, is a far cry from their days of small budgets and sleeping on sofas: it cost $60m to make and required them to build a village from the ground up in Prague.
Next year, Blueprint Pictures is bringing out The Beautiful Game, which features Bill Nighy and Valeria Golino, among other famous names.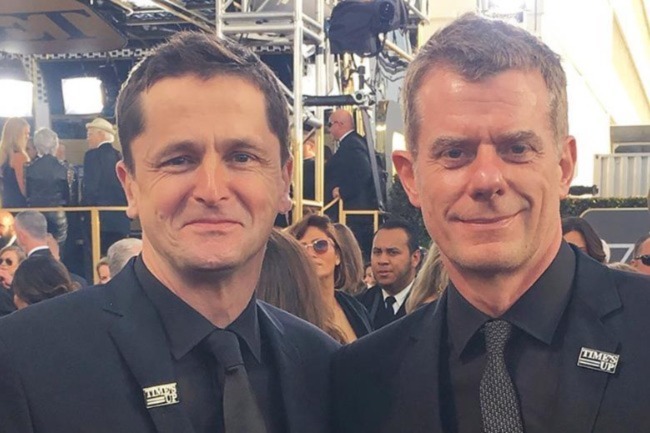 Pete Czernin (left) and Graham Broadbent
Active minds are rarely bored, and Graham and Pete have journeyed through genres, styles and several different countries to make their movies.
Pete said: "I think we're both very motivated and interested in what we're doing. Because we are friends we can be totally honest and tell the other person something's rubbish."
Graham said: "I feel lucky because every day is a new: it's a new project, new people, new talent; it explores new things."
Today they returned to the University of Bristol to receive honorary Doctor of Letters degrees. For both, it had been a long absence from a city they once adored.
Introducing them on stage was Rayna Denison, Professor of Film and Digital Arts at the University of Bristol.
She said: "Peter Czernin and Graham Broadbent have changed the nature and scope of independent film in the UK and beyond
"It is their ability to create films that entertain, while challenging us to understand the world anew, that make Pete and Graham's contributions to cinema so important, and so popular with audiences the world over."
Watching in the crowd were Pete and Graham's friends and family.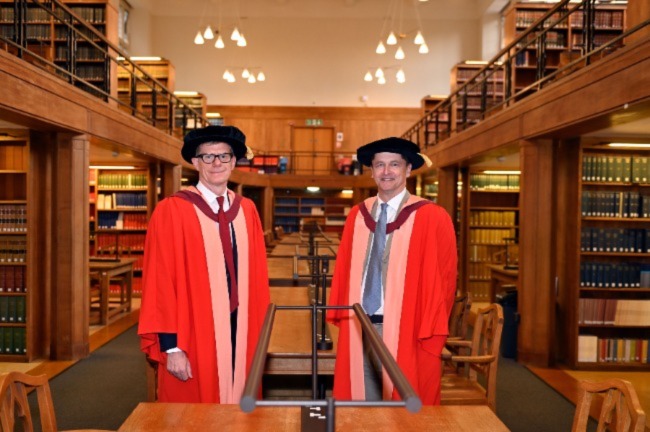 Graham Broadbent (left) and ‌Pete Czernin on the day of their honorary degree graduation
In his speech, Pete thanked the University for "bestowing this great honour" on them and for "an incredible three years" spent as a student.
He also had this advice for students: "Don't let anything stand in your way. Try things that might be beyond your reach. Be kind, but be ambitious. Pursue what you love and what makes you happy. You might well succeed."
Speaking after the ceremony, Pete said: "My time at Bristol was just great. I met lots of different people here, many wildly different to what I knew. I've kept in touch with many of them, and I'm really glad to be back here today."
What was the best bit for Graham?
"I met Pete," he says, simply. "If that hadn't happened I wouldn't be where I am today."
And what of their next film?
"Well we still haven't done a story set in the 1980s about three guys living in a flat in Royal Crescent," Pete said. "Do you think people will be interested in that?"