View all news
Pioneering Bristol engineer receives The Princess Royal Silver Medal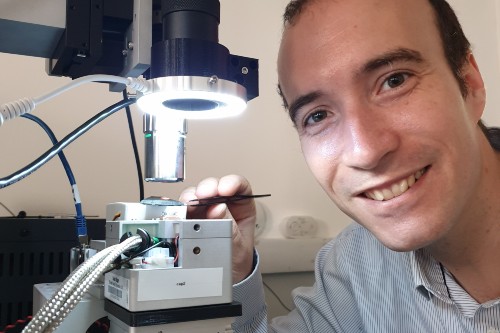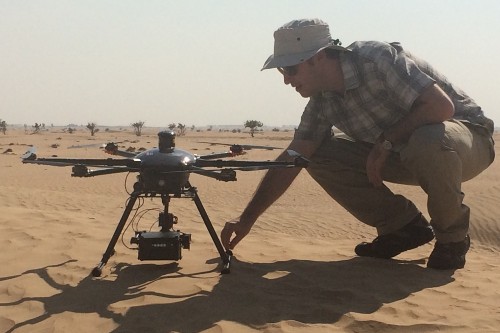 Press release issued: 11 July 2022
University of Bristol engineer, Dr Oliver Payton, has been awarded The Princess Royal Silver Medal, one of the Royal Academy of Engineering's most prestigious individual awards.
The award celebrates an outstanding personal contribution made to UK engineering by an early to mid-career engineer resulting in market exploitation.
Dr Oliver Payton is Chief Technology Officer and Founding Director of Bristol Nano Dynamics and Founding Director of ImiTec. He has developed and successfully commercialised two innovative technologies capable of mapping the invisible: the first enables the nano world to be observed with unparalleled ease and at unparalleled speed; the second maps radioactive isotopes at high sensitivity over kilometre ranges.
Dr Payton's innovation journey began as a PhD student at the University of Bristol where he developed a high-speed atomic force microscope (HS-AFM). This can be used in diverse areas of engineering ranging from nuclear systems to healthcare.
An Academy Research Fellowship allowed him to improve the microscope to the point of commercialisation, and in 2015 he co-founded Bristol Nano Dynamics (BND) as a spinout from the University of Bristol, taking on the role of Chief Technology Officer.
BND's instrumentation is currently being developed for next-generation genome mapping and ultimately could be used to rapidly identify common blood and breast cancers and genetic diseases for which there are currently no tests.
Dr Payton has also developed a novel, remote radiation mapping system. This technology formed the basis of his second spinout company: ImiTec Ltd. ImiTec's radiation mapping technology can be mounted to manned or unmanned vehicles (ground or air based) and is capable of routinely searching nuclear sites for radiological threats. It has already been used in several countries around the world, including over the Fukushima precinct and more recently around Chernobyl as well as on the UK's main nuclear decommissioning site, Sellafield.
Dr Payton has advised the Department for Business, Energy & Industrial Strategy and the Government Office for Science on the next generation of radiological monitoring technologies.
"It is a great honour to be selected for The Princess Royal Silver Medal and to stand alongside some of this country's most innovative contemporary engineers. It is thrilling to fulfil a small part of the enormous potential engineering has to solve some of the greatest challenges we face today," said Dr Payton.
Alongside Dr Payton's successful development of a high-speed atomic force microscope, the work of this year's winners spans miniature AI sensors, battery and charging solutions for net zero, and robotic skin for food packing.
Professor Bashir M. Al-Hashimi CBE FREng, Chair of the Royal Academy of Engineering Awards Committee, said: "All five recipients of The Princess Royal Silver Medal for 2022 are worthy of this award, demonstrating wide-ranging innovations and making measurable contributions to engineering in the UK. The individuals recognised are emerging leaders in their fields and united by a commitment to improving society and the economy through enterprise, technology, and collaboration."
Dr Payton will receive the award at the Academy Awards Dinner in London on Tuesday 12 July 2022 from HRH The Princess Royal, who is a Royal Fellow of the Academy.
Further information
The Interface Analysis Centre at the University of Bristol
Cutting-edge materials research is driven by a thirst for discovery and a pressing need to develop and better understand the materials we use to solve problems in everyday life. The Interface Analysis Centre (IAC) is a cutting-edge multidisciplinary research hub at the University of Bristol. We work on a range of materials-science-based problems focused on real-world problem-driven applications.
The Princess Royal Silver Medal was established as the Royal Academy of Engineering Silver Medal in 1994 to recognise an outstanding and demonstrated personal contribution to British engineering, which has resulted in successful market exploitation, by an engineer with less than 22 years in full time employment or equivalent on 1 January in the year of award and who will normally be Chartered. In 2021, the Academy's Royal Fellow, HRH The Princess Royal, generously allowed the Academy to rename its Silver Medal, to honour Her Royal Highness's outstanding contributions as a Royal Fellow and as an exceptional champion for engineering, including as a vocal and longstanding supporter of women in engineering and science.