View all news
Paralympian graduates: 'Attaining my master's is one of my greatest achievements'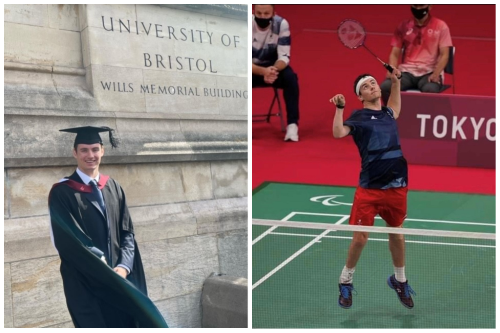 Press release issued: 8 July 2022
Paralympian Dan Bethell celebrated seven years of hard work in lecture theatres and on the court as he graduated from the University of Bristol.
The 26-year-old is three-time European para-badminton champion, is ranked second in the world and recently took silver in the Paralympics.
Now, he has officially achieved a distinction in a Master's in International Commercial Law, on top a law undergraduate degree that he also did at Bristol.
Dan's university schedule saw him train from 6am to 8am every day, study 9 to 5 and then hit the courts again in the evening.
But his Paralympic dreams began long before university.
Despite being born with cerebral palsy, a lifelong condition that affects movement and muscle tone, Dan competed with able-bodied opponents in sports like rugby, football and tennis until he was a teenager.
"I hadn't really heard of para-sports or the Paralympics," Dan explained. "And then Beijing 2008 came around and I saw these amazing para-athletes doing incredible things. I knew I wanted to be part of that."
That's when he discovered para-badminton, which was only added to the Paralympics for the 2020 Tokyo games.
"It's amazing how things develop," Dan said. "When I first watched para-badminton I just wanted to get good enough to get an England tracksuit.
"When I got my tracksuit in 2013 I was made up. If my career had stopped there, with that tracksuit and playing for England in the World Championships, I'd have been happy."
But Dan was far from finished. As he started winning more competitions his "vision grew" and he was soon hungry for the Paralympics themselves.
Matt Birch, Director of Sport, Exercise and Health at the University, said: "It was clear from early on that Dan had real talent. More than that, though, he worked hard: putting in hour after hour of training on the court."
After finishing his undergraduate degree in 2017, Dan did his Master's part-time to focus on an increasingly busy competition schedule.
"When I was qualifying for Tokyo I had to do 14 tournaments all around the world," Dan explained. "The uni was really good to me, really accommodating."
Once qualified, Dan spent a torturous two months with his lips sealed before the official GB Paralympics announcement.
He went on to have an "amazing" Paralympics: "It was surreal, I'd watched the Olympics and Paralympics for as long as I could remember, and suddenly I was in the GB house with these amazing athletes like Ellie Simmons, Jonnie Peacock, and Kadeena Cox."
Dan played in the first ever Paralympic badminton match, and despite losing the first point – "I was shell-shocked, I suddenly felt the pressure" – he was soon back to his winning ways.
Eventually he lost in the final to long-time rival Pramod Bhagat. Dan has since won their last two meetings.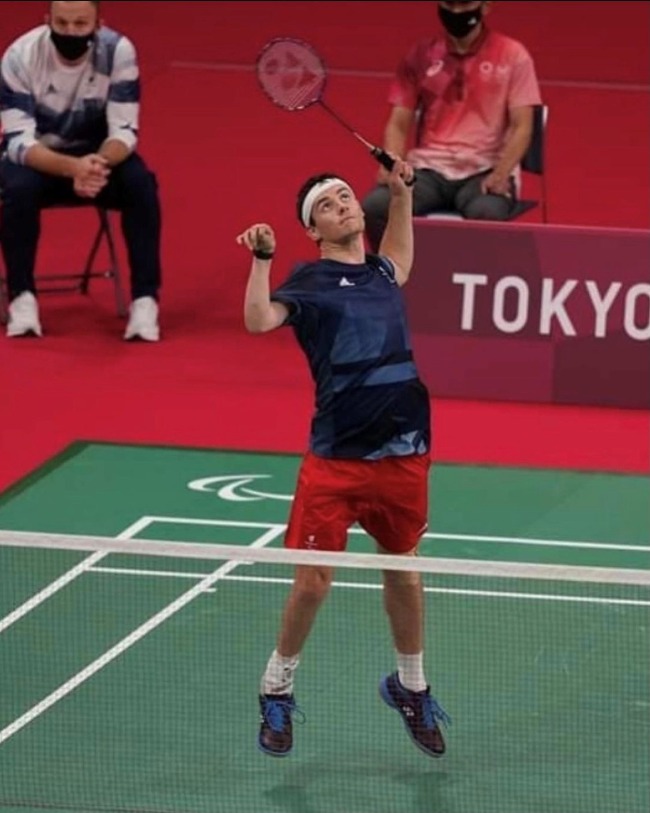 Dan Bethell at the Paralympics
With Paris 2024 on the horizon, Dan is now training full-time in Sheffield. After Paris he plans to join a law firm.
"I came to Bristol because the law school is really well respected," said Dan, who grew up in Bath.
"It's great to be back at Bristol for such a special day. The University of Bristol is such a prestigious institution, so to be here wearing the graduation gown fills me with immense pride.
"Attaining my masters is definitely one of my greatest achievements."
Impressed by his performance, the University last year awarded Dan an Honorary Bristol Red, its highest sporting award, which has only been given to a handful of students in the past.
Matt Paine, Performance Sports Manager at the University of Bristol, said: "It has been an honour to watch the journey of this extraordinary young man.
"When he walked through the door on open day in 2014, with such clear plans to be a successful Paralympian, we could only buy into his dreams and try and support them in every way we could.
"This is just the start for Dan, and we wish him all the best on his road to Paris in 2024. His achievements will inspire another generation of student athletes at Bristol in the future."