View all news
Contribute to the design of a full-scale Martian House in Bristol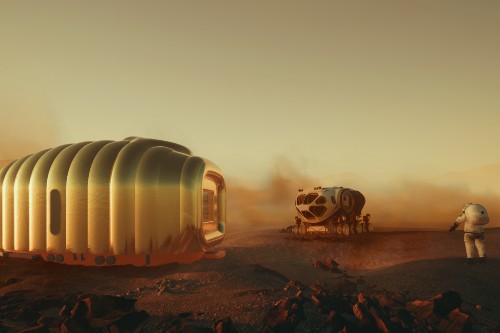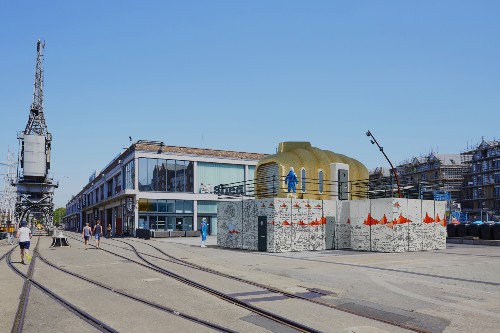 Press release issued: 5 July 2022
Space scientists from the University of Bristol have consulted on a pioneering public art project to build a 'Martian House' at Harbourside - and now the people of Bristol are invited to create the interior.
The house has been designed to withstand the real environmental challenges faced on Mars and inspire ideas about how we can all live more sustainably.
The brainchild of local artists and Watershed Pervasive Media Studio residents, Ella Good and Nicki Kent, the Building a Martian House project brings together space scientists, architects, engineers, designers and the public, to explore how we live and to stimulate visions for new ways of living on Earth and on Mars.
As construction begins, applications are sought from members of the public who are keen to help create the interior of the house. No experience or prior knowledge is necessary! The interiors team will work alongside the artists to design and make prototype objects to go inside. Applications are via this form and close at midnight on 30th July 2022.
The University's space and engineering experts, Professor Lucy Berthoud, Dr Bob Myhill and Professor James Norman, have advised the team on what inhospitable conditions and environmental challenges they could expect on Mars – such as average temperatures of -63C and exposure to galactic and cosmic radiation.
Taking these insights into account, the house was designed by world experts in extreme architecture, Hugh Broughton Architects, in partnership with design studio Pearce+. Together they have created a lightweight prototype building, made from a pressurized, inflatable gold-coated foil, which could be easily transported to Mars.
Starting as an empty shell, the interior of the house will come to life as the artists and audiences explore what a new, sustainable culture might look like. The interior will be co-designed with the public, and once the exhibit opens, will provide a space for a programme of events, research and talks dedicated to re-thinking life on Earth by exploring the challenges of life on Mars.
Artists Ella Good and Nicki Kent said: "Considering how we might live on Mars helps us re-think every aspect of our lives here on Earth. Mars is a place where you'd have to live carefully and sustainably and that brings how we live today - and our relationship with consumerism - into sharp focus.
"Our 'Martian House' has been a collaborative effort and we are thrilled to invite people to join our interiors team so we can collectively imagine how things might work in a zero-waste environment. We hope our project shows we can all have input into how we think about the future".
Professor Lucy Berthoud, Professor of Space Systems Engineering at the University of Bristol, said: "This project offers us a clean slate to look at how we can live sustainably on a planet, with low power, zero emissions and zero waste. It's really important to have the diverse community of the city of Bristol involved, as we will need everyone's skills and ideas for exploring and living on Mars".
Hugh Broughton, Director, Hugh Broughton Architects, said: "Ella and Nicki have developed an alluring egalitarian concept for 'Building a Martian House'. The envelope and life support systems are being designed by specialists in the fields of space exploration, extreme environments and sustainability with the interiors being designed by the public through an extensive engagement process. The outcomes will be varied, exciting and provide an alternative approach to space design which represents the interests of everyone, not just governments and the super-rich."
Further information
Martian House address: M Shed Square, Bristol BS1 4RN
About the initiative
Building a Martian House is an ever evolving, cross-disciplinary and socially engaged artwork providing a blank canvas to research, experiment and start new conversations. Audiences are invited to ask questions and collaborate to generate ideas that would not be possible without a wide range of viewpoints and experiences. The work aims to engage audiences outside of traditional arts institutions to create conversation and change around society itself - looking at how we, collectively, live. The house will be presented in partnership with M Shed. The opening will coincide with 'Think Global: Act Bristol', an M Shed exhibition that aims to foster positive action to address the climate and ecological crises. Full details of the three-month public programme of events starting in mid-August are available on the website buildingamartianhouse.com. For those unable to visit the house in person, an online virtual tour experience showing the interiors of the house will be made available, produced by Future Virtual.
'Building a Martian House' is due to open on 17th August 2022 and run until the end of October 2022.
About the artists
Ella Good and Nicki Kent are Bristol-based artists who are working on an ambitious series about Mars, Earth and the future. Their work is framed around space science as a subject that widens perspective and imagination about how we live here and now on Earth, and provokes conversation about complex, timely topics surrounding our human-planetary relationship: climate, sustainability, community, future cities. They have presented work throughout the UK and internationally, working with local authorities, universities, schools, public parks, science centres, theatres and festivals. Ella Good and Nicki Kent are Residents at the Pervasive Media Studio in Bristol, UK. Building A Martian House was developed there. The Studio is a creative technologies collaboration with Watershed, University of the West of England and University of Bristol.
Construction of the Martian House
A cohort of construction companies led by SCF Construct have generously donated their time and expertise to bring the project to life and funding has been provided by the Edward Marshall Trust. The house will comprise two 2 levels with the upper level designed to sit on the Martian landscape. On Mars the walls would be filled with Martian regolith (soil), however this prototype will be filled with air, so it can be reused. It will include a hydroponic living room where occupants will be surrounded by plants to aid relaxation.
The lower level is designed to be built below the ground, so the Bristol prototype will be surrounded by a hoarding, printed with information about the project and illustrations from local artist, Andy Council. The space is designed to house two compact and private bedroom 'pods' along with a WC and shower. An environment control and systems room will house the life support systems required for power and survival. The design ideas were developed over several years, initially through public workshops with a diverse range of participants ranging from undergraduates and school children to retirees.
How to get involved
Applications to join the interiors team close on 30th July. More details here: https://buildingamartianhouse.com/artworks-experiments-martian-diy/