View all news
First in human study to assess knee cartilage repair implant launches at Southmead Hospital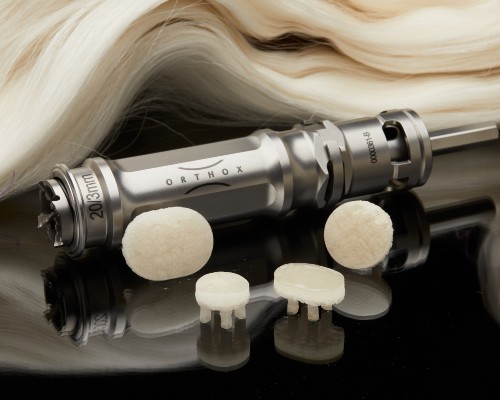 Press release issued: 13 July 2022
A new first in human study to assess the safety and performance of FibroFix Cartilage P™ (FibroFix™), an innovative implant that repairs knee cartilage, is starting at Southmead Hospital, Bristol. The FFLEX clinical trial has been awarded nearly £1.2million by the National Institute for Health and Care Research (NIHR) and will be led by Orthox, the company behind FibroFix™, and researchers from the University of Bristol.
As this is the first time the implant is being tested in humans, the team are initially recruiting six patients with damage to their knee joint cartilage. This first phase of the study will investigate the implant's safety and performance in patients. It will also evaluate the instrument set used to implant FibroFix™ in the joint. If successful, the next phase of the trial will recruit a larger group of patients to understand how well the implant performs.
FibroFix™ is made of a protein extracted from silk and has a porous structure. It acts as a scaffold for new cartilage tissue to grow around it. Both the implant and instrument set have been robustly assessed according to the Medicines and Healthcare products Regulatory Agency (MHRA) standards, allowing the implant to be tested in humans for the first time.
Cartilage is a flexible layer of tissue that acts as a shock absorber in the knee. It can be damaged through sudden injury or gradual deterioration such as seen in osteoarthritis.
Nick Howells, principal investigator and consultant knee surgeon at Southmead Hospital, North Bristol NHS Trust, said: "This implant has great potential to help patients with symptoms from localised areas of cartilage damage in the knee. It is the culmination of a huge amount work to have now reached the stage of a clinical trial and very exciting for us to be able to start to trial the use of the implant in patients. This will focus on safety first and once we have confirmed this will hopefully evolve into the assessment of clinical performance."
FFLEX study chief investigator, Michael Whitehouse, Professor of Trauma & Orthopaedics at the University of Bristol and NIHR Bristol Biomedical Research Centre (Bristol BRC), said: "This technology represents the culmination of a huge amount of development of the implant and the associated instruments to allow a reliable and reproducible operation. It potentially fills a gap in current available treatments. It would allow the treatment of immediate pain and limited function for patients with focal cartilage problems. Typically, operations for these problems are technique dependent or require prolonged periods of limited weightbearing or restricted activity. The instruments developed for this implant and the implant itself provide very strong fixation during the course of the operation and allow an early return to normal activity. Successful treatment of focal cartilage lesions may help to reduce the risk of more widespread joint damage in the future."
Nick Skaer, co-founder and CEO of Orthox, said: "FibroFix is unique in emulating the functional properties of cartilage while also, in laboratory tests, facilitating rapid tissue regeneration. It could make a real difference to patients suffering the debilitating effects of serious knee cartilage injuries. With our approach there is significant bone sparing and strong tissue integration of the implant, which we hope may result in faster recovery. NIHR's funding for the FFLEX study is just one of several grants we've received to test FibroFix internationally. We hope this paves the way for a significant number of patients to be treated with our FibroFix implants every year."
Further information
About the National Institute for Health and Care Research
The mission of the National Institute for Health and Care Research (NIHR) is to improve the health and wealth of the nation through research. We do this by:
Funding high quality, timely research that benefits the NHS, public health and social care;
Investing in world-class expertise, facilities and a skilled delivery workforce to translate discoveries into improved treatments and services;
Partnering with patients, service users, carers and communities, improving the relevance, quality and impact of our research;
Attracting, training and supporting the best researchers to tackle complex health and social care challenges;
Collaborating with other public funders, charities and industry to help shape a cohesive and globally competitive research system;
Funding applied global health research and training to meet the needs of the poorest people in low and middle income countries.
NIHR is funded by the Department of Health and Social Care. Its work in low and middle income countries is principally funded through UK Aid from the UK government.
About NIHR Bristol Biomedical Research Centre
NIHR Bristol Biomedical Research Centre's (BRC) innovative biomedical research takes science from the laboratory bench or computer and develops it into new drugs, treatments or health advice. Its world-leading scientists work on many aspects of health, from the role played by individual genes and proteins to analysing large collections of data on hundreds of thousands of people. Bristol BRC is unique among the NIHR's 20 BRCs across England, thanks to its expertise in ground-breaking population health research.
Orthox is a clinical stage company developing medical devices to repair damaged cartilage and other orthopaedic injuries. Orthox's FibroFix Cartilage P™ technology, originating from Oxford University, is a revolutionary tissue scaffold based on fibroin, a tissue regenerative protein extracted from silk fibres. FibroFix Cartilage P™ implants remove only the damaged tissue, employing bone-sparing, minimally invasive surgical techniques which enable rapid patient rehabilitation. By combining superb strength and low friction with tissue regeneration FibroFix Cartilage P™ offers the potential for better long-term outcomes, nurturing the body's innate capacity to heal itself. FibroFix Cartilage P™ products have the potential to address an annual market in the knee joint alone estimated at over $2 billion.
The company was spun out of Oxford University and is led by experienced medtech entrepreneurs. The company has raised over £21m, including awards from leading biomedical funding programmes including Wellcome (£2.65m in Translation Awards), the NIHR i4i Programme (£1.9m in Late-Stage Product Development Awards), the UK's Innovation Agency (a £1.7m Biomedical Catalyst Fund Award) and Horizon 2020's EIC Accelerator (a €2.5m grant). Orthox employs 20 people at its site in Oxfordshire.
See our website here: http://www.orthox.com/