View all news
Bristol embarks on new partnerships with top universities in Vietnam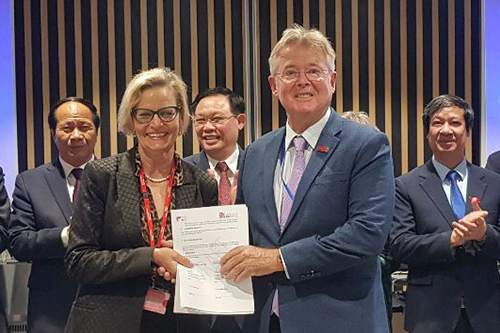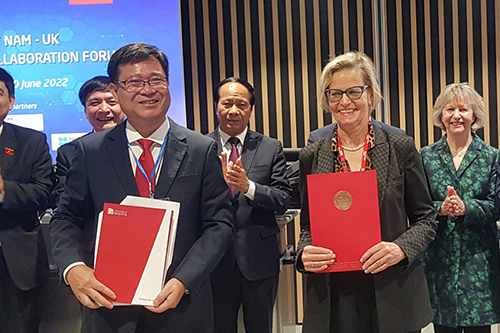 Press release issued: 12 July 2022
The University of Bristol will be partnering with two universities in Vietnam to create new opportunities for students and research collaborations.
Professor Agnes Nairn, Bristol's Pro Vice-Chancellor for Global Engagement, signed Memoranda of Understanding with Hanoi University of Mining & Geology and British University Vietnam (BUV) at the UK-Vietnam Education Collaboration Forum in London.
Both memoranda show Bristol's commitment to working with partners in Vietnam to facilitate future collaboration opportunities, following a University delegation to Hanoi, Danang and Ho Chi Minh City in November 2019.
Bristol's partnership with British University Vietnam (BUV) will focus on education opportunities for students from both Universities, including options for studying abroad. Bristol students will be offered a free certificate in Vietnamese studies, to be taught remotely by academics in Vietnam.
Collaborations with the Hanoi University of Mining & Geology will cover both research and education in Science and Engineering, including welcoming postgraduate research students through the Project 89 scholarship programme.
Professor Nairn joined senior leaders from higher education institutes in Vietnam and the UK for the UK-Vietnam Education Collaboration Forum in London on 30 June 2022, organised by the British Council.
She said: "We are delighted to work with two prestigious Universities in Vietnam, a country with which we are actively seeking stronger research and education links. We held warm and collaborative meetings with HUMG and BUV in London this summer and very much look forward to many mutual visits in the months and years to come."
Professor Raymond Gordon, Vice-Chancellor and President of British University Vietnam, said: "BUV signed a memorandum of understanding with the University of Bristol witnessed by senior British and Vietnamese government officials. The University of Bristol is ranked in the top 10 Universities in the United Kingdom and ranked 61st in the QS World University Ranking. Therefore, the partnership between BUV and the University of Bristol reinforces BUV's mission to bring high-quality British degrees and research to Vietnam and deliver a world-class learning experience for Vietnamese students in Vietnam."
Professor Trần Thanh Hải, President of Hanoi University of Mining & Geology, said: "The MOU between the University of Bristol and the Hanoi University of Mining and Geology would be a milestone to promote the cooperation relationship and offer excellent opportunities for our academic staff and postgraduates to pursue their success in research."
Further information
About British University Vietnam
British University Vietnam (BUV) is the first and only international university in Vietnam to award British degrees from prestigious universities in the UK. BUV currently has four schools including the School of Business, School of Hospitality and Tourism, School of Creative Industries, and School of Computing and Innovative Technologies that provide teaching for undergraduate and postgraduate degrees. Expanding the network of collaboration with other international universities through several teaching programmes is crucial in BUV's development plan.