View all news
Bristol ranked as 41st most international university in the world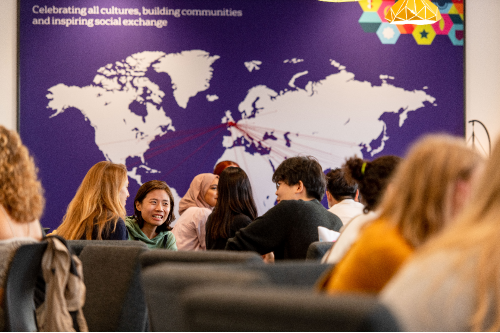 Press release issued: 20 January 2022
Students at the University of Bristol are studying at one of the world's most international institutions, a new study has found.
Rankings compiled by Times Higher Education (THE) placed Bristol as the 41st most international university in the world, putting it among fellow globetrotters such as the University of Queensland, University of Vienna and Massachusetts Institute of Technology.
Bristol has long welcomed staff and students from around the world. More than 8,000 students from 145 countries study at the University and its staff roster is just as diverse.
The University's International Office helps students apply to Bristol, travel there safely and thrive when they arrive.
The Global Lounge, a multicultural hub that brings together the University's many nationalities, launched in 2019 and is now based in a relaxing and welcoming space in Senate House.
Caroline Baylon, Director of International at the University of Bristol, said: "The University is incredibly proud of its multicultural and diverse population, which we believe has real benefits to the city.
"Being included in THE's 'World's Most International Universities' is proof that Bristol not only has a world-beating student experience and is at the forefront of academic excellence, but is also a destination of choice for all nationalities."
THE ranked universities on their proportions of international staff and students, the number of papers co-authored with international partners and their reputations among academics from around the world.
Announcing the table, THE said: "Research suggests that diverse communities of students improve the teaching and learning experience, while opportunities for students to spend time abroad better prepares them to become global citizens."
The UK ranked highly in the THE study, with the University of Oxford coming fifth and Cambridge and Imperial College London coming joint sixth.
However, they were pipped to the top spots by the University of Hong Kong (1st), ETH Zurich (2nd), École Polytechnique Fédérale de Lausanne (3rd) and the Hong Kong University of Science and Technology (4th).