View all news
Bristol graduates are third most targeted by top employers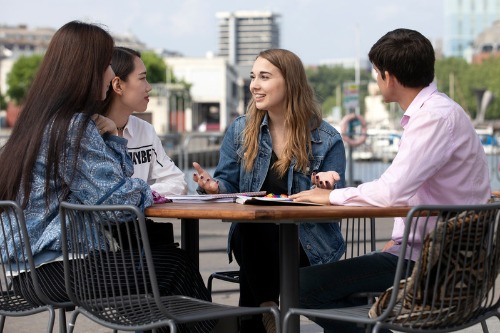 Press release issued: 17 February 2022
Graduates from the University of Bristol are the third most sought after by top employers, a study has found.
The 'Graduate Market in 2022' report surveyed 100 of the UK's most successful organisations – from GCHQ to JP Morgan - to give a snapshot of the graduate jobs market.
It found that Bristol graduates were the third most targeted, up from seventh last year.
It also found that top graduates could expect to earn a median starting salary of £32,000 - the first rise in that figure in eight years - and more than £50,000 from a handful of employers.
The 100 firms surveyed are from a list compiled by the Times newspaper. They include IBM, MI5, AstraZeneca, BT, HSBC, Rolls-Royce, Unilever, the Army, the BBC, Jaguar Land Rover and the Bank of England
The ten universities targeted by top graduate employers in 2021 to 2022 are: Manchester, Nottingham, Bristol, Birmingham, Leeds, Warwick, Cambridge, Sheffield, Edinburgh and Oxford.
Professor Tansy Jessop, Pro-Vice Chancellor for Education at the University of Bristol, said: "It is hugely inspiring to read that employers are noticing what we have always known: that Bristol students are fantastic.
"We are proud that our students leave us with the knowledge, skills and attitude they need to take on the world. We are also proud of the excellent teaching that builds this firm foundation, and our superb Careers Service which nurtures their talents."
Each year around 350 employers come to Bristol's campus to recruit students and share skills.
Meanwhile, stats show that 95% of the University's graduates are in employment or further study 15 months after graduation, with PwC, KPMG, the UK Government, Deloitte and Atkins among their favourite destinations.
Bristol graduates have recently started businesses building the UK's first female urinal, an app that makes sustainable investing easy and an online health food shop.
The University's Careers Service provides extensive support to students, including help getting jobs, access to internships (including some funded by the University) and funding and expertise to set-up their own businesses.
Stuart Johnson, Director of the Careers Service, said: "This report is confirmation of the value of a Bristol degree to top companies and further proof that being a Bristol graduate is an excellent start to a career.
"The Careers Service is committed to supporting student success and it's very gratifying to see this recognised by the report.
"The team have done a superb job in supporting employer partnerships in the context of a very challenging couple of years, and it's great to see everyone's hard work and focus pay off."
According to the Graduate Market in 2022 report, which is compiled by High Fliers, the number of graduate vacancies available is now 11% higher than the pre-pandemic peak of 2019.
It also found that the number of graduate jobs on offer in 2022 is expected to increase by 15.7%, the highest rise in more than 15 years.