View all news
SW England and South Wales to become the UK's first Hydrogen Ecosystem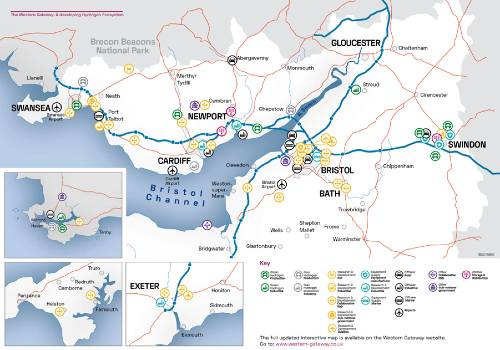 Press release issued: 3 August 2022
The Western Gateway partnership and the GW4 Alliance, of which the University of Bristol is a member, have unveiled a vision for South West England and South Wales to become the UK's first Hydrogen Ecosystem, to lead development of low carbon energy and meet goals to slow climate change.
Hydrogen is the most abundant element in the universe and harnessing its power as a potential low-carbon energy solution is key to the UK Government's plans to reach Net Zero.
The Western Gateway Partnership represents the economic powerhouse of South Wales and Western England whilst the GW4 Alliance brings together the universities of Bath, Bristol, Cardiff and Exeter. Their vision in establishing South West England and South Wales as a Hydrogen Ecosystem is to drive further collaboration, share solutions and expertise, and attract global investment.
An interactive online map highlights the numerous industries, universities, research organisations and local authorities already leading the way toward realising hydrogen's potential as a low carbon energy source to power transport, heat our homes and decarbonise industry.
Katherine Bennett CBE, Chair of the Western Gateway Partnership, said: "From Swansea to Swindon, the Western Gateway has been leading the way in developing hydrogen as a clean energy source to power our future economy. Hydrogen could provide a solution for many of the persistent challenges we face in trying to decarbonise our global energy system.
"By launching this new Hydrogen Ecosystem, our partnership is creating a mechanism to encourage collaboration across industry to ensure we are turbocharging the development of this clean energy to bring it to the market. We want to send the message that investing in the Western Gateway area gives you access to the wide range of industries and avenues to international trade needed to bring hydrogen use into the mainstream."
Professor Lisa Roberts, Chair of GW4 Council and Vice-Chancellor and Chief Executive at the University of Exeter, said: "Tackling climate change and accelerating to net zero requires innovative, whole system solutions. Our academics are at the forefront of new and innovative research, from hydrogen storage batteries to cleaner, smarter propulsion systems."
"Working closely with the Western Gateway, GW4 universities are primed and ready to harness our specialist expertise, regional assets and world-class facilities to help develop and deliver a thriving hydrogen ecosystem for the South West and South Wales area."
Professor Phil Taylor, Pro Vice-Chancellor of Research and Enterprise at the University of Bristol, said: "As a member of the GW4 Alliance our focus is on driving collaborative research that addresses global challenges. Today, climate change, together with the urgent need to decarbonise the world's economy, is arguably the greatest challenge we face. Making our region the UK's first hydrogen ecosystem acknowledges our capacity to pioneer research that has the potential to change the future of how we power transport, heat our homes and decarbonise industry."
Further information
The Western Gateway is the pan-regional partnership for South Wales and Western England which reaches from Swansea to Swindon. The partnership brings together business, academia and government from both sides of the union to work together in partnership to create new opportunities for the 4.4 million people who live here. www.western-gateway.co.uk

The GW4 Alliance brings together four of the most research-intensive and innovative universities in the UK; the universities of Bath, Bristol, Cardiff, and Exeter. It is the only research alliance to collaborate across England and a devolved administration. Working with other organisations, industry, and society, GW4 aims to enhance research collaboration; address global, societal, and industrial challenges; and inform policy at national and international levels. www.gw4.ac.uk @gw4alliance