View all news
University hockey players compete in under 21s European champs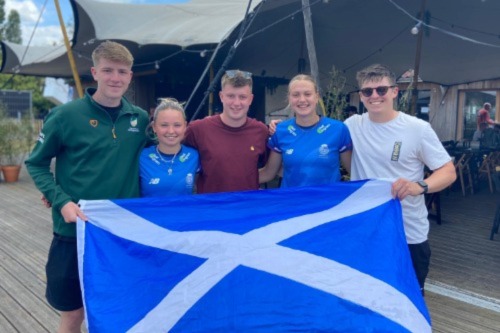 Press release issued: 3 August 2022
Two Bristol hockey players tested their mettle against some of the best teams in the world at the under 21s European championships.
Athletes Amy Salmon and Charlotte Simmers have competed internationally for Scotland since they were teenagers but this was their first Euros.
The competition – officially called the EuroHockey Junior Championship 2022 - saw eight teams battle for supremacy in Ghent, Belgium, over the last week of July.
Amy and Charlotte train several times a week and spent a month at a team camp in Scotland preparing for the competition.
The tournament represented a big step up for Amy and Charlotte, after Scotland was recently promoted to the highest international league.
It comes as another Bristol student, Robbie Prosser, won gold and broke a new world record in the 2022 World Rowing Under 23 Championships.
Amy, who studies Philosophy and Politics, said: "The Euros were unreal. We'd been waiting for it for three years because of Covid so it felt really surreal to finally be there.
"Our first game was against Germany and we were quite nervous – we don't usually play teams that high ranked."
Charlotte, who studies Law, said: "We were disappointed not to beat Ireland as we played them in pre-tournament and won.
"But we had a great time and the facilities there were amazing ."
University is free in Scotland for Scottish students, which means many choose to stay north of the border for higher education.
Amy and Charlotte both opted for university further afield – and they haven't regretted their decision.
Charlotte said: "I've loved it. Bristol as a city is such a lovely place and just walking around and going to lectures makes you realise how lucky we are to study here.
"It's a real privilege to be at Bristol and the sports staff have been amazing - particularly Ben Dudley, the Head Hockey Coach. His outlook on life and the support he gives is phenomenal."
Amy added: "I absolutely love being at Bristol. All the staff took a real interest and helped me feel really welcome really quickly.
"Ben is such a great coach. He came all the way to Belgium for one day to watch us play."
Ben said: "It's fantastic to work with people who are playing at a high level, but more than that is working with people who are really motivated, and for who hockey is such a big part of their lives.
"I've witnessed firsthand the process they've gone through to get to this point and it's not always been easy.
"I'm really pleased that what they've put in they've got out."