View all news
1,000 runners get set for virtual Bristol race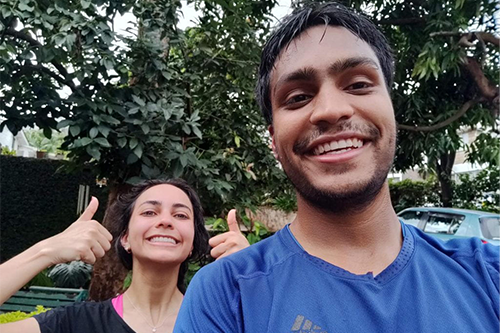 Press release issued: 7 May 2021
Nearly 1,000 people have signed up to a virtual running race organised by the University of Bristol.
The 10k is the second in a trio of events put on to fill the gap left by in-person races.
Runners have from this Saturday (May 8) to next Sunday (May 16) to record their effort and send it to the University – with t-shirts available and medals up for grabs.
Matt Birch, the University's Director of Sport Exercise and Health, said: "The Bristol Run Series is a chance for any and all to have a go at a fun, safe and pressure-free running event.
"We've got loads of free online resources to help you train, it's free to enter and there is an online community of hundreds of runners who can help and support you.
"It's never been easier to get involved in a running race, so give it a go – even if you just walk it!"
The first event in the Bristol Run Series was a 5k held over a weekend in March. Most of the 1,000 entrants completed the distance in Bristol but some joined in from further afield – including one person in Nairobi, Kenya!
The Bristol Run Series finale, a half marathon, takes place between the 18 and 26 of September 2021.
Free training plans and expert advice are available on the University of Bristol website.
Medals cost £2.75 each but are free if you sign up to all three events. Bristol Run Series performance T-shirts cost £6.
To find out more and sign up, go to www.bristol.ac.uk/sport/events/run-series/