View all news
New £6.3M deep tech incubator set to open in Bristol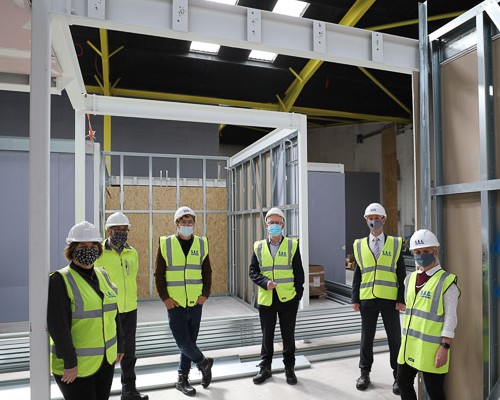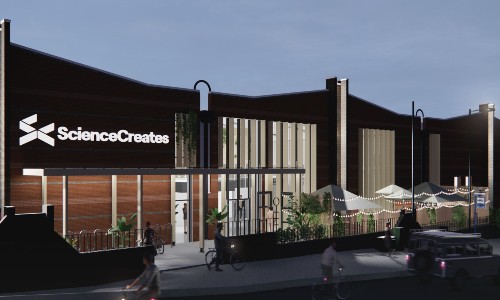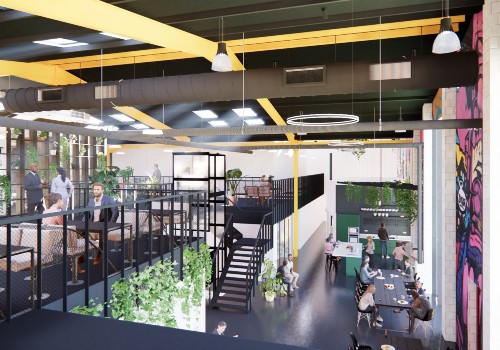 Press release issued: 27 May 2021
A new 30,000 sq. ft Science Creates deep tech incubator is set to open in the heart of Bristol thanks to a £6.3 million investment from the University of Bristol, Research England, and private investors. Construction works on the new facility, that will house some of the city's most innovative science and engineering companies, have reached the final phase.
Due to open in November, the Science Creates incubator is being built in partnership with the University of Bristol and supported by a £1.5m grant from Research England. It will provide 15 laboratories, offices, a community outreach 'learning lab' and events space in the 30,000 sq. foot former stationary warehouse in Bristol's Old Market.
Comprising part of the University's Temple Quarter Enterprise Campus development, the facility will provide vital mentoring support to start-ups in pioneering industries – such as Artificial Intelligence (AI), clean growth, health, smart energy and agri-food as well as enabling an estimated 250 high-value jobs to locate to the new site.
The new site will accommodate companies like CytoSeek, a spin out based in Science Creates' successful first incubator. Founded by the University of Bristol's Prof Adam Perriman, the company specialises in targeted cell therapies to treat solid cancer tumours and has developed a protein-based cellular paint that can be put on cells to improve their cancer-killing performance.
Professor Hugh Brady, Vice-Chancellor and President at the University of Bristol, said: "As we battle the pandemic and rely on the scientific discoveries that have led to new COVID-19 treatments and vaccines, this new partnership reflects our commitment to investing in research and facilities that underpin such important breakthroughs. It also marks a significant milestone for the University and Science Creates in developing an inspiring new facility where universities and businesses work together on solutions to global challenges, at a time when they are most needed."
Dr Harry Destecroix, founder and CEO of Science Creates, added: "Bristol has all the elements a science company needs to grow and succeed, but I've learned first-hand the challenges companies face finding suitable space to locate their business. By working with our partners, we look forward to opening our new home for deep tech companies, who are working on major challenges, from improving healthcare to improving the environment around us."
Dr Jon Hunt, Bristol's Executive Director of Research & Enterprise, added: "This is an extremely exciting moment. Our relationship with Science Creates developed to a new level when we won a £1.5 million capital grant from Research England to allow us to co-invest in their expansion plans. The grant also established a 'University Enterprise Zone' aligned to the Temple Quarter Enterprise Zone. The last two years of close collaboration with Science Creates has led to a growth in science and engineering spin outs requiring laboratory space, beyond our office-based Engine Shed incubator."
"We would like to thank Research England and other partners for their support and investment that has helped enable this important project to reach fruition."
Research England's Director of Knowledge Exchange, Alice Frost, said: "Universities play a critical role in developing deep tech clusters to help cities thrive around the country, addressing Government priorities in Build Back Better.
"Research England is proud to be able to back universities in levelling up the country, and in giving strong support to spin-out companies that turn science into solutions to global health challenges."
Recognised for providing an important contribution to growth of the local economy, the project has been shortlisted for Place Making theme, and the Promoting Economic Growth category in the UK Planning Awards, with winners due to be announced in June.
Further information
Bristol is seen as an attractive prospect for company founders and investors [Source: The Guardian] however the limited availability of specialised incubator space has historically limited growth for deep tech companies. Science Creates first incubator in St Philips (previously called Unit DX) has had a waiting list since shortly after opening, showing the increasing demand for dedicated space to house start-up and university spin-out companies.
University Enterprise Zone
The University Enterprise Zone programme recognises the role universities play in supporting local and regional economies - disseminating knowledge, sharing innovation with industry, supporting entrepreneurs and providing communities with the skilled workforces they need. University enterprise zones aim to provide a focal point where universities and businesses work together in a business-friendly environment.
About Science Creates
Science Creates is a Bristol-based deep tech ecosystem, supported and backed by successful entrepreneurs. We help scientists and engineers build disruptive businesses from scientific discoveries.
Working in partnership with the University of Bristol, Science Creates aims to establish Bristol as a global centre for deep tech by combining specialist incubator facilities, a network of strategic partners, and a dedicated venture capital fund. https://sciencecreates.co.uk
About Research England
Research England (part of UK Research and Innovation) oversee UK Research and Innovation's England-only functions in relation to university research and knowledge exchange. This includes providing grant funding to English universities for research and knowledge exchange activities; developing and implementing the Research Excellence Framework in partnership with the UK Higher Education funding bodies; overseeing the sustainability of the Higher Education research base in England; managing the £900 million UK Research Partnership Investment Fund; and administering the Higher Education Innovation Fund (HEIF).
Project Partners
University of Bristol, Research England, SAC Construction, Quartz Project Services, Oxford Architects, DW Engineers, Box Twenty Engineers, Ambivent, SEC, Tenos, Nash Partnership, Russel PC, VWV and SETSquared.