View all news
Bristol and Digital Catapult launch South West innovation partnership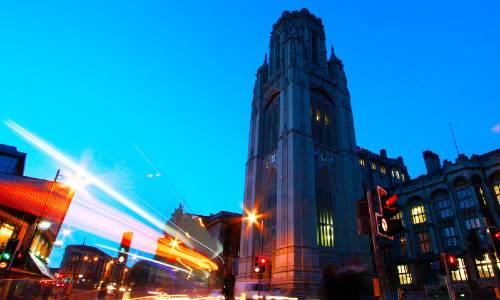 Press release issued: 11 May 2021
A new partnership between Digital Catapult and the University of Bristol promises to cement the city's status as one of the most innovative places in the UK.
The new Digital Catapult South West partnership will build on multiple ongoing projects between Digital Catapult and the University of Bristol, providing a boost to national capability and strengthening innovation in Bristol and the wider region.
The collaboration between Digital Catapult and the University of Bristol is rooted in building globally significant capabilities across sectors, through multimillion, industry-defining projects that are based in and around Bristol. These include MyWorld, a pioneering programme to develop a 'creative media powerhouse' in the region, and the Bristol Digital Futures Institute (BDFI), a unique international research institute established to pioneer sociotechnical approaches to innovation and the creation of new technologies for inclusive, sustainable and prosperous futures. Both are funded by UK Research & Innovation (UKRI) with significant matched investment from industry and civic organisations. The collaboration with Digital Catapult also builds upon the established relationship between the University and the National Composite Centre, part of the High Value Manufacturing Catapult, to deliver Digital Engineering Technology Innovation ("DETI"), a two-year R&D project accelerating digital engineering skills.
Digital Catapult South West will help to scale these activities through a combination of digital expertise from across the University of Bristol, leveraging the University's research base in industrial engineering, telecommunications and networks, sociotechnical research, responsible innovation, data science and digital media . Outcomes will include increasing the speed of translational innovation, connecting industry players with start-ups and the third sector to solve real-world challenges, and further establishing the South West as a world leading centre of new and innovative approaches to translational research.
The University's Vice-Chancellor & President, Professor Hugh Brady, said: "We are very pleased to partner with Digital Catapult to establish a base in Bristol to collaborate on supporting both traditional industries and high growth companies in the South West. Our intention is that this partnership links Bristol to the rest of the world through opportunities to scale its businesses, and for global companies to see what Bristol can offer them."
Dr Jeremy Silver, CEO of Digital Catapult, said: "We're excited by this opportunity to work together and how it will help find new ways to translate academic R&D excellence into practical industrial adoption. The recent BEIS Catapult Review highlighted the need for the Catapult Network to work more closely with the UK's world-leading universities, we're looking forward to developing this partnership with Bristol in innovative and productive new ways."
David Sweeney, CEO of Research England, said: "Research England welcomes this deepening of the partnership between the University of Bristol and the Digital Catapult to unlock the potential for translational research. It is great to see universities and Catapult centres developing new ways of engaging by exploring common objectives and possible new collaborative ventures".
Further information
Digital Catapult South West's steering committee is made up of Professor Juergen Maier - Chair of Digital Catapult, Dr Jeremy Silver - CEO of Digital Catapult and Chair of the Catapult Network, Jack Boyer - Chair of Bristol University, Professor Hugh Brady – President and Vice-Chancellor of the University of Bristol, and Professor Phil Taylor, Pro Vice-Chancellor, Research and Enterprise, at the University of Bristol.
About the projects
DETI - Focused on manufacturing, the DETI (Digital Engineering Technology and Innovation) project will accelerate digital engineering across multiple sectors for future generations of engineers and engineering products, in partnership with partnership with the NCC, the Centre for Modelling & Simulation, the University of the West of England, and the University of Bath.
MyWorld - The £46 million University of Bristol led MyWorld project is funded by UKRI's Strength in Places fund and brings together partners including Digital Catapult, the BBC, Aardman Animations, BT, Bristol Old Vic and Theatre Royal Trust to generate more than 700 new jobs and boost the economy by £223 million by forging collaborations to progress innovation, creative excellence, inclusive cultures and knowledge sharing.
Bristol Digital Futures Institute (BDFI) - A new £100m institute funded by Research England (part of UKRI), based in the centre of Bristol, set to transform the way we create, utilise and evaluate new digital technologies to benefit our society now and in the future. In a unique collaboration, University of Bristol engineers will work with social scientists and with tech giants, corporations, local government and community partners to answer these big questions and create transformational technologies for the future.