View all news
University group joins appeal to 'help India breathe'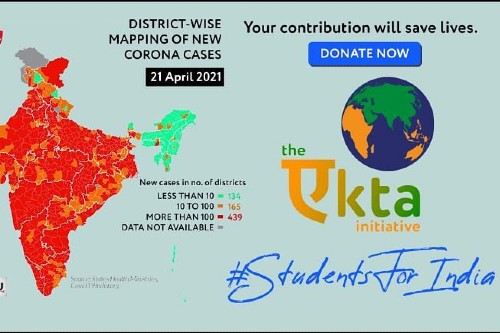 Press release issued: 19 May 2021
The Bristol Indian Society has joined a widespread movement of young Indians living and studying abroad looking to help their country as it battles COVID-19.
The Ekta Initiative is made up of students representing India and South Asia societies at universities around the world, from Oxford to Hong Kong to Australia. The 'Etka for India fundraiser' aims to supply oxygen to people who need it the most.
Veera Sasidharan, Vice President of the Bristol Indian Society, said: "Ekta, in Hindi translates to 'oneness and unity' - we, as young Indians abroad, are coming together, under this umbrella, to give back to our country. The situation deteriorates further with each passing day and it pains us to see the country in this way.
"As we sit miles away from our home, worried for the safety of our loved ones while many of our friends witness the dire situation unfold in person, the urge to help is now as strong as ever."
Etka aims to raise funds for two organisations based in India, The Hemkunt Foundation and Mission Oxygen (Democracy People Foundation) which swiftly, openly, and transparently supply oxygen to patients in the grip of the virus.
Hemkunt Foundation's motto is based upon a popular Sikh principle of 'Sarbat Da Bhalla' which means welfare for all. The foundation has been working towards providing livelihoods, disaster relief, access to basic human rights and education to those in need. Now, recognising the need of the hour, the organisation has started arranging oxygen for critically sick COVID-19 patients in February. As the number of cases began to surge, the NGO was inundated with thousands of calls every day. They are currently seeking funds for O2 Cylinders to distribute to hospitals.
Mission Oxygen (Democracy People Foundation) is made up of entrepreneurs who have proactively initiated the movement #missionoxygen to alleviate the current oxygen crisis by donating Oxygen Concentrators to hospitals, nursing homes and medical care facilities. Mission Oxygen currently requires more funds to procure a higher number of oxygen concentrators to deal help with the current crisis.
Veera added: "The University boasts of strong ties with India with more than 1000s of students from India, and students of Indian origin studying here. Together, they have contributed to the university and city's fabric.
"We ask that people join us to help India breathe."
To make a contribution, please visit: https://www.ketto.org/fundraiser/ekta-for-india
Further information
Ekta Initiative is made up of students from Sciences Po Paris, Oxford University, Cambridge University, University of Bristol, National University of Singapore, Edinburgh University, University of St. Andrews, Columbia University, Hong Kong University, University of Sydney, University of Bath, Queen Mary University of London, Lancaster University, Heriot-Watt University, Cardiff University, University of Toronto, University of New South Wales, University of Technology Sydney.