View all news
How have vaccines helped to protect the world and how can they continue to do so?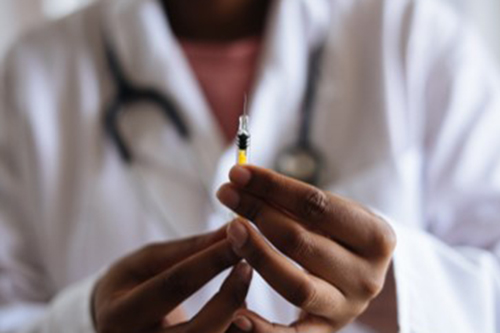 Press release issued: 16 June 2021
The power of vaccines to help save lives and shape our world has never been more evident as countries around the world fight against COVID-19. The pandemic has also highlighted how vital it is for industry, academia and global populations to work together in the race for effective vaccines. The importance of vaccine research to global public health will be discussed later this week by a distinguished panel of experts at a live online event jointly organised by the University of Bristol and Pfizer.
The event 'How have vaccines helped to protect the world and how can they continue to do so?'' hosted by BBC journalist and presenter of BBC Radio 4's World at One Sarah Montague, will take place on Thursday 17 June from 5 to 6 pm. Panellists will include leading experts in vaccine research and development, including:
Professor Adam Finn [Professor of Paediatrics at the University of Bristol and a member of the Joint Committee for Vaccination and Immunisation (JCVI)]
Dr Doug Brown [Chief Executive at the British Society for Immunology]
Dr Bradford Gessner [Vice President and Global Medical Lead for Pneumococcal Vaccines at Pfizer]
Dr Deborah King [Vaccines Research Lead at Wellcome]
The panel will discuss the effectiveness of vaccines to fight global disease and how Bristol continues to build on the region's legacy of developing life-saving vaccines and world-renowned research.
The smallpox vaccine, the first successful vaccine to be developed anywhere in the world, was discovered by locally born Edward Jenner in 1796 and this year celebrates the 225th anniversary of the vaccine.
Vaccines have also been one of the biggest success stories of modern medicine, second only to clean water for disease prevention1. The World Health Organization (WHO) estimated that at least ten million deaths were prevented between 2010 and 2015 thanks to vaccinations delivered around the world2.
Professor Adam Finn, Lead of the Pfizer Centre of Excellence for Epidemiology of Vaccine-preventable Diseases, said: "COVID-19 has shown how essential it is for academia, industry and global populations to tackle the pandemic together and the importance of science to meet the challenges facing society.
"The online event will give members of the public an opportunity to hear from leading experts about vaccine-preventable diseases and why vaccines have been and continue to be so important."
The partnership event will also celebrate that the University of Bristol has been selected by Pfizer as a Vaccines Centre of Excellence to conduct real-world research on vaccine-preventable diseases affecting adults, including the elderly, as well as children.
The Bristol centre, the first centre outside the US and led by Professor Adam Finn, forms part of Pfizer's Centres of Excellence Network, a global programme of collaborations with world-leading academic institutions, launched in January 2020. The aim of the Network is to conduct real-world population-based research to support the design, development and use of next-generation vaccines.
To reserve your place at this online event, register here.
Further information
[1] WHO. Vaccination greatly reduces disease, disability, death and inequity worldwide. Available at: www.who.int/bulletin/volumes/86/2/07-040089.pdf [Last accessed June 2021]
[2] WHO. The power of vaccines: still not fully utilized. Available at: www.who.int/publications/10-year-review/chapter-vaccines.pdf [Last accessed June 2021]
Anniversary of the smallpox vaccine
This year (2021) is the 225th anniversary of the smallpox vaccine, discovered by locally born Edward Jenner in 1796, and the first successful vaccine to be developed anywhere in the world.
About Pfizer
At Pfizer, we apply science and our global resources to bring therapies to people that extend and significantly improve their lives. We strive to set the standard for quality, safety and value in the discovery, development and manufacture of health care products, including innovative medicines and vaccines. Every day, Pfizer colleagues work across developed and emerging markets to advance wellness, prevention, treatments and cures that challenge the most feared diseases of our time. Consistent with our responsibility as one of the world's premier innovative biopharmaceutical companies, we collaborate with health care providers, governments and local communities to support and expand access to reliable, affordable health care around the world. For more than 170 years, we have worked to make a difference for all who rely on us. In the UK, Pfizer has its business headquarters in Surrey and is a major supplier of medicines to the NHS. To learn more about our commitments, please visit us at www.pfizer.co.uk or follow us on Twitter (@Pfizer_UK), Facebook (@PfizerUK) and Instagram (@pfizeruk).