View all news
Bristol study to improve success of IVF treatment resumes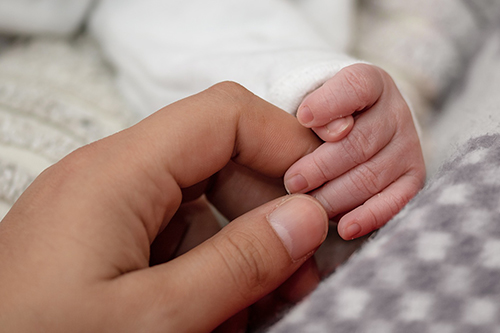 Press release issued: 29 April 2021
A major study into the factors affecting IVF treatment success, led by NIHR Bristol Biomedical Research Centre (BRC) researchers at the University of Bristol, is restarting after a year-long pause due to COVID-19.
In April this year, the research clinic at the Bristol Centre for Reproductive Medicine (BCRM), based at Southmead Hospital, recruited its first new BRIST-IVF study participants since March 2020, when the study paused as the UK went into its first lockdown. All women and their partners who are undergoing IVF or intracytoplasmic sperm injection (ICSI) treatment at the BCRM are eligible to take part.
Due to the pandemic, the study information is now presented online. This minimises face-to-face contact and gives potential participants time to access the information at their own convenience before choosing whether to take part. If they do choose to participate, one of the study's research midwives will measure their height, weight and blood pressure, and collect urine and blood or saliva samples, following one of their scheduled treatment appointments at the BCRM.
Researchers will analyse this information with the aim of identifying factors that play a part in whether IVF treatment is successful or not.
Successful live birth rates following IVF have increased considerably since the first IVF birth in 1978. Live birth rates currently vary between 20 and 40 per cent depending on the woman's age, whether or not donor eggs are used and other factors, many of which are currently unknown.
The findings from the BRIST-IVF study aim to identify factors that increase live birth success, so that doctors can better understand which types of IVF work best in which patients to increase live birth success. The study will also improve the quality of information offered to people undergoing fertility treatment.
Deborah Lawlor, Professor of Epidemiology at Bristol Medical School and the NIHR Bristol BRC Perinatal and Reproductive Health theme lead, is leading the study, said: "Fertility treatment is life-changing for so many people. If we can better understand the factors that influence whether IVF is successful, we will be able to tailor different treatments to different people, so that the treatment they receive will maximise their chances of having a healthy baby.
"Individuals or couples who participate in the study may not benefit directly during their own IVF journey, but they will be helping others who undergo IVF in the future."
Dr Valentine Akande, co-investigator, who leads IVF/ICSI and Fertility Services at the BCRM, added: "We have been working tirelessly to restart the BRIST-IVF study in a way which ensures the safety of our participants and our clinic staff. I'm delighted that we are now once again able to recruit participants to this important study, and that the changes we have put in place will make it even easier for people to take part."
Taking part in the BRIST-IVF study
If you are a patient about to undergo IVF or ICSI treatment at the BCRM, you are eligible to take part in the BRIST-IVF study. Find out more about taking part.
Further information
About the BRIST-IVF study and the Bristol Centre for Reproductive Medicine (BCRM)
The Bristol Centre for Reproductive Medicine (BCRM) is based at Southmead Hospital, Bristol. Everyone receiving IVF/ICSI treatment at the BCRM - whether NHS or self-funded - is eligible to participate in the BRIST-IVF study.
The study aims to recruit at least 1,200 couples by March 2022.
About the National Institute for Health Research
The National Institute for Health Research (NIHR) is the nation's largest funder of health and care research. The NIHR:
Funds, supports and delivers high quality research that benefits the NHS, public health and social care
Engages and involves patients, carers and the public in order to improve the reach, quality and impact of research
Attracts, trains and supports the best researchers to tackle the complex health and care challenges of the future
Invests in world-class infrastructure and a skilled delivery workforce to translate discoveries into improved treatments and services
Partners with other public funders, charities and industry to maximise the value of research to patients and the economy
The NIHR was established in 2006 to improve the health and wealth of the nation through research, and is funded by the Department of Health and Social Care. In addition to its national role, the NIHR commissions applied health research for the direct and primary benefit of people in low- and middle-income countries, using UK aid from the UK government.
About NIHR Bristol Biomedical Research Centre
NIHR Bristol Biomedical Research Centre's (BRC) innovative biomedical research takes science from the laboratory bench or computer and develops it into new drugs, treatments or health advice. Its world-leading scientists work on many aspects of health, from the role played by individual genes and proteins to analysing large collections of data on hundreds of thousands of people. Bristol BRC is unique among the NIHR's 20 BRCs across England, thanks to its expertise in ground-breaking population health research.